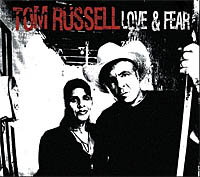 Aside from bringing us some of the most talented singer/songwriters who are blazing new trails in the Americana music genre, Sings Like Hell introduces us to some of music's most intriguing characters. And they certainly don't come any more fascinating than the series' next visitor, Tom Russell. Sure, Russell has come to visit us before, but each time the California native drops by, you can be guaranteed an evening as enlightening as it is entertaining. Having graduated from UCSB in the late '60s with a masters in criminology, Russell is a true Western renaissance man.
Aside from living life as the proverbial troubadour-having toured around the globe countless times-the adopted Texan has published both a book of collected songwriting quotes and a novel of his own fiction. He's explored visually creative realms as well, being a rather handy painter. But with more than 20 albums to his name, Russell is known first and foremost for his songs. So much so that the likes of Johnny Cash, Joe Ely, and Dave Alvin have all recorded his work.
"I had always played a little guitar, but I didn't have the guts to go after it at first," Russell said. "I had seen Bob Dylan and the Beatles at the Hollywood Bowl and knew that's where my heart really was, but I don't think I was ready to get up onstage then because I didn't have that personality yet and I really need to pay some dues. : I started writing songs and I went back to the west coast of Canada and started playing them in some pretty rough bars and I think that's when it all came together."
And come together it did. A glowing testament to the true worth of Russell's craft can be found on his latest release, The Wounded Heart of America. Not only does the recording feature the best of America's roots musicians offering their own take on Russell's songs, but it also includes a chilling reading of "Stealing Electricity" by beat poet extraordinaire Lawrence Ferlinghetti. The title of the album actually comes from a quote that Ferlinghetti offered in reference to Russell. So when Tom Russell bares his heart on the Sings Like Hell stage at the Lobero Theatre on Saturday, December 8, it might be the wounded heart of America he is exposing, but, rest assured, it is also a heart teeming with passion.