Gardening for Golfers: Trim Your Shrubs with Your Clubs is a new, self-published book by Santa Barbara's Peter Blair, a VP at Rincon Technologies by day, youth golf volunteer by afternoon, and funny guy from morning to midnight. It's an instructional satire on how to make your garden and golf game shine simultaneously, though it goes far beyond that mission. Here's why you should buy it for $25 at Chaucer's Books or online at gardeningforgolfers.com: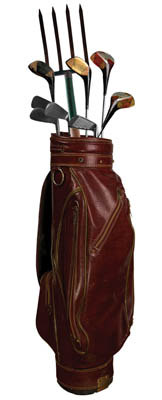 1) It's a hoot: Ever trimmed your fruit trees with your sand wedge? How about pruning roses with a putter? Or, say, edging your lawn with the driver? Options like these and more are explored through Blair's silly, self-ridiculing humor. One reader even reported a nasal discharge of orange juice due to book-induced laughter.
2)It ain't just for duffers: The 217-page, 8.5Ë 11Ë book is "for anyone with a sense of humor," said Blair, who explained, "Honestly, I don't think there is a solid golf tip or gardening tip in there. It started with tasks in the yard, but as my writing muscled, I decided that I better liked picking a topic and going off on it. I used the garden and golfing as excuses to write silly stuff."
3) It's inspired by the real world: Blair was practicing his golf swing in the backyard when a successful swing at some weeds resulted in his "Eureka!" moment. Eighteen months of writing and some hilarious photography help later, the book was self-published via lulu.com.
4) Blair's a good guy: The author, who serves on the board of the Santa Barbara Junior Golf Program, also volunteers as a golf coach at Twin Lakes as part of the First Tee Central Coast program, which introduces kids of all ages and backgrounds to the sport of golf. See thefirstteecentralcoast.org.