Columns
Merry-Making, Montecito-Style
MA Supports Largura Appeal; Winters Wins Award; Carbajal Raises $300K; Miramar's New Story Poles; and More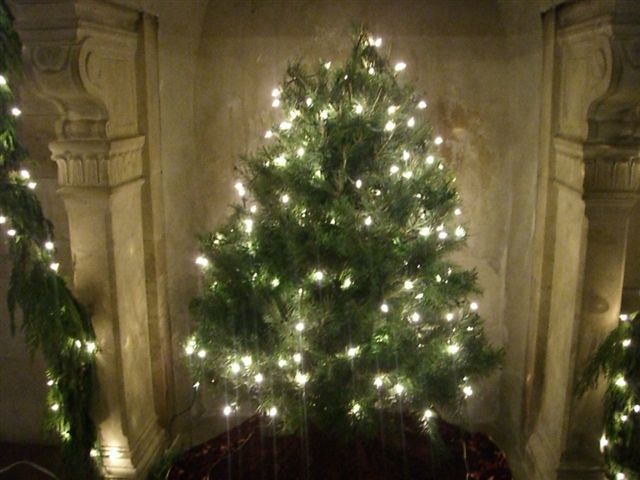 With one hand decking the halls and another grasping the eggnog, you'd think Montecitinas would have their hands way too full with seasonal delight to attend to community business. But this vital village rarely takes a holiday, so it's business as usual in Montecito with awards to hand out, poles to be hung, issues to be resolved, and lessons to be learned.
MA SUPPORTS APPEAL OF LARGURA APPROVAL: On Tuesday evening, the board of directors of the Montecito Association voted 10-5 to back the MA land use committee's recommendation to support Dave and Kay Peterson's appeal of the Montecito Board of Architectural Review's approval of the Largura hillside project
The board's action was not a huge surprise, given the land use committee's unanimous endorsement of the appeal last week. The big surprise came when Association president Bill Palladini, a long time supporter of the Peterson's position, voted against his land use committee's endorsement of the Peterson's appeal. Association VP Diane Pannkuk was also among the five dissenting votes. Neither officer gave any explanation of their contrary actions.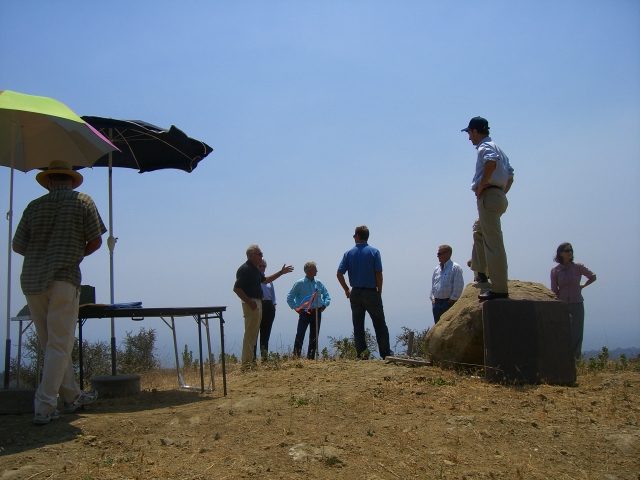 Over the past year, Palladini has been a vocal and ardent opponent of Largura's hillside development, so his vote against the project-blocking appeal on Tuesday night sent a mixed message. Some MA watchers speculated Palladini was simply trying to soften the blow for the Largura team, made up of some long time Montecito bigwigs like Bendy White, Richard Monk, Brian Felix, Wayne Seimens, and Bob Easton. Palladini thanked the Largura squad profusely for bringing the project to the Association numerous times since its April 2006 inception. But his platitudes seem to fall on deaf ears and, as the disappointed developers filed out of the association empty handed, they didn't appear to be grasping for MA membership envelopes.
At the crux of the argument is whether the Largura project is too intensive for the development-restrictive hillside area above Montecito. The Petersons and the Association feel the proposed project, at 3,985 square feet, is too large, too prominent, and it blocks protected public views. The Largura team argues that they are entitled to build a house on the site, that the proposed house is well within the 7,000 square feet allowed on the property, and that the proposed location of the structure is the best use of the land.
On September 24, after six hearings and dozens of changes, the MBAR concurred with Largura and voted 6-0 to approve the project. Their action is what is under appeal by the Petersons. The Montecito Planning Commission will consider the appeal on December 19.
THE GIFT THAT KEEPS GIVING: Montecito resident and comedian Jonathan Winters was honored by the Wildland Firefighters Foundation on Monday, December 10, in an award ceremony at Santa Barbara Bank and Trust . Retired Montecito Fire District Chief Herb McElwee presented the award to Winters on behalf of the National Incident Management Team Two Commander Bill Molumbey.
As you may recall, last summer, Molumbey's Team Two worked for weeks in the backcountry, keeping the Zaca Fire away from Santa Barbara and Montecito's boundaries. When the squad's tour of duty ended, they held a closing dinner at Hotel Andalucia and Chief McElwee, by now an adopted Team Two member, coaxed Winters to be a surprise dinner guest.
The assembled firefighters were in disbelief with the mega-star walked into the party. Winters was gracious, accessible, and, of course, very, very funny. After Winter's departure, the firefighters were so grateful and inspired by his attendance that they passed the hat and made a substantial contribution to the Wildfire Foundation in Winter's honor.
Monday's award presentation was in recognition of that donation and, as Winters entered the bank lobby, a throng of well-wishers greeted him. Seeing the firefighters but seeing no fire, Winters deadpanned, "I guess I am too late and you've already put out the fire."
Among those attending the celebration were Dana D'Andrea, the division chief of the Forest Service's Santa Barbara District, and Rich Phelps, from Team Two of the National Incident Management Team. Montecito Fire was represented by President Roy Jensen, Chief Kevin Wallace, Division Chief Terry McElwee, Battalion Chief Brett Koepke, and the entire engine crew. Among those on hand from Santa Barbara Bank and Trust were veeps Randy Weiss, who presented Winters with the bank's hero award, and Cynder Sinclair, as well as retired bank executive Roy Gaskin and his wife Myrna.
Inscribed on Winters trophy were the words "Compassion Spreads Like Wildfire" and truer words could not have summed up this event, which seems to be the gift that keeps on giving!
SPEAKING OF GIFTS: First District Supervisor Salud Carbajal hauled away a sack of gifts from his "birthday party" last Friday, and it has everyone in Montecito talking! It's been confirmed that he took away more than $300,000 from this event, which served as the kick-off for next year's Supervisory race. With that kind of seed money in his war chest, challengers may be wondering about their options
There were almost 250 well-wishers at the party at Nina Terzian's spacious East Valley Road home. "We kept the guest list well below the 300-person Montecito party limits. I read Montage," Carbajal said, knowing, of course that we scrutinize these things.
Quite a few public officials were on hand, including Congresswoman Lois Capps, State Superintendent of Public Education Jack O'Connell, Assemblymember Pedro Nava, Supervisor Janet Wolf, and Mayor Marty Blum. With State Majority Whip Fiona Ma in attendance, and Salud's proven fund-raising abilities, there was lots of speculation about his political future. Montage overheard him saying he is happy with his supervisor job and, for now, he claims to have no other aspirations.
Surrounded by his wife Gina, daughter Natasha, and son Michael, Carbajal expressed his appreciation to his guests for their support. He emphasized his continued interest in serving his community and providing efficient customer service. He told Montage he was overwhelmed by the cross-section of constituents who had demonstrated their support to his campaign Among those applauding his remarks were former Supervisors Naomi Schwartz and Susan Rose, Bob and Marlene Veloz, Scott and Ella Brittingham, Mark Melchiori, Suzanne Perkins, and Santa Barbara International Film Festival star Roger Durling. Also seen in the valet line were Betty Stephens, Montecito Planning Commissions Bob Bierig and Sue Burrows, and County Historical Landmark Commissioner Deborah Schwartz.
NOT FOR DECORATION: Looking somewhat like a Christmas tree, lot the Miramar Hotel site is once again decked out with poles and flapping pink flags. But, Montecito-shoppers, don't run down there planning to pick out a discounted wreath or runner for your door. This tent-like structure is in place as a pre-amble to the Monday, December 17, Montecito Board of Architectural Review hearing on the proposed hotel plans.
Rick Caruso will make a second attempt to get conceptual approval of his Miramar. His first plan was withdrawn several months ago when neighbors registered concerns. The new design calls for all new buildings of approximately 397,925 gross square feet, including a main building with a lobby, meeting rooms, and conference facilities. The proposal asks for underground parking, 202 guest rooms, two restaurants, a beach bar, two pools, tennis courts, new landscaping, a new 10-foot-high sound wall, and abandonment of the north-south segment of Miramar Avenue.
The December 17 hearing will begin some time after 4 p.m. at the Planning Commission Hearing Room, at 123 Anapamu Street. In your brand new 2008 calendar, mark down that the Montecito Planning Commission will greet Caruso for a conceptual review on January 16. They are not expected to take any action, but just comment if the project is on the right track or not. Montage hears Caruso hopes to go to the MPC for formal action in June or July.
LINKING UP: It was fun to see old pals Art Linkletter and Fess Parker meet up at the Channel City Club last week.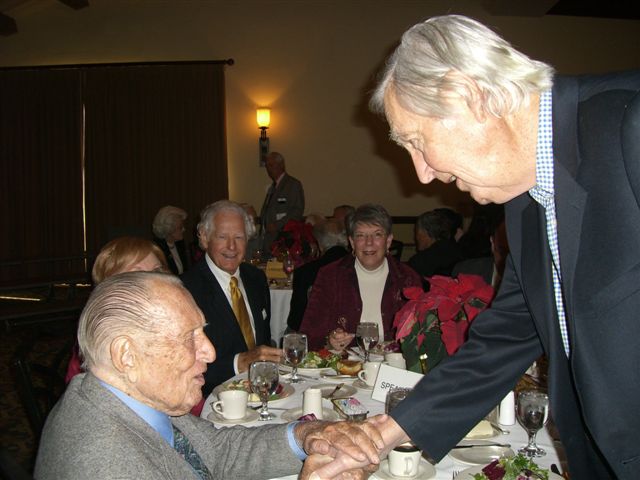 The have known each other for more than 50 years and they told Montage that they recalled an early meeting when Disneyland opened in 1955. They were joined at the podium that day by another TV icon, 2-Mule Team Borax spokesman, Ronald Reagan.
Linkletter, who is 96, remains active on the speaker's circuit. His Rx for a long life? "Stay interested, busy, be helpful, stay curious, and keep a sense of humor," he said.
GETTING THE SPIRIT: This weekend, there were two bookend parties in Montecito that forced Montage to get in the holiday mood, toss out our Halloween pumpkins, and hang the mistletoe.
Westmont College held their President's Christmas Party, and few residences in Montecito can boast such a beautiful and traditional Christmas event, or a such a lighted tree! If you have an opportunity, drive through the grounds of Westmont on your holiday light tour and see their giant tree – it's sure to light up your holiday spirit.
The second event was at Casa de Maria, which hosted a holiday concert and reception for neighbors, friends, and donors. The Vocal Point Choir got things going with seasonal songs and Vicki Riskin and David Rintels read O. Henry's Gift of the Magi, and we hung on every word, as if we did not know the ending to this youthful gift-gone-wrong tale.
Congresswoman Lois Capps was in the audience and summed up the consensus of the crowd when she said, "I just want to hang onto this moment. There is such a timeless quality to this place – Casa is truly a gift to our community, a sacred place."