News
Defense Rests in Frimpong Case
Attorneys to Make Closing Arguments Tomorrow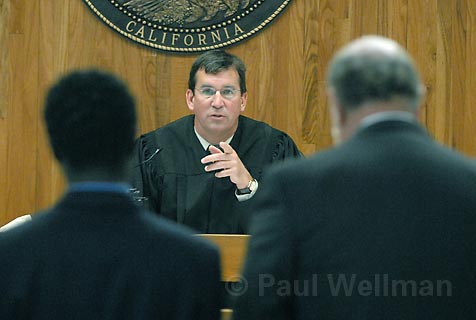 After calling only one witness, defense attorney Bob Sanger rested Thursday in the trial of former UCSB soccer player Eric Frimpong, who is facing rape charges for allegedly assaulting a fellow UCSB student on an Isla Vista beach the early morning of February 17.
"You must decide what the facts are," Santa Barbara Superior Court Judge Brian Hill told the jury in his instructions. The prosecution must have proved beyond a reasonable doubt that Frimpong committed the crime, he told the jury. He reminded the three men and nine women on the jury that Frimpong has a constitutional right to not testify and instead rely on the evidence. "Do not consider for any reason the fact that the defendant did not testify," he said.
Frimpong is facing one count of rape and one count of battery. With regard to the rape charge, Hill said, the prosecution must have proven throughout the three-week trial that the defendant had sexual intercourse with the woman, that the two weren't married at the time, that the woman didn't consent to the sexual intercourse, and that the intercourse was committed forcefully, violently, or in duress or unlawful menace. Ejaculation isn't required, he explained. In the battery charge, the prosecution must have proved that Frimpong touched the young woman in an intimate place and done it for sexual arousal or gratification.
Each side will argue their cases in closing statements tomorrow in Dept. 2 at 9:30 a.m.