Living
Slow to Crawl
Goleta's New School Zone Speed Limit: 15 Miles Per Hour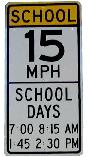 Goleta has already ordered the signage and, come January, hopes to be the first city in California to implement a new state law designed by Santa Barbara County Sheriff's Sgt. Greg Nordyke. The new law allows jurisdictions to reduce the speed limit from 25 to 15 miles per hour within 500 feet of schools.
Sponsored by Assemblymember Pedro Nava, AB 321 furthermore expands the safe zone, so that between 500 and 1000 feet of campus, the city may require drivers to slow to 25 miles per hour. The new limits only apply to schools on two lane roads with maximum posted speeds of 30 mph, which means all schools in Goleta except for Ellwood Elementary, El Rancho Elementary, and Montessori School.
Nordyke came up with the idea for the law after he and Nava fought a losing battle to renew a sunsetted law that doubled traffic fines in school zones. After admitting defeat, Nava came to Nordyke, and representatives from the Santa Barbara County Parent-Teacher Assocation and Safe Routes to School and "asked if we had any other ideas," said PTA president Paula Perotte. She said that she has been practicing driving 15 miles per hour in front of schools for the past couple of months, and said that it is "very slow," but added that "it's important to crawl" in front of a school. People are much more likely to walk away from a 15-miles per hour collision, she said.