News
Happy Birthday, Indeed
Supervisor Carbajal Rakes in Cash at "Birthday" Fundraiser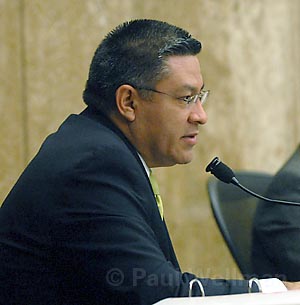 In a show of strength and popularity, Santa Barbara County First District Supervisor Salud Carbajal raised "well over" $300,000 – unprecedented for a single fundraiser in a county seat race – at a December 7 fundraiser at the Montecito home of Nina Terzian. That windfall could serve as a wake-up call to the conservative wing in Santa Barbara County that Carbajal is here to stay, and to expect a battle in his and other districts-namely the open third-as well.
Technically, it wasn't a birthday party for Carbajal, whose real birthday is November 18, but a repeat of a 2004 fundraising event held near his birthday which raised roughly $140,000 for his first campaign. Then, the highest level of donors were expected to dole out $1,500, but this time around names like Mark Melchiori and Peter Sperlings paid $15,000 apiece to be a sponsor of the event. There were also two intermediate levels of sponsorships, as well as a number of guests who got in for $125.
The fundraiser even topped those held recently for Republican presidential candidate Rudy Giuliani – which, until Oprah Winfrey's September bash that raised more than $3 million for presidential hopeful Barack Obama – were rumored to be some of the biggest single fundraising events ever held in the county. At a March fundraiser, $241,000 was raised for Giuliani, after expenses, according to event organizer David Lack.
The first deadline for reporting funds raised to the Fair Political Practices Commission isn't until the end of January, so exactly how much was raised won't be known until then. The end of the filing period will come around the same time Carbajal anticipates officially declaring his intention to run-January or February-although there really is no doubt in anyone's mind at this point that he will be running.
The support came from far and wide, from nearly every former and current progressive politician on the South Coast, and even from people who've butted heads in the past. Actor Rob Lowe and Picacho Lane neighbor Fred Gluck were co-sponsors of the event. This is a good example of just how broad Carbajal's support is; last year, the Glucks and Lowes had a widely publicized spat over Lowe's plans to build a nearly 10,000 square-foot home, which Gluck argued would ruin his ocean views. The two sides eventually figured out a deal. Carbajal credited his office's accessibility, constituent services and the ability to bring people together led to the broad support shown on December 7. "We're good listeners and we're out in the community a lot," he said. "I think that has translated into my constituency recognizing that."
In 2004, Carbajal raised $230,000 by the primary, more than enough to help him handily defeat John Gostovich from Carpinteria, with Carbajal reeling in 65 percent of the vote. There are hardly no rumors of potential challengers to his seat, and while he says it wasn't the intent of the fundraiser, Carbajal might've scared off anyone who was thinking about it. The big money result of the party wasn't intended to be a strong-arm message to anyone considering a race for the seat, he said. "I didn't plan it that way," Carbajal said. "But the overwhelming support does send a strong message."
His popularity and ability to fundraise also might rub-off in the Third District, where Carbajal-supported Doreen Farr will face stiffer competition. Rumors have spread that Carbajal could even help Farr by passing off some of his cash, especially if he doesn't face a challenger, but Carbajal closed the door to that discussion, at least for now. "The goal is to raise and be competitive for re-election," Carbajal said. Citing Second District Supervisor Janet Wolf's need to raise more than half a million dollars for her campaign race, Carbajal said he needs to have the perspective that someone will run against him, and that he will need all the support he can "When you think of a race, you plan for the worst," he said. "That gives you perspective."
In the past Carbajal has supported other candidates with money raised, a perfectly legal move to make, but one that not all his supporters were pleased to see. This time around, he said, that is not his intent. "My intent is to use resources raised for my reelection," he said when asked if he'd If he does have excess money, he said, he will use it to continue to have a presence in the community. For one, he said, supervisors can't send out more than 200 letters on one single issue using county funds. With more money, communication opportunities and strategies will be increased, he said.
Four people have-officially or unofficially-thrown their hats into the ring for the third district, Dr. David Bearman, Doreen Farr, David Smyser and Steve Pappas. One consultant who has managed campaigns for county conservatives in the past said Smyser is the default choice for conservatives in the 3rd District seat. Goleta Mayor Michael Bennett, starting his second year on the council, won't be running. Rumors that former Sheriff Jim Anderson would run for the seat are untrue, and current third district planning commissioner C.J. Jackson also won't be running.