News
Santa Barbara News-Press Body Slammed in NLRB Decision
Judge Rules Against Daily on All But One Point
Although one day late, Judge William Kocol gave pro-union workers at the Santa Barbara News-Press newsroom about the best Christmas present they could ever hope for.
On December 26, Kocol, an administrative law judge with the National Labor Relations Board, issued a sweeping denunciation of what he described as "flagrant" and illegal anti-union tactics deployed by News-Press management and ordered the embattled daily to rehire the eight pro-union employees it had fired last year with back pay. Despite News-Press insistence that union affiliation had nothing to do with these disciplinary actions, Kocol concluded in his 75-page "recommendation" that none of the eight would have been fired were it not for their strong pro-union sympathies. Additionally, Kocol ordered the News-Press to rescind "the discriminatory" job evaluations that were used to justify the lower bonuses paid last year to several pro-union newsroom workers.
Likewise, Kocol found that the News-Press "demoted" award-winning columnist Starshine Roshell-who now writes for the Independent-because she'd written two pro-union columns. The News-Press claimed it was doing away with columns to devote more space and energy to local news, but Kocol noted how the paper's decision to hire Laura Schlessinger as a columnist at the same time undermined these claims' credibility. So total was management's opposition to the union, Kocol concluded, that an editor who refused to go along with these unfair labor practices-Bob Guiliano, who refused to reprimand a reporter-was himself illegally terminated. (Kocol, however, did not order the daily paper to rehire Guiliano and give him back pay.)
News-Press attorney Barry Cappello issued a statement through his executive assistant, Pamela Brinks, vowing to exhaust all possible appeals. "The Santa Barbara News-Press is extremely disappointed with the [administrative law judge] decision and order and is not enforceable in its own right." Brinks stated. The News-Press statement cautioned that Kocol's ruling was in fact, a recommendation, and could not be enforced except by order of the U.S. Court of Appeals.
Kocol presided over 17 days of testimony last summer during which two "prosecutors" with the National Labor Relations Board argued that the News-Press was guilty of wholesale unfair labor practices in its efforts to stop the Teamsters from representing newsroom workers. In September 2006, a majority of newsroom employees voted 33-to-6 to affiliate with the Teamsters in response to concern that News-Press owner Wendy McCaw and her boyfriend Arthur Von Wiesenberger were compromising the paper's journalistic integrity by meddling with news coverage. Since then, however, many of the key union organizers were fired or disciplined either for the alleged bias of their reporting or other transgressions. During the trial, McCaw's attorneys and McCaw herself insisted that she sought only to eliminate bias from her newspaper and to prevent the reporters and writers from taking over the newspaper.
In explaining his ruling, Kocol indicated he was singularly impressed by the truthfulness of the testimony from many of the fired employees. He said he relied heavily on the testimony of senior reporter and fired pro-union activist Melinda Burns as "careful, thoughtful." By contrast, Kocol described the pro-management testimony by executive editor Scott Steepleton as "entirely unimpressive," adding, "It had a smirking quality to it." Likewise, he said he relied very little on McCaw herself, and even less her embattled editorial page writer Travis Armstrong. Of John Irby-the journalism expert who testified on McCaw's behalf-Kocol said his testimony veered from the "unbelievable" to the "misleading."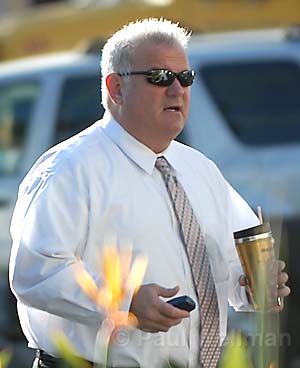 Kocol concluded that it was Burns' union sympathies, not her alleged bias, that got her fired shortly after the Teamsters won the union election in September 2006. Kocol noted the News-Press had failed to show it had ever fired any reporter for bias. He acknowledged how a number of Burns job evaluations contained cautionary language about her political sympathies, but also remarked that none of these complaints had ever been sufficient to reduce the size of the bonuses Burns has received during her 21-years with the News-Press, let alone got her disciplined. Kocol also observed that Steepleton himself had edited and approved with no complaint one of the articles cited as an example of Burns' bias. "The bottom line for the News-Press argument is that Burns' article was biased because Steepleton said it was," Kocol write. "Keep in mind that Steepleton himself had reviewed the article and approved it for publication, and he never explained what made him apparently change his mind."
The administrative law judge had even harsher language for Steepleton in connection with his decision to fire six reporters who draped a "cancel your subscription" banner over a freeway overpass last February. News-Press attorneys sought to argue they did not know the event was a pro-union demonstration. On the witness stand, Kocol complained Steepleton sought to have it both ways. On one had, he said he knew the individuals involved were all pro-union activists and that the cancellation drive was part of the union campaign. But he also testified he didn't know the protest was part of a pro-union demonstration, and hence, legally permissible and protected behavior. "Steepleton's testimony is completely lacking in credibility," Kocol wrote. "This seems to be one of those revealing moments during which the credibility of a witness is so obviously contrived that it undermines the witnesses' credibility on all other matters."