News
Bye-Bye Barnwell, Hello Francisco
City Council Changes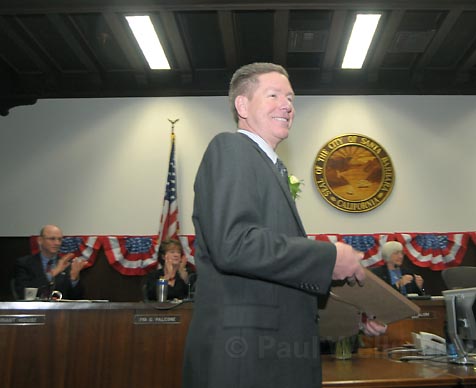 Brian Barnwell was bid a fond farewell as he stepped down from the Santa Barbara City Council after just one term, ceding to the newly elected Dale Francisco. The remaining councilmembers credited their unpredictable, articulate, heart-on-sleeve-wearing colleague for leading the charge that has advanced Santa Barbara to the front of the pack when it comes to sustainability. While several councilmembers have long been strong environmental advocates, once Barnwell wholeheartedly embraced the idea of sustainability-in particular the endeavor to reduce greenhouse gases and energy use-he was instrumental in "integrating it into the nuts and bolts" of city policy and practice, Councilmember Das Williams said.
Evidence of the city's re-energized commitment includes the installation of solar panels on the city's public works buildings, the green design of the new airport, the switch to biodegradable plastic utensils and foam plates, the capture of methane from sewage for use as energy by the city, the serving of tap rather than bottled water at city functions, and the fact that every city project now must show how it promotes sustainability. Members of the public who thanked Barnwell for representing their interests included urban avocado farmer Steve Little, Milpas Association businessman Robert Ludwig, and creek restoration activist David Pritchett.
In his farewell speech, Barnwell spoke of "a couple of huge problems" now facing the city. One is the budget. The other, he said, is the difficulty of "getting the word out about all the good things" the council accomplishes when coverage by the Santa Barbara News-Press is "twisted and distorted." Barnwell-whose wife is former News-Press reporter Camilla Cohee, who left on bad terms with the besieged daily-has been consistently lambasted on the paper's editorial pages.
A standing ovation from a full house accompanied Barnwell's departure from the dais, following which, Francisco was sworn in along with the two re-elected incumbents. Councilmember Helene Schneider recounted numerous council accomplishments of which she is proud, from progress in housing for the poor and homeless, to reduced pesticide use in parks. "This is an amazing job," she said, "with awesome responsibilities, and I'm thankful to be able to continue to continue my work at City Hall." Das Williams spoke with a preacher's fervor about loving one's neighbors and enemies. Francisco spoke briefly upon taking his seat, saying to the public that he hoped "to follow your predilections, not my own" and to eventually gain the confidence of those who had not voted for him.
In an interview the previous evening, Francisco had said that his first priority is public safety. "I want to do everything that can be done to reduce gang violence and aggressive vagrants," he said. He also said he will ensure that neighborhood groups are included earlier in city processes that affect them, such as traffic planning. In contrast to Barnwell, Francisco has expressed skepticism about global warming forecasts, though he conceded that he "can't see any reason to disagree that increased carbon dioxide in the atmosphere is going to increase global warming," and added that "green building standards are mostly good ideas. I guess the only thing we need to be careful about is that we don't impose burdens so onerous on people that they are unable to build, but I don't think we're anywhere near that."
The city's poet laureate, Perie Longo, concluded with a poem that referred lovingly to the City Council's unanimous resolution in 2007 denouncing the war in Iraq-a resolution that Francisco, now the council's lone Republican, opposed during his campaign. The poet furthermore referenced the ill-fated Light Blue Line project, which would have painted on city streets the projected high-water mark should the ice caps melt. Francisco also opposed this project. Liltingly delivered in a rhythm close to normal speech, the poem predicted, based on numerological indications, that 2008 represents fiscal good fortune, that "now the Blue Line's been replaced with the bottom line."