Sports
DP Chargers Beat SB Dons in Water Polo
Kiley Neushul Leads Attack to Overcome Years of Santa Barbara High Domination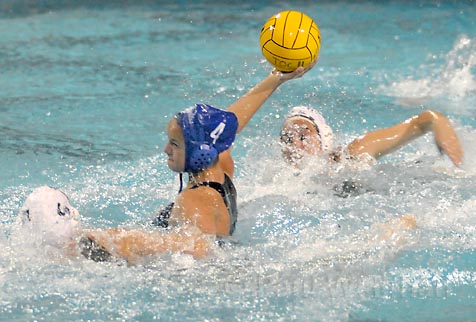 History sunk like a dead weight in the Santa Barbara High pool, where Dos Pueblos defeated Dons 9-4 in a girls water polo game Thursday afternoon.
Santa Barbara had achieved an 89-2 record in Channel League games and is the 11-time defending league champion, but Dos Pueblos showed it is ready to seize the crown.
Freshman Kiley Neushul orchestrated a Dos Pueblos attack that produced eight goals by sophomores and freshman (Alex Hill had three, Tiera Schroeder, and Amanda Redfern two each, and Neushul one), but the biggest goal was scored by senior Michelle Armstrong.
The Chargers led by only 5-4 after back-to-back goals by Santa Barbara's Emily Martin and Samantha King in the third quarter. Dons goalie Chloe Brooks stopped a shot by Schroeder, but Armstrong surged forward to stuff the rebound back into the goal, and the Chargers went into the fourth quarter with a 6-4 advantage.
Santa Barbara coach Mark Walsh said holding the score down was crucial. "There's no way you're going to score more than five goals on [DP goalie] Sami Hill," Walsh said. Hill came up with six saves in the match.