Film & TV
An Introduction to the 2008 Santa Barbara International Film Festival
'Twas the week before lift-off and all through the Chapala Street office, creatures-paid and volunteer-were fitfully stirring, purposefully and otherwise.
Twas the week before liftoff at the Santa Barbara International Film Festival and all through the Chapala Street office, creatures-paid and volunteer-were fitfully stirring, purposefully and otherwise. Yes, it is crunch time on Chapala, as the city's proudest and most successful festival operation gears up for another 10 days of film-obsessive activity. Our rich little tourist town will host stars, artistes, craft people, seminars, panels, swanky parties, homegrown filmmakers, and what is, for some of us, the festival's heart and soul: films from around the globe inviting us to reflect on both the state of the world and the state of the cinematic art form.
Tonight, the festival officially begins on a light note-with the world premiere of the American romantic comedy Definitely, Maybe, written and directed by Adam Brooks and starring Ryan Reynolds and Rachel Weisz. The festival ends, on February 3, on a much darker, more art-house-y note, with the U.S. premiere of Giuseppe (Cinema Paradiso) Tornatore's new one, The Unknown Woman. In between come more than 200 films and a myriad of special interest sidebars, from surf and outdoor films to Eastern European cinema, documentaries, Asian films, and other sub-currents, in a decidedly and emphatically diverse festival.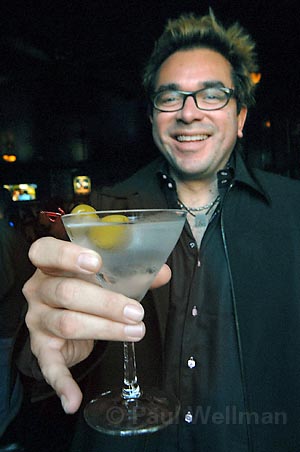 In the numbers game, SBIFF 2008 is the 23rd annual, no special deal apart from its status as a post-20-year survivor. But this is the fifth year of the Durling era. Without question, charismatic Executive Director Roger Durling-with his hands-on directorial style and ability to move across demographics-has elevated the festival's international standing during his tenure in the role. Far more than the previous festival directors, Durling has engaged with the community in various ways, including his year-round Cinema Society. If his predecessors receded into the background more, Durling doesn't mind absorbing the spotlight and becoming the festival's flamboyant but erudite, dynamically coifed domo.
One afternoon last week, he was taking a break from the flow of email, phone messages, and other modes of contact in his office deep in festival HQ to meet the press. "I'm impatient," Durling said. "But at the same time, I persevere and continue. It's interesting how I see seeds that I planted five years ago are paying off. I have learned you can never take anything for granted. You've just got to be patient. Relationships and goals take time."
One of the points of reunited continuity in the festival history is the return of documentary programmer Candace Schermerhorn, who took a few years' hiatus, partly to embark on a film project. She notes that the current operation "runs so much more differently. It really feels more professional and more grown up."
For repeat visitors, there are cyclical aspects. Case in point: Julie Christie, who showed up years ago at the Riviera Theatre at a screening of McCabe & Mrs. Miller, was one of the star performers in last year's festival in Away from Her. That film has gone on to attract generous and rightful attention, and now Christie returns in person for a tribute on Friday.
As for the 2008 crop of other tributees, it seems to outshine last year's list on some levels. Javier Bardem and Tommy Lee Jones, both haunting standouts in this year's best American film, No Country for Old Men, will get justified tribute evenings. Respected director Norman Jewison will be in the guest director's chair, and Angelina Jolie will draw an expected ¼ber-buzz and a crush of shameless paparazzi (and Brad Pitt's presence won't hurt that rubbernecker in all of us). But the fact is that Jolie is deserving of artistic respect this year with her performance in A Mighty Heart.
Last year's choice of modestly talented populist Will Smith in the Modern Masters stirred some skeptics' bemusement and/or ire. The Smith tribute was a sold-out evening, natch, and Tom Cruise even showed up to present the award at evening's end, to the breathless response of the crowd.
By contrast, this year's Modern Master, Cate Blanchett, as Durling opines, is "one of those rare actresses who, like Meryl Streep, appeals to the masses but at the same time, has respectability. For five years, I've wanted a woman Modern Master, and I think she fits the bill without any eyebrow raising and questioning. But at the same time, she has The Lord of the Rings connection."
Whatever the stubborn questions of artistic versus commercial cred, Durling recognizes the importance and also the delicacy of the celebrity tributes aspect of the festival as a means to a larger end. "I'm as much a film geek as you can get," Durling said, "when it comes to highbrow stuff. But that's not what makes a film festival successful, and brings sponsors and press."
He explained, "You've got to think from a producer's viewpoint. You're going to put your best stuff and the attention-grabbing stuff out in the window and lure that customer in. I'm a producer at heart. You have to think financially, and you have to think about your sponsors and media. It's a balancing act."
As before, Durling abides by the notion of appealing to different niches in the community with the festival-in effect, offering enough variety to allow people to construct their own definition of what the festival is.
"You can see Santa Barbara in the festival," he said. "You can see the surfing side : and then you see the Latino aspect of it. You see the environmental aspect, the political documentaries, and the international fare. And Santa Barbara filmmakers are well represented. But more than any other year, you see my signature in it."
Overall, the festival is, Durling hopes, "a nice mosaic of Santa Barbara. I learned a long time ago, in art school, that in order to achieve universality, you need to be very specific about your experience and where you are. A professor told me that. He said write about what you know, create about what you know. If you do that, it will create a kind of universality."
He continued, "That's what I stuck to in the past five years. I wanted to have the different sidebars to represent Santa Barbara. And then people from the outside will come in and share in that specificity."
Independent.com Covers SBIFF 2008
Get your daily SBIFF updates at independent.com, where Josef Woodard will be posting his "Woodard Wraps," D.J. Palladino will be delivering "Palladino's Picks," and the rest of The Indy's staff will be reviewing films, covering events, and posting the best photos for the next 10 days.
Check the homepage or just go straight to independent.com/sbiff2008 for the latest.
• Meet Javier Bardem, This Year's Montecito Award-Winner for Classic Performances
• An Interview with SBIFF's Modern Master, Cate Blanchett
• Behind the Scenes with SBIFF's Reviewers, Who Screen Films All Year
• A Rundown of Group Talks You Don't Want to Miss
• Actress Amy Ryan Joins the Cast of SBIFF's Virtuosos
• Introducing SBIFF's Guest Director, Norman Jewison
• Presenting the Best in Santa Barbara-Based Filmmaking
• Getting a Grip on This Year's Flood of Documentaries