News
Obama, McCain Victorious in SB County
Cold Spring School Bond, Emergency Services Parcel Tax Defeated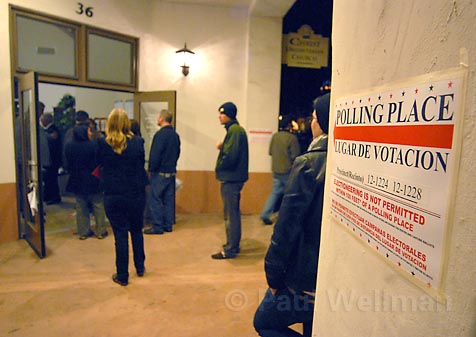 With all precincts reporting just before midnight on February 5, the countywide winners of the presidential primaries were Barack Obama and John McCain. The Democratic senator from Illinois won handily, with 49.75 percent of the vote to opponent Hillary Clinton's 42.36 percent, while former candidate John Edwards, who dropped out of the race last Wednesday, took 5 percent. The vote was more widely distributed among the greater number of Republican candidates, with McCain taking just more than 40 percent of the vote, Mitt Romney taking 32 percent, Mike Huckabee with 12 percent, Ron Paul at 4 percent, and former candidate Rudy Giuliani with 6 percent. Other parties got just over 2,000 of the 98,620 votes cast. Just under 54 percent of the county's registered voters cast ballots, not much different from the 55 percent turnout during the 2004 presidential primaries.
Of course, what will really count during the national party conventions (where the nominees are chosen) is their number of delegates, most of who are pledged to candidates according to how they fared not by county, but by Congressional District (CD). The coastal portion of Santa Barbara County is part of the 23rd CD, currently represented by liberal Democrat Lois Capps. The inland portion is part of the 24th CD, represented by conservative Republican Elton Gallegly. Among Republicans, every Congressional District in the state has three delegates, and the winner takes them all. Thus, McCain, who won in both the 23rd and 24th CDs, picked up each of their three delegates, out of 170 California delegates and 1,191 total delegates needed to become the Republican nominee. For winning statewide, he will get another 11 delegates.
With Democrats, candidates win a portion of delegates depending on the percentage of the vote they won. The race in the 23rd CD was close, with Obama winning 47.3 percent of votes counted as of press time, and Clinton winning 46.3 percent. If that one percent lead holds, Obama will get three of the 23rd CD's five electoral votes. In the 24th CD, Clinton won by 51.5 percent, so she will get three of its five electoral votes. Clinton and Obama will split the state's at-large delegates. California has 441 Democratic delegates total, including district delegates, at-large delegates, pledged elected officials, and unpledged superdelegates. The number of delegates needed to win the Democratic nomination is 2,025.
Prop. 92, the community college spending plan that would have capped unit fees at $15, was defeated, garnering just 38 percent of the vote countywide. It lost by a similar margin statewide. The term limits reform measure, Prop. 93, also went down to defeat in the county by a margin of 3 percent, but as of press time was still neck-and-neck statewide, with not all precincts counted. The casino propositions-94, 95, 96, and 97-passed with wide margins both countywide and statewide. Santa Barbara's countywide Measure S2008, the $36 annual parcel tax to support emergency services, was rejected by 54 percent of voters. By contrast, Lompoc's Public Safety Act won 55 percent of the vote. The Cold Spring School bond was where every vote really counted: With 1,006 votes cast, the measure lost, 506-500. It needed 55 percent of the vote to pass.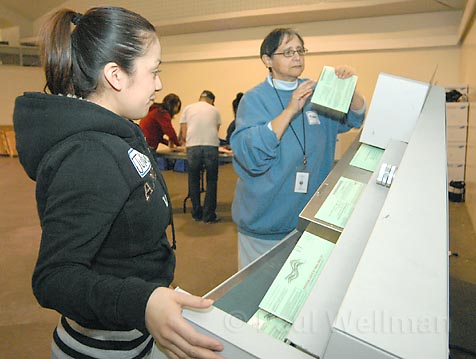 By 11 p.m. on Tuesday, results from all of the South County precincts were posted on the web, while the North County ballots were on a truck somewhere near Buellton, en route to the Earl Warren Showgrounds for the final tally. By midnight, all votes were posted except for provisional ballots and those vote-by-mail ballots that were handed in to polls late Tuesday, rather than mailed in. The late-Tuesday vote-by-mails will be counted later this week. The provisional ballots, which require more processing, will be counted last.
Among the provisional ballots cast Tuesday was that of David Thoman, a Cottage Hospital surgeon who declined to state a party when registering, said his wife, Charity Thoman, a former coordinator for Santa Barbara County's Obama campaign. (Decline-to-state voters in California are allowed to vote in the Democratic or American Independent Party primary, but not the Republican primary.) According to Charity, staffers at her husband's polling place on Modoc Road claimed that decline-to-state voters could not vote in party primaries. Eventually, he was given a provisional ballot, but was then told it would probably not count. Another Obama volunteer, North County precinct specialist and registered Democrat Sheryl Hermann, said she was mistakenly sent a Republican ballot in the mail; she had to drive to Santa Maria elections office from her home in Santa Ynez to exchange it for the Democratic ballot.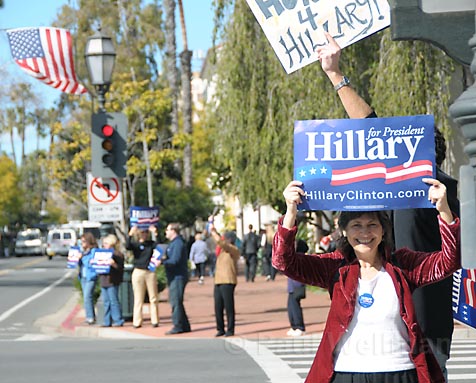 County Elections Clerk Joe Holland, when asked about the alleged decline-to-state snafu, said, "It never happened." He insisted that poll workers were thoroughly trained to deal with decline-to-state voters, and that there are flip-charts to guide them at every station in case they aren't sure of rules and procedures. A more plausible explanation, in his view, is that the voter was mistaken about having registered decline-to-state. A voter who disputes his or her party registration, as often happens, is given a provisional ballot for the party primary in which he believes he should be voting, with the discrepancy to be sorted out later. Holland said that voters dubious of the poll workers' party registration lists can see copies of their registration cards, complete with signature and date, on computers at the county elections offices. On the subject of the voter mistakenly sent a Republican ballot, Holland blanched and nodded, but made no further comment on the matter.