Living
Question: When did the first automobile come to Santa Barbara?'
-Marge Kupchella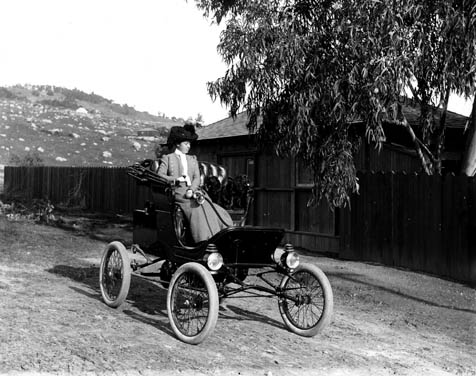 There was a bustling energy to Santa Barbara as the 19th century came to a close. The 1890s had seen the city's first presidential visit, the introduction of long-distance telephone service and electric streetcars, and the opening of the Cold Spring water tunnel which, it was thought, would solve the city's chronic water shortages. And, for the first time, a horseless carriage appeared on city streets.
According to local historian Walker Tompkins, writing in 1961, the first automobile was part of a circus parade in 1899. The car was an Oldsmobile, powered by a one-cylinder gasoline engine, and maneuvered with a tiller instead of a steering wheel. Tompkins relates how the parade was forced to travel south (downhill) on State Street in order to insure the new-fangled vehicle would not encounter any problems.
The second appearance of a car did not take place until June 1900. Harry C. Turner and his wife, Marie, were proud owners of a steam-powered Locomobile. Turner was vice president of Turner Oil Company and would shortly become a charter member of the Automobile Club of Southern California. The Turners were traveling from Los Angeles to San Francisco to attend a cousin's wedding. A 400-mile auto trip in 1900 must have been quite an adventure; reportedly, they were the first to pilot a car over precipitous San Marcos Pass.
The first local to own an automobile was W. S. Sherman. In September 1900 he took delivery of a two-seat, steam powered Locosurrey for which he paid $1,200, quite a tidy sum in those days. Sherman then went into business for himself, charging his fellow citizens for rides in his new possession.
Fifty cents would buy a spin around two city blocks, while five dollars would get you from De la Guerra Plaza to the Old Mission. Sherman only kept the car for about a month. First it frightened a horse, then developed boiler trouble to the extent that the car would no longer climb Dibblee Hill, where Santa Barbara City College is now. Disgusted, Sherman mothballed the vehicle.
Steam-driven vehicles were quite popular in this period. The cars accelerated smoothly and developed good power. On the downside, keeping the cars supplied with water could be problematic and it could take as much as 10 minutes to build a proper head of steam before getting underway.
Two Montecito residents were also early auto owners. In October 1901, the local newspaper reported that Herman J. Husikamp had purchased a two-cylinder gasoline vehicle. Another 1901 purchase was made by Pryce Mitchell. A former sea captain, he had a farm in Montecito and later opened one of the first car dealerships in Santa Barbara, where he sold Pierce-Arrows. His first car was a French-made de Dion-Bouton, for which he paid $1,800. Mitchell described the performance of his 3.5-horsepower, gas-powered car in a 1944 interview. The car could make 20 miles an hour on a flat grade, slowing to around five miles an hour on any kind of hill. He discovered that the five percent grade of the hill up to his Montecito home was too much for the car; he had to push it up the hill. A Dion-Bouton, owned by a man from Pasadena, was the first auto with an internal combustion engine to make the trip over San Marcos Pass, in June 1901.
In the early days, horses had the right of way within the Santa Barbara city limits. The speed limit was eight miles an hour. Nonetheless, the number of automobiles steadily rose; eight autos traveled city streets by the end of 1902, and by 1910 there were well more than 300 vehicles. The Automobile Age had arrived in Santa Barbara.