TOXIC TRASH, TOXIC CASH: As a general rule, it's not considered wise to pee in the water from which you drink. In most places, this notion passes not just for common sense, but good manners and even sound public policy. But up in Santa Maria, such precautionary logic seems reserved for the faint of heart and the weak of knees.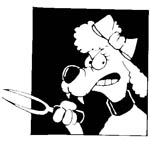 Up in the land where tri-tip was invented, the powers-that-be have embraced a cockeyed scheme to pile no less than eight million tons of seriously contaminated toxic dirt square on top of Santa Maria's leaky landfill, which happens to lie directly above not one, but two underground water tables. It's also right next to the Santa Maria River. The landfill is such a sieve that state regulators ordered it shut down a few years ago because contaminants from the trash were, in fact, seeping into the water below. In fact, during heavy rains, the water table beneath the dump would rise up to meet the trash, a process known to appalled geologists as "tea-bagging." But despite all this, we have been assured by Santa Maria's best and brightest that none of these nasty chemicals pose any risk to Santa Maria's drinking water. That's because impermeable plastic liners will be placed on the bottom and the top of all this toxic soil; there's absolutely no way, the experts say, for any rainwater to seep into the contaminated dirt and from there into the groundwater below.
It's possible, however, that Santa Maria's judgment in this matter might be clouded by the nearly $4 million a year this proposition promises to generate for City Hall. Certainly Santa Maria would not be the first city to risk the long-term safety of its residents in hopes to achieving a significant short-term financial gain. As bad as this is, I can't help but be impressed how City Hall got this greased pig of a deal approved long before any of its eventual critics knew what hit them. But then, I'm perverse. I'm still wondering what explanation there might be for how badly the Santa Barbara Grand Jury dropped the ball in investigating this mess. By law, the Grand Jury is supposed to play the role of government watchdog, not lap dog. But if the Grand Jury report-released just last week-were any more shameless and fawning in its praise of this program, we'd all be drowning in a sea of dog spit right now.
Most of the contaminated soil will come from the Guadalupe Dunes in San Luis Obispo County. Thanks to Unocal's leaky pipes and tight-lipped employees, the sands of Guadalupe there were allowed to slowly marinate in toxic oil field solvents known as "diluents" for a period of 45 years. During that time, as many as 22 million gallons of this stuff seeped into the ground, constituting one of the worst oil spills ever in American history. When this was exposed nearly 20 years ago, Unocal barely escaped criminal prosecution and was fined $44 million. State water quality officials decreed the diluents way too toxic to remain in the environment and ordered it scooped up and hauled away. We're talking 47,000 truckloads of contaminated soil. At about the same time, the same state water agency was ordering Santa Maria to begin shutting down its tea-bagging landfill. To comply, Santa Maria would need no less than 8 million tons of soil to fill and cap its sprawling riverside dump. Santa Maria officials quickly recognized the Guadalupe sands could cheaply satisfy their huge appetite for soil; in fact, the city could actually make money by charging the oil company-now Chevron-processing and dumping fees. And just as quickly, Chevron recognized the 16-mile drive from Guadalupe to Santa Maria would be much cheaper than the much longer haul to Kettleman Hills, the closest toxic waste facility licensed to handle such contaminants.
But there was one big problem. At first, the state water quality board rejected the plan out of hand. State regulators recognized that if diluents ever got in water, they're much harder to get out than oil. Diluents spread fast and don't easily decompose. Mix them with PCBs-a suspected carcinogen that's also turned up at the Guadalupe spill-and you have serious cause for concern. But somehow Santa Maria folks persuaded state water officials these guidelines were unreasonably stringent and obtained the permits they needed in August 2004. Six months earlier, the Santa Maria City Council had certified an environmental study for the controversial soil swap at a council meeting. Even if you studied the agenda closely, you'd never have known what was afoot. There was no mention of 47,000 trucks rumbling through town, no mention of toxic soils placed precariously close to the city's water supply, no mention that the state water agency had concerns. It was beautifully buried on the agenda next to an item about weed abatements; had you blinked, you would have missed the whole discussion. But the most impressive sleight of hand would not occur until February 2005, when the county supervisors in San Luis Obispo-where the soil originated-approved the plan. Had you attended that meeting, you would have known something was going on. But San Luis officials were under no legal obligation to notify residents of Santa Maria what was heading their way. As it turns out, one excitable Santa Marian happened to be in the audience on another matter completely. When he heard what was cooking, he notified former city councilmember and county supervisor Toru Miyoshi. Moderate by both temperament and ideology, Miyoshi is normally a soft-spoken guy. But when it came to the dirty dirt deal, he threw restraint out the window, calling it "one of the worst things I've seen in 20 years of public service." The skillful circumvention of public process he called "simply corrupt."
The good news is that since the program started nearly three years ago, no disasters have occurred. The safeguards seem to have worked. The City of Santa Maria has made nearly $14 million so far, and is expanding the program to handle contaminated soil from Long Beach and other communities. But no one should sleep easily at night. No one should trust that the "impermeable" high-tech plastic sheets can really keep the contaminants in the soil out of groundwater. As Miyoshi learned the hard way-back when he was a county supervisor in the 1980s-there's really no such thing as "impermeable." Back then, there was a hazardous material dump operated outside of Santa Maria in the small oil-patch town of Casmalia. It took practically everything short of nuclear wastes and explosives. Speaking for the owners of the dump were a host of college-educated really smart guys with doctorate degrees in geology who repeatedly told us nothing bad could ever leak off the site. Ever. The geology of the site, they said, made such an event virtually impossible. Only hysterics and crackpots contended otherwise. Guess what? The hysterics and crackpots were proven right. In 1992, it was discovered that some of the toxics stored at Casmalia managed to get into the subsoil water system and travel about 1,300 feet beyond the dump's boundaries. As a result, Casmalia Resources now qualifies as an EPA Superfund Cleanup Site. And even though no final clean-up plan has yet been approved, EPA officials estimate any such effort will cost at least $272 million.
I'd strongly advise the people running the dirty dirt transfer station in Santa Maria to keep that history in mind. The $3.6 million a year Santa Maria City Hall makes off the deal is nice, but it's peanuts compared to what it will have to spend if something goes wrong. From an operational point of view, the word "impermeable" should be purged from the dictionary if not the English language. And next time, I'd much prefer it if the Grand Jury would let us know how lucky we are to have dodged a bullet, not how lucky we are because the program is so great. I appreciate that when Santa Maria found itself handed a lemon, it tried to start a lemonade stand. But for the rest of us, the whole deal smells way too much like Kool-Aid. And it would have been nice if the Grand Jury said so.