News
Assassin's Creed
Bloody Action and Gorgeous Graphics Mark This Ubisoft Title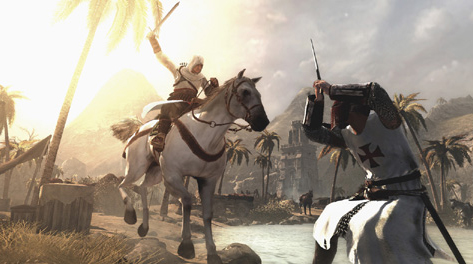 Platforms: PC, PS3, Xbox 360
Release date: 4/8/08
Published by: Ubisoft
Developed by: Ubisoft Montreal
ESRB: M (for Mature)
Software developer giant Ubisoft – specifically Ubisoft Montreal – is best known for A-class video game titles like Tom Clancy's: Splinter Cell and Prince of Persia: The Sands of time, both of which were huge sellers in the gaming industry and helped Ubisoft to further establish their reputation for game-making genius. In both cases, Ubisoft Montreal took a gamble and developed games that offered something innovative and fresh. The same can be said for their latest release: Assassin's Creed.
When I say that Ubisoft Montreal took a gamble, I mean that they used an unproven method of storytelling that relies on creativity and innovation to create worthwhile A-class games. Truly, at the heart of any good game is story, and Assassin's Creed has one of the most refreshing storylines in quite some time. Imagine being transported back into your own ancestor's past, experiencing firsthand what your he or she lived through. Assassin's Creed not only gives you the method to travel back in time but you can interact in an open-ended environment centered around the main story of Desmond Miles, a simple bartender who just happens to come from a long line of a secret order of assassins.
From stunning and ancient cityscapes to riding on horseback through beautifully rendered canyons, our protagonist, Desmond Miles, finds himself the body of one of his most ancient relatives: Altair ibn La-Ahad, a member if an organization Hashshashin, referred to in the game as the "Assassin Brotherhood." This group is dedicated to righting the injustices inflicted upon the innocent with death. Throughout the various challenges that await Altair, he'll find himself in plenty of sticky situations, so the player needn't worry about being bored.
Most of the games environments-levels, essentially-take place in ancient Middle Eastern cities such as Damascus and Jerusalem. And since you are an assassin, not only are the streets open to you to roam but the rooftops as well. In my opinion, here lies the real charm in Assassin's Creed. The player has the ability to climb walls, balance on tall poles, jump across rooftops and even find hiding spots in order to avoid detection. With this much going on, Ubisoft has brought an epic story with the best elements of stealth action and open-ended genres along with amazing looks and sound to the masses with style. Quite a feat, but it's one that the company has pulled off.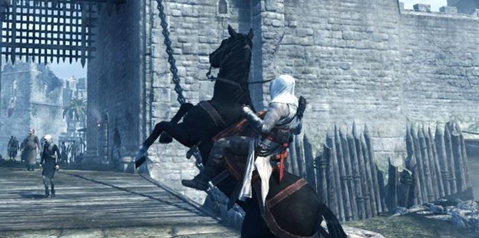 The action can be heavy and hard, if the player chooses to tackle the enemies face-to-face, or the action can be really challenging by trying to keep away from enemies due to the game's many free-roaming environments. What really sets this game apart from other similar games out on the shelves are its graphics. The look of the game is just drop-dead amazing, adding to the surreal experience of playing Assassin's Creed. The sound quality is also fantastic, although a bit repetitive. The player hears the same background sounds whichever city Altair visits. A saving grace is the voice acting.
The controls are at first hard to understand, but after about a half-hour of play the player gets a good feel for the control scheme. The player can toggle between aggressive moves such as fighting or climbing walls to passive moves such as blending in with a crowd or sitting on a bench to avoid detection. Altair must rely mainly on stealth moves and stealth kills, since the player can be overwhelmed when on the ground by much more than one enemy. That's not to say that Altair can't fight multiple enemies with multiple weapons, he's got plenty. The player arsenal includes a long sword, for really tough one-on-one combat, to a set of throwing knives for long-distance stealth kills. But mastering these skills can take some time for the player.
In all, Assassin's Creed lives up to the quality that Ubisoft Montreal is famous for. But the game does have a few drawbacks albeit small ones. The difficulty of learning the controls is satisfying once accomplished, but can also be extremely frustrating, depending on which system that player has and how much patience the player has. The sounds are fairly bland and do not have much variance from city to city and are sometimes just plain repetitive. But what the game lacks is more than made up for by the story, the characters and the many surprises that await the player when entering the world of Assassin's Creed.