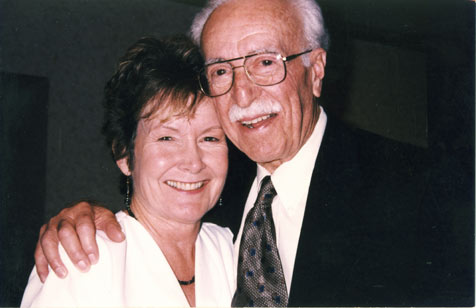 Harry Chanson's love of music began early. He was born in Lynn, Massachusetts, in 1913, the only son of Russian immigrants Samuel and Eva Chanson. His father was a tailor. At his father's wish, Harry began studying the violin at age six. At 16, he took up the accordion, an instrument more suited to the popular music of the time, and played at borscht circuit resorts in the Catskills, and other venues, with the Lou Barron Band.
In 1936, stopping to banter with guests after a show at the Hotel Langton in New Jersey, he met Rose Frankel. He overheard comments about the performance at her table and said to her, "I see we have critics here tonight!" Thus began a romance, and they married in New York City in 1937. That same year, they moved to California with Rose's son Joseph and her sister Ruth, landing first in the Fairfax area of Los Angeles, then settling here when Harry learned that Santa Barbara needed music teachers.
Harry taught accordion to students at the Santa Barbara Music Company from 1937 to 1957. He led his own band on weekends at the San Ysidro Ranch for 18 years. His band played at many private parties; a stranger, asking to sit in one night in Montecito, turned out to be Benny Goodman. The band had never played so well, Harry said.
Harry's involvement with the American Federation of Musicians (AFM) began in New York in 1934. He was elected president of AFM Local 308 in Santa Barbara in 1942-a title he proudly held for the next 66 years. In 1952, at the 55th AFM International Convention in Santa Barbara, Harry caught the attention of then-president James Petrillo, who in 1955 appointed him chairman of the prestigious AFM Finance Committee, a position he held through the latest AFM International Convention in 2007.
Serving through five decades and eight AFM presidents, Harry was at the heart of the federation's decision making during an era of profound transformations in the music industry. Throughout his tenure he was personally committed to making sure that every member of the AFM had the support he or she needed, and Harry was legendary for his diplomacy in guiding the union through the difficult financial decisions that would make that possible. He negotiated contracts for the Santa Barbara Symphony, the Santa Barbara Chamber Orchestra, Opera Santa Barbara, and the Mozart Festival in San Luis Obispo. With an unrivaled institutional memory and a role in mentoring several generations of AFM regulars and officials alike, he was still actively advising on union financial matters and involving himself with contract negotiations on the weekend before he died.
Harry, his brother-in-law, and his stepson built their first boat in the living room of his and Rose's small house in Santa Barbara. Then, with Leon Tatreau, a trumpeter in the band, Harry started a mooring business for boats at anchor inside the Breakwater. They conceived the idea of building a marina inside the harbor. After initial resistance from the City of Santa Barbara, Harry was able to persuade Pearl Chase and Tom Storke to support the project, and in 1954 he and Tatreau got permission to build it. Their company, Yacht Marina, Inc., constructed and operated the city's first marina, built of wooden docks floating on empty chemical drums, with 116 slips for powerboats and sailboats. Harry and Rose ran the business themselves from a small office perched on the ramp leading down to the docks. Harry and four other investors built the Marine Center Building, the travel lift pier, and the boat yard.
Harry and Rose moved their yacht brokerage to the Marine Center Building at the harbor until they retired in 1979. They also ran a small art gallery in the building for several years. During the following years, between frequent trips abroad, Harry and Rose gathered family and friends nearly every weekend at their home on Miramonte Drive. Every week for 25 years, he volunteered with Recording for the Blind and Dyslexic.
As a grandfather to Joseph's children, Harry was vital, loving, and funny; a serious adviser or silly companion as the occasion required; he leaves innumerable happy childhood memories with them of boating expeditions, accordion lessons, and splashing about in the small swimming pool under his good-humored supervision during family gatherings. He was the unequalled master of ceremonies at all family meetings.
Rose died in 1992, and in 1997 Harry married June Gaddis, who became his avid and much-loved partner in all their activities. With an unfailing gift for courtesy and an ability to befriend people from all walks of life, Harry became a friend and mentor to countless people, and his love and concern were bulwarks for many who crossed his path. His wonderful long life was full of music, family, fun, and a spirit of adventure, all of which he shared generously with others. Much loved, he will be long remembered.
Harry's family and friends have set up a scholarship fund to make it possible for children to learn music:
Harry Chanson Music Scholarship Fund
c/o AFM Local 308
2904½ De la Vina St.
Santa Barbara, CA 93103