News
David Horowitz Provokes Extreme Response with Anti-Arab Remarks
Truth or Lies?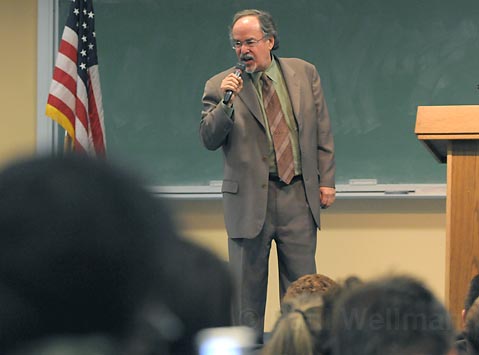 Isla Vista's Embarcadero Theater was packed on Monday night, although not everyone was there in support of David Horowitz, the evening's featured speaker. Hosted by the UCSB College Republicans, the event brought to campus a man who just recently made waves at UCSB by taking out an ad in the university's newspaper, the Daily Nexus, stating that the Muslim Student Association (MSA) was originated by the Muslim Brotherhood, an organization accused by some of committing and perpetuating violence and having associations with Osama bin Laden and other extremist followers of Islam. Wearing green shirts, about 50 people in the audience were there in support of UCSB's chapter of the Muslim Student Association.
"Most speakers don't have to have this much security," said Horowitz of the 10 or so security staff-composed of sheriff's deputies, campus police, and campus safety officers. "You should think about what this means on your campus. It creates a climate where it's difficult to discuss things in a rational manner." Horowitz, a one-time Marxist, further maintained that UCSB and other campuses around the country are suffering from limitations of free speech imposed by the far left.
Horowitz also discussed Islamo-fascism Awareness week, which he brought to UCSB last October, saying it focused on the oppression of women by the Taliban in Afghanistan. "Yes, [Islamo-fascism] is a movement within Islam," he said. "No, it is not all of Islam. It has nothing to do with American policy in the Middle East or elsewhere. It has to do with a reading of the Koran that calls for a world-wide Muslim Empire with a caliphate based in Iran." Part of his concern, he said, was the desire of Hamas and Hezbollah-terrorist organizations he said are aligned with the Muslim Brotherhood and the MSA -to erase the state of Israel.
"There is a movement for a second Holocaust of the Jews that is being supported on this campus by the Muslim Student Association!" Horowitz said.
Horowitz, stating very flatly his opinion that Arab states are "all racist and exclude Jews," made accusations that green is the color of Hamas and that the keffiyah-a traditional Arab head covering which many students were wearing-is a symbol of terrorism that honors Yassir Arafat. At that point, Walid Afifi-a UCSB communications professor who had thanked Horowitz for coming to offer a diverse point of view and had invited him to participate in a level discussion forum at a later date-exploded in fury at what he considered an offensive smear of Arab culture. "You're preaching hate!" he yelled. The student at which the keffiyah comment was aimed could be seen wiping tears from his face. Other remarks also drew explosive responses. "There is a movement for a second Holocaust of the Jews that is being supported on this campus by the Muslim Student Association!" Horowitz said, eliciting shouts from the audience that included "You're a liar!" and "This is bullshit!"
"His trying to link the Muslim Student Association with international terrorist organizations is off the wall," said Juan Campo, the Muslim Student Association's faculty adviser. "They've been involved in interfaith activities with Jewish student groups, and they've been involved in charity work for national disaster relief. Horowitz has a reputation for stirring up trouble, and that's what he seems to be doing." During his speech, he promised to retract his statement about the Muslim Student Association if one of them would denounce Hamas and Hezbollah. "He does bring up a good point-and we don't support those organizations-but I'm not going to denounce them just because Horowitz says to," said Faheem Ahmad, the president of MSA. "Our work in the community shows what we support."
After Horowitz spoke, audience members practically ran up to the podium during the question-and-answer period, seemingly anxious to get a verbal shot at the man who had stirred up so much tension in the room. The discussion degenerated quickly from there, and not much productive dialogue occurred. Several people were removed by security.