Living
Pirate-y Peeps
Searching for the Booty at the Renaissance and Pirate Faire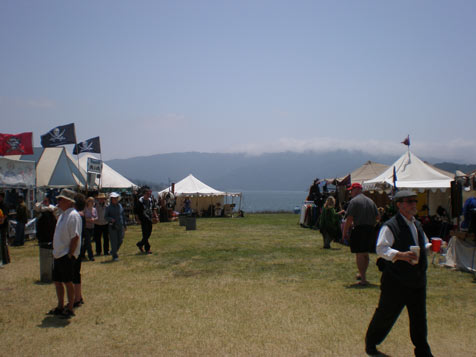 There might be more interesting ways to spend Mother's Day than swashbuckling with pirates and bowing to Queen Elizabeth, but I can't think of any. While most folks were enjoying a nice brunch and showering their mamas with some much-deserved attention, I made the beautiful drive on Highway 150 through the hills to Lake Casitas to attend the 18th annual Renaissance and Pirate Faire.
Greeted by bosomy ladies and parrot-toting lads, I was given a quick "weapons check" by ye olde guards, which was more like a friendly grope/tickle, before entering a 16th-century village set on the edge of Lake Casitas, a view of the water and fog rolling over the mountains beyond.
Hundreds of people strolled the grounds decked out in Renaissance and Buccaneer attire, greeting each other with "ahoy" and "g'day to ye." Feeling more than slightly out of place without a single sword, dagger, or eyepatch on me person, I headed to the vendors' tents, where one could purchase everything from the tightest corset this side of the Atlantic to cheesy "Check Ye Booty Here" flags to legitimate bronze medallions engraved with ancient Celtic symbols. Although some of the skull-and-crossbone gear looked like something an angsty teen might pick up at a Hot Topic, more than one bejeweled Elizabethan mask and glittery flower garland had me pause for a price-and then a reality check.
The food court played host to its share of historic themes, including a tavern with the ale (and plenty o' rum) liberally poured by a fair wench, corn on the cob, and mouth-watering giant turkey legs, offered at special Mother's Day prices to boot. (The use of utensils and napkins was largely frowned upon.)
The afternoon's entertainment included a demonstration of life in Queen Elizabeth's court; exotic belly-dancing, although I'm not sure what part of Renaissance culture this portrayed; a pirate-folk band paying lyrical homage to rum, wenches, pillaging and plundering; and a battle reenactment that pitted a rogue pirate crew against the queen's armed forces. As the cannons fired, I experienced simultaneous feelings of joy and fear hearing-hopefully for the only time in my life-dozens of children screaming "Off with his head!" and "Long live the queen!"
Although I'm not willing to suck into a cleavage-spilling bodice or walk alongside a peg-legged mate-my interest in pirate culture extends only as far as Jack Sparrow's screen time in Pirates of the Caribbean (eyeliner on guys never looked so good)-hats off to the folks who keep the romantic and adventurous spirit of the days of yore alive and allow us a playful peek at the past.