News
Ruling Vindicates S.B. Prosecutors, Judges
Fictional Works Didn't Create Conflict of Interest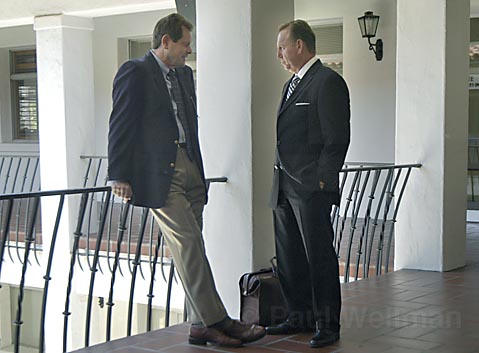 The public prosecutor, according to a 1935 U.S. Supreme Court opinion, is the representative "of a sovereignty whose obligation to govern impartially is as compelling as its obligation to govern at all; and whose interest, therefore, in a criminal prosecution is not that it shall win a case, but that justice shall be done."
With that statement in mind, the California Supreme Court ruled on May 12 that the death penalty murder trial of Jesse James Hollywood can proceed with Senior Deputy District Attorney Ron Zonen prosecuting the case. In a related matter, it also ruled that Senior Deputy DA Joyce Dudley can prosecute a rape case she was assigned to. In the two opinions penned by Justice Kathryn Wedegar, the Supreme Court reversed Court of Appeal decisions recusing the two prosecuting attorneys. The high court sided with the Santa Barbara Superior Court judges who originally ruled that there was no conflict of interest: Brian Hill, in the Hollywood case, and Frank Ochoa, in Dudley's case against Massey Haraguchi.
Zonen, who won convictions and a guilty plea for four others associated with the 2000 murder of 15-year-old Nicholas Markowitz in the foothills of Santa Barbara, helped in the making of Alpha Dog-a motion picture based on the case-by, among other things, giving producers his files. He testified that he agreed to consult in hopes of flushing out Hollywood, who was still a fugitive. But the movie didn't come out until after Hollywood's capture, and Hollywood's attorney, James Blatt, said that besides illegally sharing confidential documents, Zonen sought to "burnish his own legacy," creating a conflict of interest.
While the high court didn't see it that way, Wedegar did use harsh words to describe Zonen's behavior. "We find his acknowledged actions in turning over his case files without so much as an attempt to screen them for confidential information highly inappropriate and disturbing," Wedegar wrote. Zonen is on vacation and couldn't be reached for comment.
District Attorney Christie Stanley indicated policies have subsequently been put in place to prevent prosecutors from providing confidential files. Prosecutors will also be forbidden to write books about prosecution while employed in the District Attorney's Office, a decision stemming from Dudley's situation.
In that case, Haraguchi's lawyer, Bob Sanger, alleged that Dudley's novel Intoxicating Agent was based on his client's case, and he attempted to point out similarities between the two. But Superior Court Judge Ochoa concluded that the fictional account was unrelated to Haraguchi's case, the timing of its publication was coincidental, and "to the extent there might be any conflict, it was not so great as to render it unlikely Haraguchi would receive a fair trial." Dudley was elated about the Supreme Court's decision. "My novel Intoxicating Agent was never based upon any case," she said. "Intoxicating Agent was a product of my schooled imagination."
Barring any unforeseen developments during a 30-day waiting period, both cases will head back to the Superior Court, where they will once again begin working their way through the system toward trial. Hollywood's attorney James Blatt said he has change-of-venue motions and more prosecutorial challenges waiting in the wings that he is "seriously considering" filing.
Despite the Supreme Court's rulings, Stanley said that "out of abundance of caution and to avoid future distractions," both Dudley and Zonen had been taken off their cases. Deputy DA Joshua Lynn will be handling duties in the Hollywood case, while Deputy DA Paula Waldman will take over for Dudley. Blatt saw the move as a "proactive step by the DA that insures a greater likelihood the defendant will receive a fair trial." Deputy DA Gerald Franklin, who argued the cases in front of the Supreme Court, said Blatt tried to get Zonen off the case for good reason. "The last thing Mr. Hollywood and his lawyers wanted to see was [Zonen] across the aisle," said Franklin, noting Zonen's ability and experience as a trial lawyer. "They wanted him off so badly. And I can't blame them."