Columns
The June 3 Primary IS Important
:And Then June 4 Will Be Festive
Thinking of staying home for the June 3 primary? Too much trouble to go to the polls and there is nothing important on the ballot anyway?
Think again.
First there is Measure V, which would provide much-needed funding for Santa Barbara Community College facilities. This institution is the first step to higher education for thousands of our local graduates.
Then there are the two competing state initiatives, Proposition 98 and 99, addressing issues of government condemning private property for public benefit. Proposition 99 would simply bar government from acquiring an owner occupied residence for conveyance to a private person or business entity. Proposition 98 would be much broader in its reach and in addition would prohibit rent control. This would kill forever rent control in mobile home parks, a major component of affordable housing in Goleta.
And there is the 3rd District Supervisor race, with five candidates vying for this seat that will determine the direction of the Board of Supervisors for at least the next four years. Anyone filling this seat has to perform a balancing act between the rural Santa Ynez Valley, the Santa Ynez Band of Chumash Indians, the City of Buellton and Vandenberg Village to the North, and the western half of the City of Goleta, Isla Vista and UCSB on the south coast.
In an earlier installment of Goleta Grapevine, I reviewed some of the reasons why Goletans should care about this race – health care services for children, seniors and the disabled, the justice system including the District Attorney's office, probation and the county jail, tax collection, elections, county parks such as Goleta Beach and much more. In addition, the County Supervisors make decisions about land uses surrounding the City of Goleta including the foothills to the north, the Gaviota Coast and agricultural lands in the east Goleta Valley.
With this in mind, here are some questions to ask the candidates.
Where do they stand on development of the Gaviota Coast: Should it be exploited as a tourist attraction and high-end housing or preserved for agriculture and natural habitats?
As the East Goleta Community Plan moves forward, what is their position on the acres of agriculturally zoned lands within its boundaries?
How would they meet the state requirement to zone for new affordable housing?
The county budget is in trouble. What are their priorities for funding social services such as mental health, children's health programs, etc.?
What priority do they give to public safety – the sheriff? Fire protection? The courts? Probation services?
Proposals are being made to generate additional revenue for county government such as a new sales tax, fees for parks such as Goleta Beach and Tuckers Grove. What ideas do the candidates have for enhancing county revenues?
A major issue that will face the Board of Supervisors after the next census in 2010 will be redrawing supervisorial district lines. Does the candidate support a balance between north and south as we have today, or a major revision, permanently tipping the third district further to the north?
All these candidates have websites, which are listed below. Check them out. Look at how they list their priorities. Who are their main supporters and where do their campaign funds come from? Then make your choice and either send in your absentee ballot or go to the polls on June 3rd and VOTE!
Candidate websites: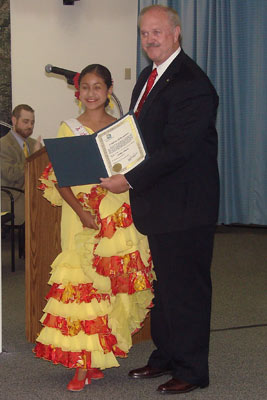 Fiesta Ranchera
Then on June 4 you can forget all this and simply have fun at the First Annual Fiesta Ranchera from 5 pm to 9 p.m. in the beautiful gardens of the Stow House at Rancho La Patera, 304 Los Carneros Road in Goleta. Jointly hosted by the Goleta Valley Historical Society and the Old Spanish Days Fiesta, there will be food and beverages from local restaurants, wineries and breweries, and entertainment by the 2008 Spirit of Fiesta and the Dos Pueblos High School Jazz Band. Tickets, at $55, may be purchased at the Arlington Ticket Office (805.963.4408).
This year's Junior Spirit of Fiesta is Ashley Almada, a Goleta 6th-grader who attends Ellwood School. She danced for the Goleta City Council last week and was presented with a Certificate of Recognition for this achievement by Mayor Bennett. Congratulations, Ashley.
Reminder
Public Hearing on the Draft EIR on the UCSB LRDP: June 4 at 7 p.m. at Embarcadero Hall in Isla Vista