RIP: One of the simple pleasures of my life is cresting the steep round belly of the Micheltorena Street bridge early in the morning. If you time it right, you can catch the early lights of dawn just starting to peek through over the ocean. Witnessing this, I always feel as though I've been let in on some great secret. It's a blessing I never fail to count. Around this time, as the nation observes Memorial Day, I can't cross my favorite bridge without thinking of Mike Murdy. Six years ago, Mike, then a 57-year-old state employee, chucked himself over the Micheltorena Street bridge and plummeted into the concrete culvert down below. By the time anyone found him, Elvis had left the building and Mike was dead.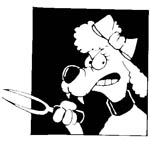 I had known Mike Murdy as one of the more cheerfully shameless media hounds in town. Every year around August, he'd start calling, wanting to know if the paper was interested in publishing his preseason prognostications about which team would win the Super Bowl. We rarely were, and he, it turns out, was rarely right. Mostly, Mike was up to his elbows in the politics of homelessness. That was back in the day when people still thought they could do something about it. As a former U.S. serviceman who served in the Vietnam War, Mike recognized that many living on the streets were fellow vets. He did what he could to help. And a whole lot more. To that end, he was always calling, dropping tips, and humping my leg for publicity. Mike reveled in the clandestine trappings of our exchanges, reminding me repeatedly that what he was saying was "strictly off the record." In time, he came to identify himself as "Mr. OTR" when calling the paper. During our calls, you could easily imagine Mike craning his neck to ensure no one where he worked knew what he was up to. Rarely were Mike's inside tips all that electrifying. Mostly, they were about some event he was holding to help the homeless-a Thanksgiving meal, for example. A job skills workshop. And even as other activists grew weary of the issue, realizing that it could never be "solved," Mr. OTR never stopped calling. He never stopped caring.
Mike was a long way from the highlands of Vietnam-where he saw more than he ever should have from the inside of his army tank-when he jumped. And even though his death came 31 years after his tour of duty concluded, I figure he qualifies as a casualty of war. As such, his passing should be among the military casualties we observe on Memorial Day. At the time of his death, Mike's friends explained he never got over what happened in Vietnam. It never stopped intruding on his life. During the Vietnam War, 58,000 American servicemen and women were killed in action. For many years, it was reported that an equal number killed themselves afterward. Now, military apologists are claiming the real number of post-combat suicides is closer to 9,000. Either way, it's a big number. And either way, no one really knows for sure.
Bringing Mike closer to mind are recent news reports on the escalating mental health problems suffered by Iraqi War vets. The Pentagon itself just announced that the number of troops suffering from what's called Post-Traumatic Stress Disorder jumped by no less than 46 percent last year, a spike that coincides with the decision to increase the length of tours of duty from 12 months to 15. According to the Pentagon, this brings the grand total of shell-shocked vets to 40,000 since the outbreak of war. A few weeks earlier, the RAND Corporation had issued an even more drastic report on the same subject, predicting a more accurate number would be 300,000.
Whatever the true number is has yet to be determined. But we do know it will completely overwhelm the paltry health resources of the communities into which these vets will return. Many will adjust over time. Others will not. Some of these will choose to end their pain the way Mike did; others will share their suffering as one Santa Barbara vet did a few years back, killing his father and then himself. This is the collateral damage of any war, just or unjust. But the real motives of the war we've been waging in Iraq for the past five years remain as mystifying and murky as when we first started. Weapons of mass destruction? None were found in the 700 UN inspections preceding the war; none have been found since. To secure a safe and plentiful oil supply? Look at the prices. To democratize the Middle East under some reverse-domino theory? So President George W. Bush could settle some festering oedipal score with his father? To hasten the Second Coming of Christ by precipitating the End of Days? You tell me. Nothing makes sense. It never has. Bush's former spokesperson Scott McClellan has just written a new book accusing the White House of selling the war under false pretenses. Thanks a lot, Scott. Why didn't you say so when it still mattered?
It's been the sick genius of the Bush administration to wage a full-scale war that strategically left a huge chunk of the populace virtually untouched, unmoved, or even the least bit inconvenienced. When it comes to pain and sacrifice, we do not share and share alike. Bush has seen to that. Rural whites and urban minorities-united in their relative poverty-have borne the full burden of the war effort. Not since the Civil War, where those with means were allowed to pay the poor to fight in their place, has the nation asked those with so little to give so much.
This morning, as I rode my bike up the belly of the bridge, I thought of the hapless Mexican governor after whom it was named. In 1845, Manuel Micheltorena was chased from power in the now infamous Battle of Cahuenga Pass. There, from a safe distance, the two warring sides fired away at one another until they ran out of ammo. When the smoke cleared, the only casualties were one dead horse and one dead mule. History may remember Micheltorena as a silly man who lost a silly war. But there are far worse things. Like being dead because of a pointless war. Just ask Mike Murdy.