Living
3rd District Supervisor Candidates React to Santa Barbara County Votes
Early Election Reactions from Steve Pappas and Doreen Farr; David Smyser Missing in Action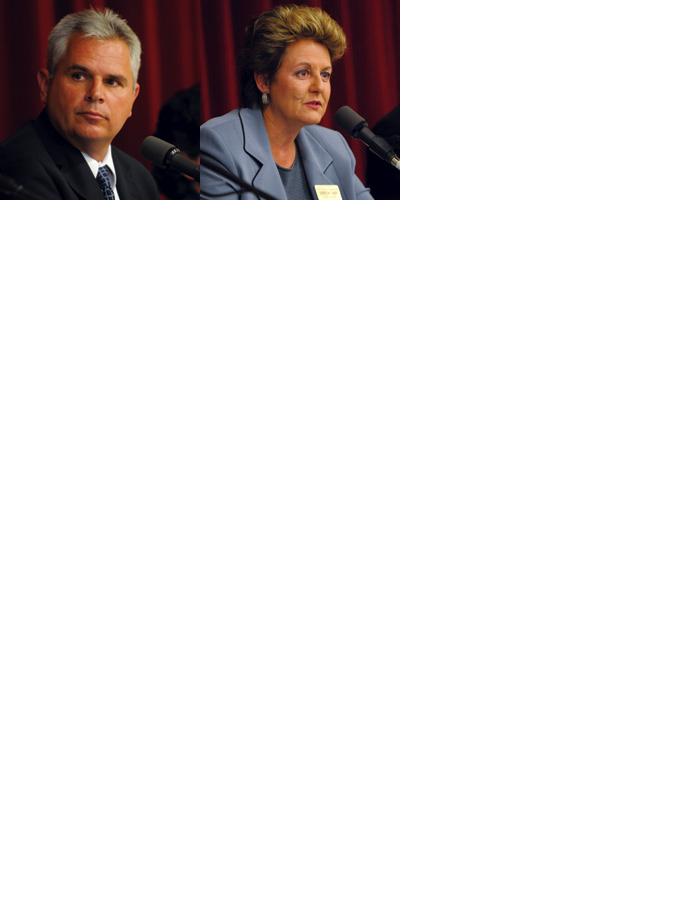 Pictured above: Steve Pappas (left) and Doreen Farr
With close to 100 percent of Santa Barbara County's 3rd District votes already counted on election night, June 3, it's certain that the 3rd District Supervisor's race will come down to a run-off election in November. But while many were expecting that battle to be between left-leaning Doreen Farr and right-leaning David Smyser, it seems that it will really be between former planning commissioner Farr (who garnered more than 35 percent of the vote) and neighborhood advocate Steve Pappas, who is beating out Smyser by more than 500 votes as of 11:15 p.m. The final two candidates, Solvang city councilmember Victoria Pointer and medicinal cannabis proponent/Isla Vista and Goleta political veteran Dr. David Bearman, finished with less than 19 percent of the vote combined.
With support of the county's largest unions, the most powerful Democrat politicians, and liberal activists from many parts of the district, Farr's win was of little surprise. She addressed her volunteers and supporters during a party at Hollister Brewing Company in Goleta, where the party was in full swing by about 9:30 p.m., when the vote tally consistently favored Farr with a 10 to 15 percent lead over Pappas and Smyser, respectively. The atmosphere was loud and jubilant, with lots of cheering, plenty of green, white, and blue balloons, and lots of beer flowing. As expected, the party proved to be a who's who of progressive politics: 1st District Supervisor Salud Carbajal (who secured his seat without opposition), 2nd District Supervisor Janet Wolf, Santa Barbara City Councilmembers Das Williams and Helene Schnieder, and former Goleta mayor Margaret Connell were all in attendance.
Farr said that she'd be taking a couple days off since she hasn't had a vacation in a year, but was looking forward to the November run-off. When asked if she felt strong because of her solid Democrat Party backing, Farr downplayed the partisan support, explaining that she thought her "nonpartisan work was what people most appreciated" about her. When asked about Pappas, she was initially coy, only explaining that he appeared to be her challenger in November. But later, she said, "I've said I'm the most qualified. I've been involved in county issues for a long time, and I didn't think any other candidate, including Steve Pappas, had the knowledge and background that I did."
Pappas was long considered the third candidate in the race behind Farr and Smyser, because he was behind in the all-important money race and had not garnered much support from the important county power brokers. However, in the last days of the campaign, Pappas' finances received powerful boosts to help spread his message of neighborhood protection. But the finances likely played second fiddle to his efforts in attracting the student vote out of Isla Vista, where his godson Dustin diligently got the word out and he won the crucial endorsement of UCSB's Daily Nexus newspaper.
That last minute push was evident when the first results were published online by the county's elections office. Pappas and his supporters were watching them in a wine tasting area on Montanaro Farm in Los Olivos, and the candidate was hopeful early on. "I'm optimistic now," said Pappas as he looked at the absentee results a little after 8 p.m. and explained that he wasn't nervous at all. "I figured we'd gain momentum at the end." Instead, his numbers held steady over Smyser throughout the night.
In attendance at Pappas' party were such supporters as actress and Santa Ynez Valley-ite Bo Derek, former Sheriff and 3rd District candidate Jim Thomas, and veterinarian Doug Herthel, whose family and business gave plenty of financial support to the campaign. Also out in force were UCSB students from Isla Vista, who'd been pushing for votes "hard" for the past couple months. "It's all about Isla Vista," said one young-ish Pappas believer. "The students matter more than people think."
Pappas, who ran for the same office four years ago, said he learned a lot from the last election, and realized how integral Goleta and Isla Vista were to his success.
As for Smyser, who was supported by sitting 3rd District Supervisor Brooks Firestone and received donations from many out-of-town development interests, he was nowhere to be found on election night. His campaign manager Marlene King had told the media that Smyser would be at the Firestone Brewery in Buellton. However, that party had disappeared by 8:30 p.m., and the manager there knew nothing about an election bash. Neither Smyser nor King returned calls to their cell phones, and when Brooks Firestone was contacted, he said that he thought the candidate was in Solvang somewhere with his supporters.