Business
The Truth Behind Tonic
The Music Man Behind State Street's Super Club Answers Our Questions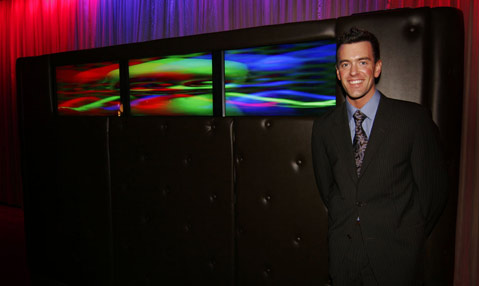 Situated where you're bound to pass at least once on your average night downtown, 634 State Street has been a nightlife hotspot throughout its many evolutions. But since opening at the address three years ago, Tonic-with a huge dance floor and mix of resident and far-flung deejays bumping hip-hop, electronic, and rock jams-has established itself as the weekend place to be for the college kids, out-of-towners, and anyone looking to shake their rump amid a crowd of sweaty revelers. A few months ago, the owners of Tonic purchased the adjacent addresses -most recently home to the Dan Merkel Gallery and, for seemingly forever, Zelo's Restaurant and Nightclub-and are expanding into a true State Street super club, with a VIP lounge inside the venue, lush cabanas on the back patio, a revamped deejay booth and sound system, bottle service, and multiple dance floors. The remodeled, expanded club officially opened to massive crowds this past Memorial Day weekend.
Another step toward nightlife domination was enlisting the services of Chris Dixon, who's been a State Street fixture since he first took a job as a bouncer at Q's in the late 1990s. Under the banner of a collective called Therapy, Dixon and his cohorts began throwing parties at Velvet Jones and the Wildcat Lounge and invited some of the best deejays from SoCal and beyond to spin for Santa Barbara. Ten months ago, he came on as managing partner at Tonic and has been enlivening the State Street dance scene ever since, mainly by overhauling the club's sound system and promoting the underground house music scene. This month, he answered some of our questions about the future of Tonic, house music, the downtown scene, and more.
How do you think people view Tonic? As the biggest club in Santa Barbara, with a great patio, staff, and vision, hopefully. People will most definitely hold it in a different regard once they see our remodel for themselves, and see the lengths we've gone through to provide the best possible club experience we can.
I've heard you're moving toward bringing in a lot more house music. Why are people interested in house? Purely as a sound, there are core groups of people who love the music, but it survives and, in some cases, thrives based on the people who play it and promote it. House makes a room inherently different, and if that difference is unifying and accessible to people, they tend to relish the environment. It is also oft-derided as "techno" by the uninitiated or uninterested, but when it's right, the soul and funk elements of it prove to be alluring and, yes, people become interested. There are also a good number of studying or traveling foreigners who tend to know and enjoy the music more across the board because it's often played more abroad, and club-goers are used to it and want to hear it.
How do you make sure you don't alienate the regular crowds who come to Tonic? People love to hear house on most every night at Tonic, so long as it's woven into the fabric of an overall night of music with other genres. We consistently play house, but to varying degrees, and almost always as a complement to other formats. It is with this new Wednesday re-launch of The Zoo [a former party from the former Madhouse and other venues] where house music will get its own night and showcase.
Who else is championing this sort of scene in Santa Barbara? Suzanne Gore and Statemynt are certainly championing house music, as is Eos with its Friday and Saturday night resident deejay format.
A lot of clubs try to find a different niche, but then often just end up homogenizing to cater to the college crowd, which seems to be where the money is. What will make Tonic succeed in being different? Clearly, some businesses are doing that, but Tonic is not. We have our niche nights, our music is always an emphasis, and we try and tweak things as often as possible so our crowd stays happy. We hopefully attract more people as time goes on through innovation. We focus on good service, cabana and table reservations, and specialty drinks. We are both responding to the ever-growing, discerning club-goer and providing new choices for a scene here, which is slow to evolve from the paradigm of the shorts-and-sandals State Street experience, somewhat of yesteryear.
With the VIP rooms and bottle service, where patrons pay lots of dough for their own bottle of booze, the remodeled Tonic will aim at a more upscale clientele. At the same time, it seems that those of us in our mid twenties are moving toward more affordable places, because only a small minority is really making enough money here to stick around and go to expensive places. But in other cities, people in their mid twenties are the majority of the population that is going out and experimenting with new scenes. Will people be willing to pay for the new Tonic? Easy answer: We will continue to do business with the local in mind-the everyman, if you will-who generally wants a good drink and a friendly face. But with 500 to 1,000 people coming through the doors at night, there are nearly always going to be a requisite number of groups who will opt-and who can afford-to party in style. The demographics you mention are accurate, but when a social environment offers a high-scale option, experience tells me that people will find a way to afford it because it's unique and essential to them.