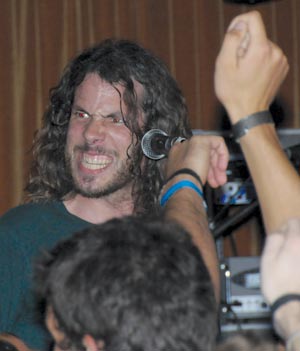 By the misguided authority of the powers that be, third-wave ska band Rx Bandits were booked at a small venue and paired with some ill-fitting opening acts this past Wednesday. And despite the lineup mishmash, the concert yielded an unprecedented turnout, which easily overpowered the tiny performance space. The Bandits' incomparable style kept their heads above water, but problems with entry and disappointed patrons nearly ruined the two opening sets, ultimately compromising what would have been a five-star performance.
L.A.'s Chotto Ghetto opened the show with a raw and driving repertoire that ultimately fell short in compositional symmetry. The band shone when it opted for experimental guitar effects, but even that couldn't save the performance. The second opener saw the worst of venue-contributed interruption, as it was during this set that Sandbar employees shut down entry to the stage area. The reactive crowd was so loud and unruly that I even missed his name. From what was discernable, the new age acoustic guitarist ( la Ryan Cabrera) tried his best, but the tunes just simply didn't fit the bill. Inside the catastrophic mess of die-hard Bandits fans, though, it didn't really matter.
Despite the hoopla, Rx Bandits pulled off an incredible live performance with renewed vitality and notable sonic progression. Flawless tone and unyielding energy drove an unparalleled set of crowd favorites that spanned the length of the Bandits' almost decade-long career. Deserved attention was paid to tracks off 2006's And the Battle Begun-an album that moved the band's sound further away from their ska-punk roots and toward more progressive rock. Two years after the album's release, the band have reached more spacey heights (most noticeable during "Decrescendo" and "Mastering the List"). The brains behind the sound are drummer Christopher "C-Gak" Tsagakis, vocalist Matt Embree, and former Chinkees contributor Steve Choi. And the fruits yielded from their collaboration all but make up for what the band was missing (read: ex-saxophonist Steve Borth). Embree's uncompromising vocals were pure and consistent, but with the chaos of the evening and the band's changing tide, it seems that ska, at least how we once knew it, didn't pay off.