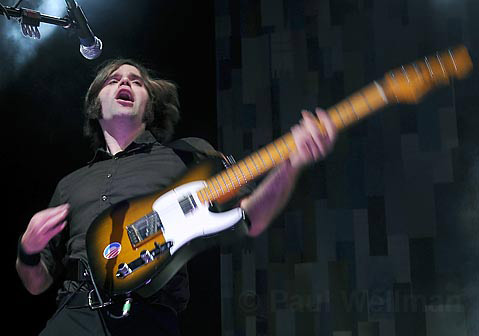 Having seen Ben Gibbard and his Washington-based cohorts play shows everywhere from Hollywood service parking lots to the main stage at Coachella, the excitement of watching Death Cab for Cutie headline the Bowl came alongside a wave of very mixed emotions. For a band that was once noted for its tendency to sound better through earphones than in amphitheaters, a stage like the Bowl's provided the ultimate challenge-filling a huge space with a style of music best known for its ability to reflect quiet bedroom ponderings on unrequited love. Luckily for us, the quartet passed the test with a flying and shining light show of colors.
Touring fresh on the heels of their most recent-and sonically lush-release to date, Narrow Stairs, Death Cab spent Tuesday's set proving that a quiet little indie band can make it big without selling out. With little more than a wave to the crowd, Gibbard took to the stage-alongside guitarist Chris Walla, bassist Nick Harmer, and drummer Jason McGerr-looking like a waif version of his once-pudgy, bespectacled self. The foursome quickly launched into Stairs' crunching opening track, "Bixby Canyon Bridge," dissuading any and all skeptics within the song's first three chords. With Gibbard and Walla sharing guitar duty, the band followed things up with reverb and pedal-heavy renditions of "The New Year" and "Why You'd Want to Live Here" before addressing their enamored minions.
Throughout the nearly two-hour-long set, the band juggled older tracks ("Photobooth," "Company Calls"), necessary hits ("Sound of Settling," "Soul Meets Body"), and a meticulously chosen mix of new tunes ("No Sunlight," "Cath :") to create a career retrospective whose sum was just as resonant as its parts. Following a stellar tambourine-and-guitar-driven rendition of "Marching Bands of Manhattan," Gibbard introduced "Pictures in an Exhibition" as something he wrote "when some of you were in short pants." Warbled and dissonant, the now 10-year-old "Pictures" served as the perfect snapshot of how far the band have come. There's no doubt Death Cab's sound has gotten fuller, grander, and even more radio-friendly, but when you listen to their catalogue in succession, the songs remain the same. Gibbard is still the kid behind the piano who favors lyrical honesty and winding guitar builds-only now, there are a lot more of us listening.