News
Montecity?
The Pros and Cons of Incorporation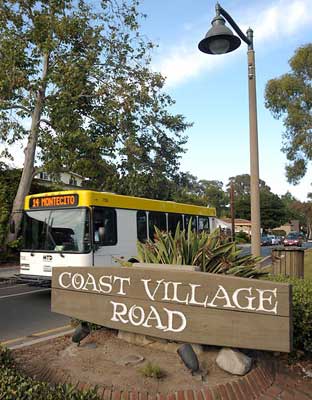 Since 1850, when San Francisco became California's first incorporated city, 479 subsequent communities have followed suit, becoming full-fledged cities. The most recent (Wildomar in Riverside County) incorporated just last Tuesday, and number 480 (Menisee, also in Riverside County) will incorporate in October. Here in Santa Barbara County, discussions to make Montecito number 481 have begun yet again.
Every few years, the issue of cityhood returns to the small but affluent unincorporated community of 10,000 residents. Do these wealthy and politically active residents wish to continue contributing 12 percent of the $577 million the county collects in property taxes when Montecito only constitutes 2.5 percent of the county's population? Should the lush, celebrity-studded area situated between the mountains and the Pacific continue to have only one representative on a countywide board of five? Could a governmental dais of five Montecitans better make the decisions which affect their community?
Pros and cons have been tossed back and forth in recent months-most notably in the Montecito Journal-and the Montecito Association responded by scheduling a series of forums on the issue. The issue, of course, is not a new one. Montecito came closest in 1991, when fewer than 100 votes kept the unincorporated community just that. There have been sporadic attempts throughout the years, including most recently eight years ago, when a small group of citizens held forums, but the issue ultimately fizzled.
Some-such as Montecito Association land-use committee chair Ted Tedesco, who served as the city manager of Boulder, Colorado, for five years and sat in the same capacity in San Jose for six-believe this time around the conversation is being pushed by residents who have moved to the area during the last decade and feel they are underrepresented. While many are happy with the job Supervisor Salud Carbajal-whose 1st District encompasses Montecito-is doing, many fear their representation could eventually diminish further, whether as a result of Carbajal leaving or a political shift in favor of North County interests. "It's a mistake to continue to trust those who don't have a vested interest," said Michael Jaffe, president of Voices of Montecito. Along with having its own City Council, proponents point out, Montecito would also obtain a seat on SBCAG (Santa Barbara County Association of Governments), which tackles regional issues such as affordable housing and transportation.
Disagreement in how planning is conducted in the region has come to the forefront in recent years. Coming out of the cityhood discussions at the turn of the century was the formation of the Montecito Board of Architectural Review and the Montecito Planning Commission, which both oversee any proposed project in the Montecito area. Montecito is the only unincorporated area in the county that has such oversight. Should a new city be formed, it will have the flexibility to keep the boards or do away with them. The option to have the City Council also serve as the Planning Commission is available as well.
According to David Mullinax of the League of California Cities, local control over the revenue it generates is one of the main reasons communities seek incorporation. Should Montecitans choose to incorporate-a decision that would take a majority vote after a financial analysis was done by LAFCO (Local Agency Formation Commission)-the city would have to come to a revenue neutrality agreement with the county. Such agreements were put into place via legislation about 15 years ago to protect counties from losing major revenue when cities incorporate. The community wouldn't have to look far up the road to find an example of what not to do in an agreement with the county: In Goleta, which incorporated in 2002, city leaders are looking to renegotiate with the county as a result of what they see as a poor deal with the county in which Goleta pays high percentages of sales and property taxes in perpetuity to the county. While Montecito would form its own deal with the county, having sunset dates for the agreement is seen as an obvious lesson from Goleta's situation.
Certain factors also make time of the essence with revenue neutrality agreements in mind, including the construction of the Miramar Hotel. If cityhood is achieved prior to the completion of the Miramar, the city wouldn't have to include the project in any agreement with the county and the city would receive all of the Miramar's estimated $1 million in bed taxes as well as property taxes. "The Miramar should be a factor," Jaffe said. "If it's not in someone's mind, it should be." With the Miramar appearing to move forward, an attitude of "if we're going to do it, it might as well be now" has been taken on by many residents regarding cityhood.
Also relevant to the discussion is Coast Village Road, which falls under the City of Santa Barbara's jurisdiction but is almost completely surrounded by Montecito. With the cost of governing people usually offset by retail monies, Montecito could be in a financial pickle should Coast Village Road not be annexed because the only other real retail in the area is in its upper village. Santa Barbara reels in about $600,000 annually in sales tax from businesses along Coast Village Road, as well as 12 percent of property taxes. "The general agreement is if Montecito becomes a city, then Coast Village Road ought to be a part of that," Tedesco said. Santa Barbara Mayor Marty Blum, who is supportive of the move toward incorporation, has told Tedesco and others in informal meetings that the city isn't opposed to giving that up, but the cost of services the city provides to the area would have to be added up and be comparable. A vote of the Santa Barbara City Council as well as approval from LAFCO would be necessary to annex Coast Village Road.
And then, of course, there are services provided by the county, many of which-including courts, jails, healthcare, and social services-would continue regardless of incorporation. Others-including law enforcement, land-use planning and regulation, and parks-the new city would have to figure out. So it remains to be seen what will result from these recent discussions, whether a group will come forward and formally petition for cityhood and front the costs associated with it, or whether it will fade as it has in years past. What can be deduced is there is still work to be done.