Cover Story
UCSB Students Connect with Veterans and Others Touched by the Horrors of War
The Battle Against Misunderstanding
On a February day in a darkened UCSB classroom, students listen intently as Army Sergeant Christopher Loverro recounts the grueling daily struggle of life as a soldier in Iraq. Projected on a screen is a snapshot from Loverro's wartime photo album of his squad in 2004 assembled in front of their armored Bradley Fighting Vehicle-a tank-like conveyance widely used by the U.S. Army-just before leaving the city of Mosul for an advance on Tal Afar, a village in the northern part of Iraq. The soldiers' faces are somber as they prepare to move out. The fresh-faced junior enlisted men-the same age as most of the students sitting in the classroom-look bewildered; the more seasoned NCOs (non-commissioned officers) have the hardened gaze of those who have been tested by battle. A young officer stands off to one side, his confident eyes set amid soft, youthful features.
Loverro, who served with the Army's 96th Civil Affairs Battalion from 2004-05, was open and relaxed as he told students about the humanitarian missions his unit performed for the war-torn nation's many needy people as pictures of his buddies passing out blankets and school supplies to grateful Iraqi villagers flashed on the screen. When a section titled "Combat" appeared, however, Loverro became quiet and, glancing at the floor, said, "I don't know what to say about that, so I won't [say anything]." It seemed a tacit acknowledgment that he had yet to process fully the war's impact on himself. Serving in Iraq was the most defining and intense experience of Loverro's life, and his need to tell his story is what ultimately led him to speak to the 100 or so strangers gathered in the university lecture hall. (He's also making a movie called Hidden Casualties about how Iraq/Afghanistan vets are being neglected.)
The class, titled Religious Studies-155, or The Impact of the Vietnam War on American Religion and Culture, has been a haven for veterans and others whose lives have been scarred by war since its inception in 1978. Students who sign up for RS-155 find that it's neither a history class nor a religion class, but an emotional journey through the psyche and experiences of real live veterans. As the U.S. begins its sixth year in Iraq, and has been involved in Afghanistan for almost seven, veterans are suffering a host of tragic problems as a result of their service-physical disabilities, mental problems, and, in some cases, suicide-making RS-155 as important now as it was 30 years ago when Americans were trying to pick up the pieces after Vietnam.
Voices of the Disappeared
The class was the creation of Walter Capps, one of the founding professors of UCSB's prestigious Department of Religious Studies. As a child, Capps shared a room with his uncle, a legless amputee who fought in World War II, giving him a lifelong soft spot for veterans. When Capps-who eventually went on to represent California's 23rd Congressional District-began teaching at UCSB in 1963, he became involved with the Santa Barbara-based Center for the Study of Democratic Institutions. It was there that he met two veterans who had returned from Vietnam, and after listening to their harrowing stories of their struggles both during and after the war, Capps felt that more people needed to hear their perspective. A radical thought, considering the fact that war stories were a taboo subject, and returning soldiers, rather than being commended, were spit upon and called baby killers for their involvement in what was seen by the American public as a sordid affair.
Overcoming a UC system that was reluctant to touch such a controversial subject, Capps finally succeeded in 1978 in establishing a class within the religious studies department that gave students and veterans the unheard-of opportunity to meet face to face. As students listened to these men tell their stories-much like the students who absorbed Loverro's presentation-they were exposed to a facet of war far beyond the political issues and military campaigns covered by most classes: its impact on humanity.
Bearing in mind his vision of creating a connection between the battle-weary veterans of an unpopular war and a generation of youngsters who knew little about the realities faced by individuals during the war years, Capps invited a diverse array of speakers-not just veterans-to his class.
A raconteur himself and well-connected, Capps drew guests of legendary stature to his class. One such presenter was Nebraska Senator Bob Kerrey, a decorated Navy SEAL who lost a leg in the Vietnam War. Another was 1972 presidential candidate George McGovern, whose experiences flying B24 bombers over Italy and North Africa during World War II prompted him to become an outspoken opponent of the Vietnam War. Arguably one of the most popular speakers to visit was TV journalist Ed Bradley-one of the anchors of the CBS News show 60 Minutes-who talked about his experiences as a war correspondent in Vietnam.
Still, it was the often shocking stories of the vets themselves that had-and still have-the most impact on the students. For example, returning speaker Jim Nolan, who was a Marine Corps sniper in Vietnam, vividly described his homecoming: "The first week I was home, my best friend from high school invited me to a party a girl from school was having on the weekend. He and I walked in and he introduced me as his friend who had just gotten back from Vietnam. There was a guy sitting on the couch nearby, next to a girl. He turned and looked over his shoulder and said, 'Great, and how many babies did you kill?' I jumped him and started pounding on his face until a couple of guys pulled me off and took me outside and said I should leave. I never talked to any of them again, and I never again told anyone I had been in Vietnam."
Battle Scars
Though the Iraq War is unpopular, veterans from Iraq and Afghanistan are not as scorned as those from the Vietnam era. If not proud, most Americans are pityingly appreciative of the troops who are trying to perform a veritable mission impossible in the battle-scarred Middle Eastern countries. RS-155 retains its poignancy by providing a forum for students to see war beyond the vague images and sound bites in the news media, allowing them to connect in a much more personal way than pouring over campaign maps and strategic history.
Despite support from the public, today's returning service members are experiencing problems that may be more severe than those of Vietnam veterans. Beating swords into plowshares is always fraught with challenge, but recent studies of new veterans show that the plight of today's homeward-bound warrior is somewhat bleaker than in years past. According to a study conducted by the University of Georgia's Department of Epidemiology and Biostatistics, Iraq's and Afghanistan's veterans are committing suicide at an astronomical rate. The department has indicated an average of 120 deaths per month, compared with the about 80 per month reported by a study done for the Federal Practitioner-a healthcare journal for government providers-in the mid 1990s. "Suicides and the psychiatric mortality of this war could trump the combat deaths," said Dr. Thomas Insel, director of the National Institute of Mental Health.
"Women are more at risk for PTSD because they're adrift in a sea of guys," – Aaron Glantz, author of How America Lost Iraq.
In April of this year, the RAND Corporation published a study estimating that 20 percent of the 1.6 million troops who served in Iraq and Afghanistan have been diagnosed with Post-Traumatic Stress Disorder (PTSD) or major depression related to their service. Women showed a greater likelihood to manifest more severe forms of PTSD, due to a variety of factors including limited acceptance in a male-dominated environment and working with native cultures that often view women as property. Today, more female American soldiers are serving in combat zones than ever before, and their role in masculine surroundings has created unforeseen problems. "Women are more at risk for PTSD because they're adrift in a sea of guys," said Aaron Glantz, author of How America Lost Iraq. "There is also a high incidence of rape [of female service members] in the military."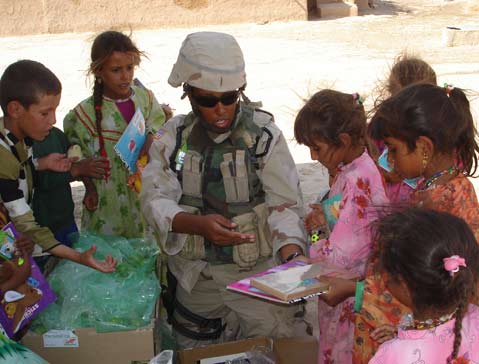 Daleena Scott is an Army Reservist and Santa Barbara City College student who spoke last winter before RS-155. As an Iraq War veteran, she is familiar with the challenges faced by female soldiers. During her last deployment in Iraq with the Army's 425th Civil Affairs Battalion-based on upper State Street-Scott, who is scheduled to return to Iraq sometime this year, encountered male soldiers who assumed that she was helpless and Iraqis who were used to marginalizing women. "It was difficult being young and female," she said. "There wasn't anyone to relate to." The only other female in her unit was sent home when another soldier got her pregnant. "That really sucked for me. Some of the commanders warned in a joking sort of way, 'Stay away from the female. She'll get you in trouble.' It affected me, though." The result was that Scott didn't talk to anyone outside of her four-person Civil Affairs group for the better part of two months.
"That shitty feeling you get when you're in a dangerous situation over there-that comes back when you know you have to go back. It's torture."
Multiple tours are another major cause of distress for service members. The government no longer uses the draft, so its reliance upon National Guard, reservists, and multiple deployments to fulfill its needs has increased. In recent years, repeated deployments have stretched people beyond the limits of endurance to carry out the missions given by America's highest level commanders. "There's no way to describe it," said Kevin Szczublewski, who served three tours in Iraq as an infantry soldier. "That shitty feeling you get when you're in a dangerous situation over there-that comes back when you know you have to go back. It's torture." Szczublewski also attends S.B. City College and, at 23, is not much older than most of the students in RS-155. However, his life experiences so far are literally a world away. Having no regrets about having served in the Army or going to the Middle East, he said it was the psychological and emotional strain of going back again and again that got to him.
Szczublewski is one of more than 58,000 U.S. troops who have been "stop-lossed," or sent on a deployment that ended months after the end of his/her military service obligation. Although Secretary of Defense Robert Gates called for a decrease in the use of stop-loss when he took office in December 2006, it has since increased by 43 percent. Since Szczublewski is finished with his active duty service and was diagnosed by Veterans Affairs (VA) as significantly disabled-due to physical injuries and PTSD-he doubts that he will be called back. Others aren't so lucky, and there are documented cases of people who, despite being diagnosed with PTSD, are sent back for another tour.
PTSD wasn't even a recorded phenomenon until 1980, when the American Psychiatric Association (APA) published the third edition of its Diagnostic and Statistical Manual (DSM-III). Before then, it was a vaguely defined concept known as "shell shock" or "battle fatigue," and was thought to be caused by personal weakness or psychiatric defects rather than by outside stimuli such as combat trauma. Dr. Sharon Rapp is a VA psychologist who works with many of the veterans who speak in RS-155. She said that because more is known about combat-related psychiatric diagnoses, Iraq and Afghanistan veterans are in a better position to avoid the problems experienced by veterans of other wars due to misdiagnosis and long periods without treatment. "Iraq and Afghanistan vets respond more quickly because PTSD is still in the developmental process and can be taken care of," she said. "PTSD can become worse if it is compounded over time."
"If you're weak, you die, so people lose respect and don't want to work with you."
Although improved knowledge and better treatment options are available for veterans, there is still a major problem within the very fabric of the military's culture that limits the usefulness of these benefits. A recent report by the Department of Defense showed 60 percent of the veterans diagnosed with PTSD or depression did not seek assistance because they were afraid that they would be treated differently by their commanders and by other troops. Joe McLain, a UCSB computer technician who also served in Iraq with the 425th Civil Affairs Battalion, spoke in RS-155 during the winter quarter. He agreed that in the military seeking mental health help is still generally frowned upon and that people can be ostracized to some extent for admitting they have a problem. "When you're in that testosterone-laden environment, you're seen as weak," he said. "If you're weak, you die, so people lose respect and don't want to work with you."
In the sort of kill-or-be-killed environment created by combat, this behavior may be necessary for survival, but when it follows troops back home, it can impede the healing process. Another Iraq veteran, who wished to maintain anonymity, said that in order to make the transition to his civilian job easier, he avoided a mental health assessment that could have been viewed negatively by potential employers. This problem was addressed to some extent by the Department of Defense this May, when Secretary Gates announced that applicants required to fill out the National Security Questionnaire for federal positions needing a security clearance would no longer have to report mental health treatment taken for combat-related trauma.
"There's a lot of stuff offered, but it's a long process, a lot of paperwork, and a lot of waiting, I'd rather not deal with it." – Daleena Scott.
Aside from the stigma of weakness, the reason many veterans avoid seeking help is because their main source of assistance-the VA-has gained notoriety throughout the years as a bastion of the government red tape phenomenon. Getting mental health help there can involve a staggering amount of paperwork. "There's a lot of stuff offered, but it's a long process, a lot of paperwork, and a lot of waiting," said Scott. "I'd rather not deal with it."
McLain, who was the NCO in charge of Scott's Civil Affairs team in Iraq, thinks that more can be done to reach out to disabled veterans. "If you are at the point where you're considering doing something stupid, having someone tell you that you need to fill out your form again is not the right answer. If they're going to be that petty, it's easy to lose interest, and if you're hanging on by a thread, it doesn't take much to break it."
A Sort of Homecoming
Despite lower enrollment numbers, RS-155 still enjoys a reputation among students as something extraordinary in the collegiate experience at UCSB. "If you've never been in combat, you don't know what it's like," said Marissa Nuckels, a student who took the class this year. "So you learn how to listen. You learn what's wrong and how to fix it. This class isn't about war and foreign policy; it's about the essence of the human heart. It's like what those veterans were saying: 'We need you to listen to us.'"
Richard Hecht-Capps's friend and colleague who took over RS-155 when Capps decided to run for Congress in 1994-admitted that he has neither the clout nor the budget to bring in the big-name speakers that were once such an integral part of the class. The speakers he gets, however, play well off of one another, providing humanity and context to the stories of a diverse group of war-impacted individuals. "Most students say the course is a life-altering experience," he said. Reading through their journal assignments every year, Hecht gets a unique perspective into the class's impact on the students. "What they see in this class are these normal people who went through a real trial of fire. Nobody recognized that trial, and despite that, they made it through," he said. "It gives students the courage to overcome all of life's impediments."
RS-155 benefits the people who come to speak as well, giving them an opportunity to talk about their experiences in as formal or informal a setting as they want to foster. Wilson Hubbell, a Vietnam-era helicopter crew chief and a particularly engaging speaker, has been a presenter in the class every year since 1985. He opts for the lecture format, but some of the Iraq veterans who come choose to sit casually on the edge of the stage together, swapping stories with one another and answering students' questions. Some very moving snippets of the soldiers' ordeals are captured in this way. "There's always some asshole [out there] who asks, 'How many people did you kill?'" said Szczublewski. "The class showed me that there are people who care what's going on. When we were over there, it always felt like people here didn't understand. You don't want people to have to go through what you did, but you still want them to be aware that you put yourself in dangerous situations."
"The class is a huge therapeutic session," said Dr. Rapp. "It's like having 100 students providing therapy for veterans. It's a wonderful opportunity to do therapy that I'm not able to do." For Vietnam veterans especially, she said the class affords an opportunity for them to reconnect with the peer group that shunned them as "baby killers." Congressmember Lois Capps-Walter's widow-recently said, "One of the things that came out of RS-155 was bringing to peoples' attention the falsehood of blaming the war on the warriors."
"I wish the people who got us involved in Iraq had taken this class at UCSB."
Everyone who comes to RS-155 has a different story to tell, but there is a common thread that runs through all of them. Whether veteran, conscientious objector, or refugee, all have faced life-changing and often traumatic trials but have much to teach those willing to listen. "One of the reasons I keep coming back is because it helps me put my personal experience in context," said Hubbell, adding, "I wish the people who got us involved in Iraq had taken this class at UCSB."
Regardless of smaller class size and speakers who haven't been in the public eye at the national level, RS-155 maintains its intensity, just from capturing the raw emotion involved when these people share their deepest experiences. It also causes students to consider the myriad issues involved in war, like what is happening to all these people we send to combat, what happens to them when they come home, and how society is affected by their reaction-particularly in light of the growing disparity between resources given to waging war as opposed to what is dedicated to its aftermath.
"Disabled vets are coming home to instant homelessness because they can't work and they can't get benefits in a timely manner," said author Glantz. "In 2003, the Pentagon hired extra National Guard and Reservists, but no extra doctors were hired. This whole thing is predicated on the Bush administration trying to wage war on the cheap." (Hecht is in talks to have Glantz be a guest speaker in next year's class.)
Today, the Department of Veterans Affairs is the second-largest federal agency, employing more than 230,000 people with an annual budget of $70 billion. This might seem like a lot, but not when compared to the resources given to the largest federal department-the Department of Defense-which has 2.3 million military and 700,000 civilian employees, and an annual budget of $439 billion (a figure that does not include the $170 billion spent every year on the wars in Iraq and Afghanistan, or the $9.3 billion annual budget of the Department of Energy's National Nuclear Security Administration).
RS-155 is only held during winter quarter every year, but one class at a time, it increases understanding of a dynamic that is not often explored. Students begin to think about the deeper meaning of people their own age going off to war. In this attempt to bridge a gap, the class has been incredibly successful, as evidenced by the number of former students who showed up at the class's reunion in April to express their appreciation for its lessons. Some made career choices based on what they learned there. The cumulative message of the course is important, but even the individual lectures are acute. As the emotional drama of each class unfolds, students are asked to thank the speakers for their time, and more importantly, welcome them home.