Arts & Entertainment
Summer Music Indoors and Out
Music Academy of the West Chamberfest (Tuesday, July 15) and Tak¡cs Quartet (Thursday, July 17) at the Lobero Theatre; The Voices of Romance at Savannah Farms on Friday, July 18.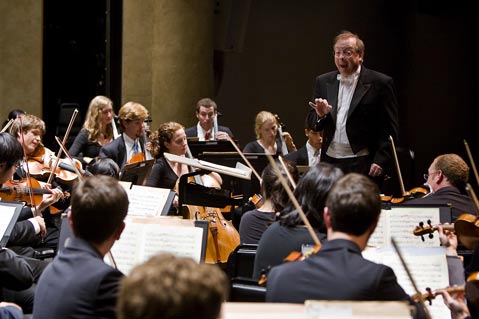 Perfect July weather in Santa Barbara seems to include beautiful music, equally ravishing indoors at the Lobero and under a full moon beside a picturesque lake in wine country. On Tuesday, July 15, the Music Academy's Chamberfest program overflowed with interest and passion, a sure indicator that the school's curriculum has kicked into full gear. The lesson on tap in this instance had to do with counterpoint, and began with Richie Hawley playing a Steve Reich piece on clarinet-or rather on several clarinets, as Hawley recorded the extensive backing tracks that New York Counterpoint requires himself. Hawley took several minutes to introduce the work, communicating his excitement about preparing and playing it while assuring those present that he had kept this Lobero audience in mind throughout the taping of its prerecorded portions. The result was stunning, surely one of the best performances in a season fortunately full of excellent renderings of Reich's music. The intricate multiple lines bent and blended, but never blurred in a kind of musical version of Piet Mondrian's "Broadway Boogie Woogie." Hawley took three curtain calls and deserved many more for this thrilling, difficult solo.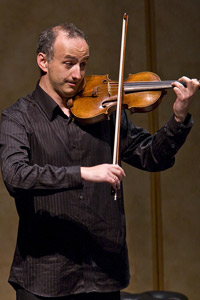 Next up was Mozart's Quintet for Two Violins, Two Violas, and Cello in C Minor, K. 406. Music Academy faculty members Kathleen Winkler (violin), Peter Salaff (violin), Donald McInnes (viola), and Alan Stepansky (cello) were joined by John Stulz, a 19-year old viola student at USC. The result was another enthralling performance, this time reaching far into the depths of Mozart's musical soul. Samuel Barber's Summer Music, Op. 31 brought back the wind instruments and further investigated the nature of counterpoint. Hawley was joined on this one not by tapes of himself, but instead by live musicians, including Timothy Day (flute), David Weiss (oboe), Benjamin Kamins (bassoon), and David Jolley (horn). Weiss was particularly impressive, coaxing wonderful sounds out of his oboe throughout the high-spirited work.
And yet the best was still to come. After the interval, a last-minute change in the program brought with it one of those magical moments that regular concertgoers dream about. Edward Dusinberre of the Tak¡cs Quartet took the stage solo for the Chaconne from the Partita in D Minor for Solo Violin, BWV 1004 of Johann Sebastian Bach. A spell was cast almost immediately, and for long stretches of this substantial piece the room was held in musical rapture. Was it the player, the piece, the composer, or the combination of all three? There was no way to tell, or to separate out what had come together to form this tremendously moving solo. Dusinberre truly took us all to another place, and it was extraordinary there. The final work of the evening, a sonata for violin and piano, No. 2 in A Major, op. 100 by Johannes Brahms, would have been the highlight of most nights, but after the Bach it was more of a re-entry process to the real world.
After Tuesday's performance, there was simply no way to say "no" to the Tak¡cs Quartet concert featuring Dusinberre on Thursday. The other featured additional group members, including K¡roly Schranz (violin), Geraldine Walther (viola), and Andr¡s Fejer (cello). Again there were last minute program adjustments, this time ushering Leos Jan¡cek in to replace the anticipated premiere of a string quartet by British composer James MacMillan. There's no saying what we missed, as the piece has not yet been heard here, but the replacement was more than adequate. The Jan¡cek Quartet No. 2 carried the subtitle "Intimate Letters," and the Tak¡cs Quartet achieved the level of communication thus implied.
And on Friday, July 18, a festive audience full of notables gathered at Oak Savanna Vineyard on Foxen Canyon Road in the Santa Ynez Valley for an evening of song conceived by Lee Rosenberg and directed by Robert Egan called The Voices of Romance. There, soprano Mica»la Oeste, tenor Jordan Bluth, soprano Jamie Chamberlin, and mezzo soprano Danielle Marcelle Bond were accompanied by David Potter on piano. The performers stood on a stage erected at the edge of a lake and lit from above by theatrical lighting and an ample full moon. The program mixed choice operatic excerpts like the "furtive lagrima" from Donizetti's L'Elisir D'Amore with love songs from such classic Broadway shows as Oklahoma! and Les Miserables. It was a memorable evening, with every element carefully choreographed, from the gracious way guests were greeted at the beginning of the night to the marvelous company, superb food and wine, and exquisite singing. Vineyard Valley Theatre Company and the event's beneficiary, People Helping People, both have a lot to be proud of and thankful for, as do those who left that night and went singing all the way home.