News
The Battle Over Measure A, Road Funding, and Trikes
Road Worriers
This is an extended version of the story that ran in the August 7, 2008 issue of the Independent.
While hardly the "Thrilla from Manila" or even the "Rumble in the Jungle," Santa Barbara County Supervisor Salud Carbajal took on Santa Barbara Mayor Marty Blum in what had to be the world's slowest adult tricycle race at the downtown train depot at high noon Wednesday. If big talk translated to high speeds, then the showdown would have clearly gone to Carbajal. "The city talks about a 'dream team,'" he said. "But that's all they do, dream about a team." When asked if he'd practiced in advance, Carbajal retorted with mock outrage, "Practice? I was born ready when it comes to the tricycle. That's like asking Picasso 'Are you practicing to paint to the Mona Lisa?'"
The event, strategically silly, was engineered by traffic wonks and alternative transit advocates to highlight the "Commute Challenge," in which employers big and small are exhorted for the months of August and September to field teams of employees to compete for the honor of chalking up the largest number of bicycle trips, bus rides, walks, car pool rides, and telecommutes. By making the Commute Challenge festive and fun – and offering lots of prizes – the hope is to lure people from the sanctity of their drive-alone time to other modes of transportation.
While the challenge itself is nothing new – though in years past it's been focused on bike riders – the urgency behind this year's event is unprecedented. With construction now getting seriously underway on the $53 million freeway improvements between Milpas Street and Hot Spring Road, drive-time commuters could find themselves in for some rude awakenings. Traffic officials caution motorists using that stretch of Highway 101 to give themselves an extra ten minutes to get from Point A to B. During rush hour, it could be worse.
Through Traffic Solutions, the Santa Barbara County Association of Governments (SBCAG) is doling out some serious incentives to get ride alone drivers to change their habits. Traffic Solutions is operating a computer service enabling commuters to hook up with others in their neighborhood with similar schedules and destinations. Van pooling will be offered free of charge for the first two months; in month three, participating van poolers will get paid a $100 bonus. And SBCAG estimates people who use the Commuter Express – which links Santa Barbara to Ventura – will save up to $5,000 a year. Both the Express buses and the carpool vans will come equipped with free wifi systems. Van seats are ergonomically engineered so that no one's body parts brush up against someone else's unless specifically intended.
During freeway construction, two lanes will be maintained both north and south during daylight hours. By night, however, the freeway will frequently be reduced to just one lane each way. On paper, that means there shouldn't be delays. But large-scale construction projects – with multiple creek crossings, bridge replacements and massive earth moving equipment – tend to distract drivers. As a result, the speed limit will be reduced to 55 miles an hour, and motorists will be cautioned to be extra safe.
This Milpas to Hot Springs widening project, scheduled to last four years, was one of the last to be funded out of the county's now fabled Measure D, the half-cent sales tax approved by voters countywide nearly 20 years ago. Measure D expires in 2010, and this November, county voters will be asked whether they want to renew it in the form of Measure A for another 30 years.
Among local government circles, there simply is no ballot initiative more pressing. Nothing comes even close. Measure A's passage means there will be roughly $35 million a year – or $1.5 billion in all – for the county of Santa Barbara and the six city governments from Guadalupe to Carpinteria to split on road improvements, freeway widening, bus service, bike lanes, or anything that helps people get to where they're going. But if Measure A fails, well, for those who've grown accustomed to such funds, there are few futures so indescribably grim. At the very least, the effort to widen Highway 101 from Carpinteria to Montecito would never happen. And all those express buses, equipped with free computer hook-ups, linking Ventura to Santa Barbara counties would be out of business.
Two years ago, an effort to renew Measure D – and to augment it by a quarter percent – failed miserably, a victim of chronic animosities between the county's fiscally conservative North and its tax-and-spend South, between diehard car lovers and those who love trains and all forms of alternative transit. When Measure D went down in flames – garnering only 42 percent up in North County – the lesson learned was that voters would not simply buy a tax increase. That harsh truth, in turn, required all the competing interest groups to content themselves with far less than they wanted. Under Measure A, for example, the train advocates get only $20 million. Under the defeated Measure D, it was closer to $220 million.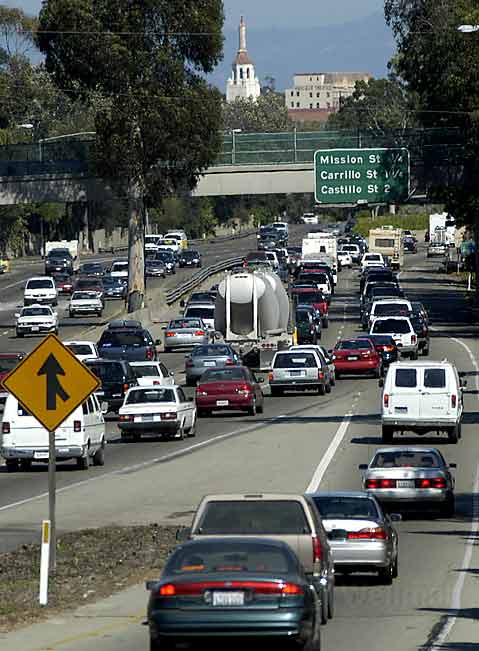 Yes on Measure A has formed a committee, backed by a coalition of road construction contractors, engineering forms, and some mass transit supporters, and has hired John Whitehurst, a political consultant out of the Bay area with considerable experience with sales tax measures, to run the campaign. Whitehurst has already dispatched an operative, Nick Caston, to handle the campaign ground work. To wage the necessary media blitz -or sub-regional blitzes – to win, the campaign estimates it will need about $500,000. That's almost twice what the unsuccessful Measure D campaign raised two years ago.
The good news – for Measure A supporters – is that recent survey results indicate that there's strong support for Measure A throughout both the northern and southern sections of the county. While the poll results have not been publicly released, people associated with the campaign indicate support for Measure A ranks in the "low 70s." In addition, some of the key players who campaigned against Measure D two years ago are now supporting Measure A. Andy Caldwell, the chief spokesperson for the Coalitional of Labor Agriculture and Business (COLAB) has endorsed Measure A, as has Joe Armendariz and the Taxpayers Association has endorsed Measure A.
In addition, the Sierra Club was persuaded to sit out the Measure A campaign even though some of its board members regard Measure A as a total sell-out to the automobile. The city councils of all seven cities in the county voted to endorse Measure A, as did the county supervisors. Of the 45 city councilmembers who voted, only two cast ballots against endorsing Measure A: Goleta's Jean Blois and Lompoc's Anne Ruge. Thus far, the key voices from the right raised against Measure A come from the County Republican Party and the Republican Central Committee. Likewise, the Santa Barbara News-Press has already begun editorializing. This is not surprising given how adamantly it opposed Measure D two years ago.
From the left, attorney Eugene Wilson has formed a committee to oppose Measure A on the grounds that 80 percent of the money generated would go to subsidizing the automobile. Wilson contends that the 30 year road and transit plan that Measure A will bankroll is egregiously silent on the matter of global warming and energy consumption. He sued SBCAG earlier this year, accusing the board of engaging in illegal electioneering, but that complaint was tossed out of court. Wilson pledged to appeal that ruling and has since filed another lawsuit, this one charging that as a the planning document-and spending blueprint-Measure A never received the level of environmental review it should have. That case is still pending.
The bad news for Measure A supporters is the legal requirement that Measure A garner at least two-thirds of the vote. To date, no local sales tax or bond measure has ever reached that daunting threshold. Given economic hard times, the state's fiscal woes, and several other ballot measures asking voters for money, that two-thirds majority will be far from easy to achieve.
In the meantime, however, Supervisor Salud Carbajal and Santa Barbara Mayor Marty Blum are engaged in a tricycle slam dance. While Carbajal – accompanied by his team of relay riders – is clearly winning the war of words, he comes up short when measured against his actions. He freely admits he hasn't ridden a bus or shuttle in a very long time, and that he hasn't ridden a bicycle in over a year. As a west side resident, he vowed to start taking the shuttle into work. By contrast, Mayor Blum has actively participated in bike to work weeks in the past, while councilmembers Helene Schneider, Das Williams, and Grant House all ride the shuttle or their bikes to work with some regularity.