Living
Body Identified as Missing Goleta Girl
CHP Speculate She May Have Been Trying to Cross Highway 101
A body found this morning in brush sandwiched between Highway 101 and Calle Real in Goleta has been identified as a 14-year-old Goleta resident who had been missing since Monday.
Sgt. Alex Tipolt of the Santa Barbara Sheriff's Department confirmed that the deceased female found in the bushes was indeed Christina Veloz-Payne, who was last seen by her friends at around 8 p.m. Monday, when she attended the fireworks display at Girsh Park, less than a mile from where the body was found Thursday.
Tipolt indicated that the California Highway Patrol was conducting the investigation, because it appears the girl was hit on the freeway. CHP is treating the matter as a hit and run felony matter.
The right shoulder of Highway 101 and Calle Real near Plumas Avenue were both closed. Photos of the scene depict a memorial for David Ramirez, an 18-year-old Goleta resident who was one of two teens killed in a head-on collision at the intersection of Calle Real and Mendocino Road, very close to the spot where Veloz-Payne's body was found today.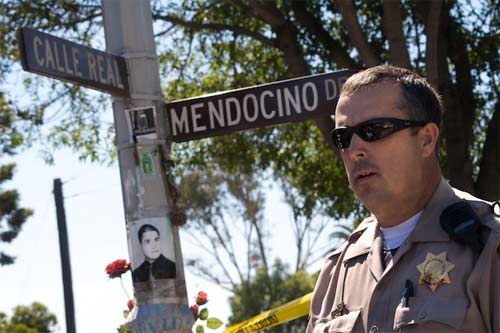 A California Highway Patrol press release is expected soon.