Living
Tailor Michael Anderson Makes Suits to Fit
He Speaks Bespoke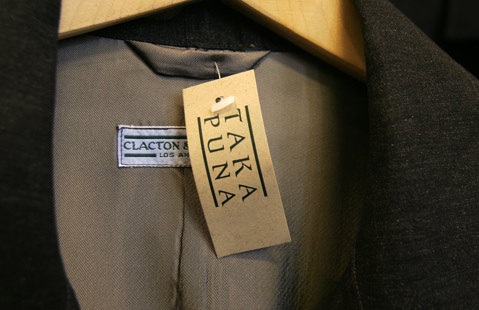 London's Savile Row and Haley Street in Santa Barbara might seem light years apart-until you meet Michael Anderson. Anderson, who co-owns (with wife Hilary) Takapuna at 428 East Haley Street, has been catering to a bespoke clientele for more than 30 years.
The tradition of bespoke clothing originated more than 200 years ago in an area of London now known as Savile Row. This is not news to Anderson. He picked up his tailoring skills at the source-London's College of Fashion & Clothing Technology-where he was taught by a former Savile Row tailor. Having grown up in London, he is also an expert on dandies.
The history of Savile Row bespoke clothing is also the history of the dandy. According to Anderson, a "dandy" is a man who "takes a particular interest in his clothes." Historians agree the original dandy was 19th-century Englishman Beau Brummell, who promoted severely tailored dark colored suites (the suit itself being an English invention). This was the genesis of the smart suits worn by aristocrats and celebrities for which Savile Row is known the world over.
Anderson vividly remembers the dashing outfit worn by ex-army officers-members of the upper class for whom bespoke suits, shirts, and shoes were the norm. Their clothes were so distinctive, Anderson said, "You could almost tell the regiment a man belonged to by the cut of his civilian clothes." (Of course, Anderson's first suit as a teenager was custom-made, as were all of his shirts.)
In 1980, Anderson opened Clacton and Frinton (named after two English seaside resort towns) with Hilary in West Hollywood. "Nobody knew we were there," said Anderson. Word soon spread, however, and the custom-made Clacton and Frinton style was adopted by movie industry hipsters like John Malkovich.
Anderson relates the story of a Hollywood exec who wore a custom suit to an important meeting only to discover six of the seven men in the room were also wearing Clacton and Frinton suits. (Trademark Clacton and Frinton details include a "notch" on the jacket lapel and a distinctive point on the back of the collar.) "Of course, for a woman this would be a disaster," he said. "But it makes men feel better, as if they're part of a tribe." Anderson believes men "never look as good as when they're wearing a suit, because a suit disguises a man's faults." Harkening back to the dandies of his youth, Anderson knows that a man wearing well-fitting clothes "holds himself differently and walks differently."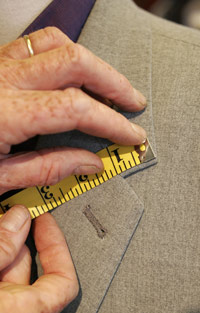 Witty author and NPR commentator Sandra Tsing Loh's book, Depth Takes a Holiday, includes an essay on dating that describes the "perfect guy" as sporting a great haircut and "a zippy Clacton and Frinton jacket." Anderson still makes that zippy jacket, but now it's sold at Takapuna in Santa Barbara, where he and Hilary moved in 1998. At Takapuna, he keeps a supply of Clacton and Frinton jackets and shirts on hand for walk-in customers, but also sells custom-made suits from patterns he created and has modified throughout time, perfecting a style he calls "Hollywood's version of an English gentleman."
Anderson offers his clients three suit variations. The "Americanized" version has a ventless jacket that fits larger men; the "James Bond" suit has a more fitted jacket with vents; and "Mao" suit (originally made for musician/producer T-Bone Burnett) has a jacket with a stand-up Mandarin collar. All suits are custom-tailored to include pockets that hold cell phones and other electronic gadgets with unsightly bulges. Anderson also makes bespoke tuxedos.
London Calling
Strictly speaking, the term "bespoke" refers to clothing made completely by hand using a pattern created from scratch that is cut and sewn together after several fittings until the garment fits like a glove. However, much of today's "bespoke" tailoring skips a step and uses an existing pattern that is altered to fit the wearer.
Savile Row style was exported to the U.S. in the 1920s when a visiting royal dandy-the Duke of Windsor-was photographed at the horse races wearing his bespoke gray double-breasted flannel suit. From then on, the Duke's Savile Row style influenced what men wore on both sides of the Atlantic. As someone once remarked, if there hadn't been a Duke of Windsor, "someone in the menswear industry would have had to invent him."
Anxious to adopt the Duke's iconic style, Hollywood soon beat a path to London. Fred Astaire, Cary Grant, and Douglas Fairbanks Jr. were seen sporting bespoke suits on film and in movie magazines. Montecito resident Kirk Douglas was a Savile Row client (as son Michael reportedly is now). "Kirk is always impeccably dressed," noted Santa Barbara author Beverley Jackson. "Even when you go to a simple family dinner at Anne and Kirk's home, he is wearing a custom-made shirt and lovely cashmere sweater of perfectly coordinated color match."
Those quintessential modern dandies-rock stars-also happen to be Savile Row groupies: three of the four Beatles on the cover of the Abbey Road album wear Savile Row suits. Both John Lennon and Yoko Ono wore Savile Row suits when they got married. Mick Jagger wore one when he wed first wife Bianca Perez-Mora Mac-as; she wore a bespoke skirt suit (not pants as has been widely reported) created by the late French designer Yves Saint Laurent.
At Takapuna, most of Anderson's bespoke clients start out buying one of his ready-made jackets. Eventually these "off the peg" clients move on to custom-tailored jackets and trousers, basking in the personalized attention Anderson provides, including hunting down the appropriate fabric to meet a client's specifications (or whims). Some of these clients have been coming to Anderson for more than 25 years.
Takapuna is hardly a male-only enclave; it also carries unique women's clothing and accessories selected by Hilary. These items are snatched up by UCSB students, area teenagers, and hip moms. But the bespoke service is currently limited to men. Maybe some lobbying on the part of female dandies can alter this state of affairs.
4*1*1
Takapuna is located at 428 East Haley Street. Call 963-4848 or visit takapuna.com.
The London Cut: Savile Row Bespoke Tailoring by James Sherwood is available online at amazon.com.