Film & TV
Clark Gregg Discusses Choke
Roger Durling Interviews the Screenwriter and Director of Chuck Palahniuk's Novel
No one familiar with Chuck Palahniuk (author of Fight Club) should be shocked by the premise of Choke: the protagonist is a sex addict who works as a colonial era re-enactor to support his Alzheimer's-afflicted mother's hospital stay. He also cons strangers out of money by intentionally choking in restaurants, and he may also be a direct descendant from Jesus. The work's disturbing, hysterical, and frenzied. Actor and screenwriter Clark Gregg (What Lies Beneath) took on the formidable tasks of writing the novel's screen adaptation and making his directorial debut, with the help of a terrific cast led by Sam Rockwell and Anjelica Huston. I sat with Gregg to discuss his film.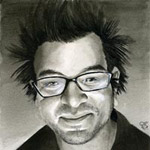 The novel's tone is shifting constantly, from absurd comedy to very serious moments. Handling this onscreen is not easy. That was a huge challenge. When I started working on this film, I knew the tone was going to be the tricky part. I knew the parameters of how dark it got and how sad the moments between Victor and his mom were. I wanted them to be sad, but I didn't want them to be something that fractured you because I then had to shift to an absurdist comedy scene a few moments later. So I felt like it had to have something that made that work. I didn't know if what we were doing would be successful.
It reminds me of a lot of films from the '70s. Definitely. Later I came to feel that.
Like Harold and Maude. Or The Last Detail. Hal Ashby is one of my favorite directors because I felt like, in a lot of his movies, he wouldn't really tell you if it was a comedy or a drama-it was just kind of human and there would be both kinds of moments. Once I started to ramp up to direct the movie, I knew I had to find actors who could play comedy as if their life depended on it, and vice versa. I knew I had to get a DP [director of photography] who could help me create a world that didn't just feel like a kooky comedy. I made sure I got a production designer who took the kind of drab, dreary walls of this really dilapidated mental hospital in New Jersey and change the palette and give it enough vibrancy and color that you felt it was okay to laugh in some places where you might not be so sure.
Was Chuck Palahniuk involved with the film? He wasn't involved with the adaptation. He's got a reputation of being kind of a terrifying guy from Fight Club, and he's a strong, big guy and his voice is very powerful. While we were getting the adaptation rights, I had this one conversation with him where I said, "Look, maybe I'll be ending this association very quickly, but I feel like at its heart Choke's a very punk-rock romantic comedy." And he said, "Exactly, that's exactly right. Go write that. And please don't be too faithful to the book." And then he hung up. I didn't really talk to him again for a year and a half. I didn't really want to because I found his voice so imposing I felt like I had to get some space from it and I felt like I had so much of it in front of me in the book. So when I sent him the script, he became a fan and supporter. He liked it and he's this strange kind of Jedi master. : He's really only interested in seeing the new parts. He only wants to see where the characters have had a new couple of beats added to them because he feels like he channeled these stories from other people and from his own life, and now he wants to see where they'll go next. Those are his favorite parts. If you read the book, it's pretty close to what's there.
This film is pretty raunchy. Were you concerned about that? I showed it in Switzerland, and they went to sleep. They didn't go to sleep, but they were like, "What, where are the dirty parts?" I think Europe is going to have a different take on this movie.
Were you concerned about how far you could take the film? It was a balance to walk. I wanted to be truthful to the world. I felt like one of the important parts of this guy's story was the fact that he's a sex addict, but because he has issues of intimacy. And it's about the ways that sexuality can be misused when you're damaged. That, to me, required to be understood. I don't think the scenes where he's engaging in sort of compulsive behavior, I don't think of them as sexy. I didn't want to shortchange that world. I wanted to tell the truth about it.
4•1•1
Choke premieres in Santa Barbara theaters this weekend.