News
Nader Addresses Santa Barbara
Independent Candidate Objects to Being Barred from Debates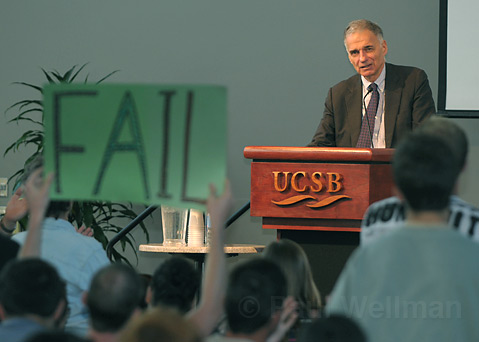 Ever since his groundbreaking consumer advocacy book Unsafe at Any Speed was published in 1965, Ralph Nader has made challenging political and corporate canon his mantra. Having run as a presidential candidate for the Green Party in 1996 and 2000, Nader began running as an independent candidate in 2004 in an attempt to flout what he calls the "two party duocracy" currently run by Democrats and Republicans. Nader appeared at UCSB's Corwin Pavilion on Sunday as part of his 2008 presidential campaign, and to speak out against what he said are limited options for presidential candidates.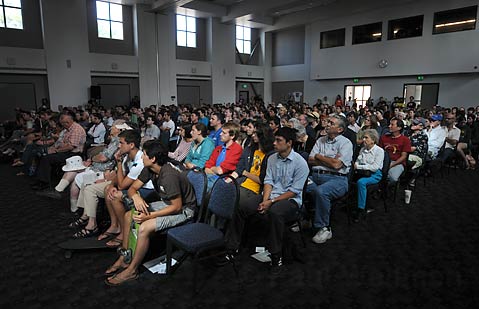 Running with Matt Gonzalez – a former San Francisco city councilmember – Nader expressed frustration that he was not being allowed to participate in presidential debates alongside the Democratic and Republican presidential nominees, Senators Barack Obama and John McCain. "That was a very spacious debate platform – they had room for more chairs," he said of the first presidential debate in Oxford, Mississippi. "This idea of supporting the least worst : has no end game. We vote for winners, but we keep losing." Gonzalez illustrated the value of participating in debates by noting that in his run for City Council, his approval rating jumped from six to 47 percent after taking part in one televised debate.
Nader's stated frustration with the two dominant political parties is that they are both ideologically similar. "The traditional role of the Democrats has been as a light version of Republicans. It's not a winning strategy to move to the right," he said, noting that since 1980, the only reason a Democratic candidate – former President Bill Clinton – was able to succeed in taking the presidency from Republican control in 1992 is because Ross Perot siphoned votes away from then President George H.W. Bush. Accused of stealing votes from Democrats in the last two elections, Nader said that current polls show that he is taking votes away from Senator McCain in this one.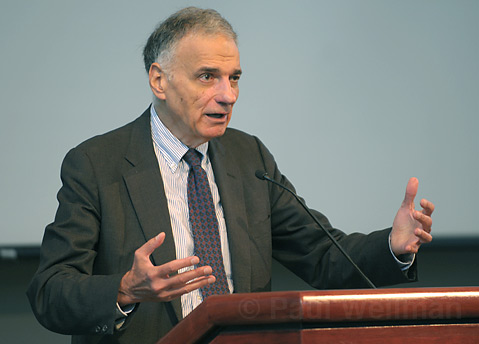 Although Nader – referencing the long-dead Whig Party of the 19th century – is adamant that his appearance in the presidential race will let the dominant parties know that they are not invincible and need to pay more attention to their base, not everyone in the audience was supportive. One student held prominently a sign reading "FAIL" in huge block letters. "I agree with most of what he says, but I don't agree with the way he's going about it. It's very self-centered," said Yoshi Deligne, a UCSB student who also objected to the political spot ad shown by Nader that used the same strategy of taking quotes out of context often used by other candidates. "By taking a hard stance, he's ignoring that half the country exists. He's a reflection of the Christian Right. He's a failure to what he's advocating."
Quoting Eugene V. Debs, who made a number of runs for president as a candidate for the American Socialist Party in the early half of the 20th century, Nader said, "In the U.S. Constitution, people can have whatever they want, but it seems that they don't want much of anything at all." Accusing Americans of having the lowest expectations of the political system of anywhere in the world, Nader based much of his commentary on what he said was corporate ownership of the country's political system. "The government is supposed to be by and for the people-supposed to be."