Food & Drink
The Spices of Life
Aparna Khanolkar Teaches Ayurvedic Cooking to Santa Barbara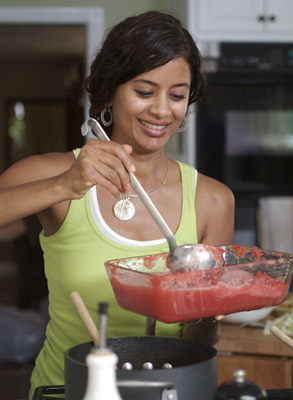 Spice. The ingredient we desire, not only in our foods, but in our lives. Spicy. Hot. It tantalizes our tastebuds with the promise of sensations, of enhancement, of experiences. Sweet. Sour. The yin and yang of tastes. When we cook up a meal, we add a little bit of this : pepper : a little bit of that : salt : to balance each flavor, each bite. We combine spices to enjoy the benefits of a well-cooked, enjoyable meal.
Did you know, however, that combining spices can offer up the benefits of an enjoyable, healthy life as well? The medicinal qualities of spices and herbs, and their combination, have been an integral part of Ayurvedic cooking in India for thousands of years.
Ayur means life and veda means sacred text or knowledge-so literally, Ayurveda is the knowledge of life. Long before the advent of the Slow Food Movement, the trend toward organics, and the boom in yoga classes, Ayurveda placed importance on the synergy and balance of the surrounding atmosphere, the compatibility of foods and tastes, the cycles of the seasons, and the effects of all the above on the food we eat. The end result: the belief in the importance of food for the well-being of our physical nature; the belief that taste not only stimulates our taste buds but our higher consciousness, as well. Food, in Ayurvedic tradition, is honored as an intimate connection to the elements of nature and spirit.
Some might find this way of thinking a little esoteric and difficult to understand, but for all knowledge, there are teachers. In Santa Barbara, we have a wonderful teacher of the Ayurvedic way of cooking: Aparna Khanolkar or, as she is better known, The Mistress of Spice.
Combining the looks and cooking talents of Top Chef's Padma Lakshmi and the spiritual centering found in the teachings of those such as Deepak Chopra, Khanolkar has the ability to share with us the benefit of her life experiences and knowledge of Ayurveda. She loves to teach, to share, and it shows. She has been teaching and doing seminars in places such as the Chopra Center in Carlsbad, various yoga centers, and numerous retreats here in Santa Barbara and nationwide. She also works with private clients as a consultant on Ayurvedic principles in their own kitchens. Don't know what to do with the spices in your cupboard? Khanolkar enjoys working with people to show them what spices can be of benefit to them and their own individual needs.
You've heard of quinoa, have seen it at Trader Joe's, and know that it's supposed to be good for you, but not quite sure what to do with it? She has all the answers. What's more, Khanolkar takes her clients shopping to the farmers market and neighborhood stores to introduce them to new ingredients and staples that make creating a healthy, balancing meal simple, stress-free, and delicious.
The Mistress of Spice is offering some upcoming classes and talks that are sure to be deliciously enjoyable. On October 7, Khanolkar will talk at Spiritland Bistro for their Tuesday Night for Healing series about Delicious Ayurvedic Ways to Spice up Your Meals. On October 8, at a private kitchen in town, she will introduce The Basics of Ayurvedic Cooking, where you will learn to prepare a basic Ayurvedic meal and explore the fundamental principals of Ayurveda. On October 10, at Source Yoga Studio, she will talk about Demystifying Ayurveda. On October 15, again in a private kitchen, she will present Healing through Spices, where you will learn to roast, grind, and make your own spice blends and explore the medicinal benefits of a wide variety of spices.
Here's just one example of her expertise:
Punjabi Dal
1 c. red lentils
3 c. of water
2 Tbs. olive oil
1 tsp. ginger grated (improves assimilation and transportation of nutrients to targeted body tissues)
½ tsp. turmeric (helps detoxify the liver and stimulates the digestion)
1 tsp cumin powder (helps detoxify the body, and is also a good antiseptic)
1.5 tbsp coriander powder (a powerful antioxidant)
¼ tsp cayenne powder (good for blood flow)
1 medium tomato, finely chopped
1 tsp salt
Wash the lentils in three changes of water. Add the three cups of water and bring it to a boil. Skim the foam off the top and cook the lentils for about 15 minutes on high heat or till they are fully cooked. Meanwhile, heat the ghee and saute the ginger, turmeric, cumin powder, and coriander powder for about 1 minute. Add the tomato and saute it for five minutes till it is completely soft. Add this to the cooked lentils and simmer it all for 5 minutes. Serve with rice or quinoa.
4•1•1
Call Aparna Khanolkar at 698-5630 or log on to themistressofspice.com to learn more about her classes and catering/personal chef services.