News
Feds Take Down Eastside Gangsters
Operation "Gator Roll" Leads to 28 Indictments and Nine Arrests in Morning Raid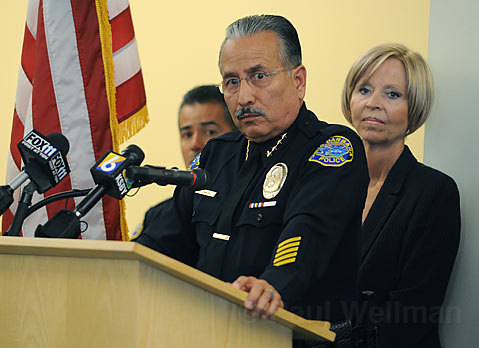 A total of 28 Santa Barbara Eastside gang members were indicted by a federal Grand Jury in Los Angeles last week, including 19 people under the RICO (Racketeer Influenced and Corrupt Organizations) Act, originally used to target the Mafia. The racketeering charges are the first ever to be brought against residents of the Central Coast.
Nine of those indicted were arrested Wednesday in an early morning operation involving more than 400 law enforcement officers from 18 local, state, and federal agencies and exclusively targeting the Eastside gang. More than 60 residences were searched this morning, resulting in the arrests. Another 17 defendants charged in the indictments were already in custody on state charges and will be handed over to federal authorities. In addition to the federal defendants, 17 others are expected to be charged in Santa Barbara Superior Court.
The indictment, according to the U.S. Attorney's Office, alleges the Eastside gang was responsible for the murders of two rival gang members last year, and also tried to kill six others. It also indicates members of the gang were hostile to the presence of African Americans in areas frequented by the gang, and that Eastsiders would attack individuals in their "turf" to control the area. Allegations of conspiracy to commit murder, distribute narcotics, and robbery were all included in the indictment.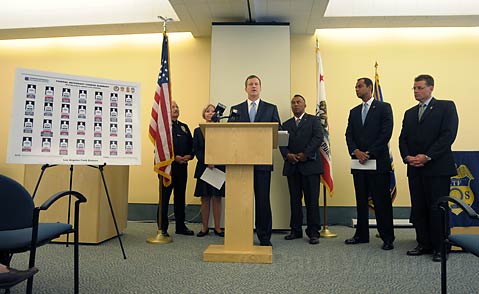 Federal prosecution means federal prison. Those arrested will be going to federal jail in L.A. to await trial, with all the proceedings taking place away from Santa Barbara. "They don't do time locally, so they can't associate with local gangsters," said John Torres, special agent in charge of the Bureau of Alcohol, Tobacco, and Firearms' Los Angeles division.
It also means tougher sentencing. Nine people are facing life in prison without parole. "We're not going to be a book and release," U.S. Attorney for the Central District of California Thomas O'Brien said, noting federal statutes are different and generally firmer on crime. "If that message hasn't gotten around the community, it should start today."
According to a release from the U.S. Attorney's Office, there are more than 150 Eastside gang members, with some as young as 11 years old. Robert Schoch, special agent in charge for ICE (Immigrations and Customs Enforcement) in Los Angeles, said it is estimated that 10 to 15 percent of the gang members are trans-national gang members who have either entered the country illegally, or committed a crime while here legally and were then deported but returned. Four ICE arrests were made Wednesday.
If an individual returns to the U.S. without permission after being deported for committing a crime here and is caught, he or she can be charged with a felony and serve up to 20 years behind bars. "It's a very powerful tool," Schoch said, indicating roughly 11,000 such arrests have been made around the country since the law update.
Though occurring the same day a Santa Barbara jury reached a verdict involving an Eastside gang member who was found guilty of voluntary manslaughter in a stabbing murder, the timing was coincidental. The operation is the climax of roughly a year of investigation by local and federal agencies looking into the Eastside gang. "In the last 18 to 24 months, gang violence has been an increasing concern," Santa Barbara Police Chief Cam Sanchez said. "The communities are fed up with criminal street gangs."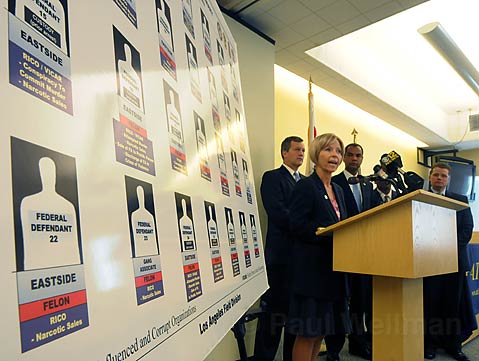 Officers were briefed at 5 a.m. this morning at Earl Warren Showgrounds and dispersed to various locations around Santa Barbara and Ventura counties. By 10 a.m., the action at the showgrounds had slowed, with most suspects already having passed through booking in the "Dome of Doom" at the Showgrounds, as one officer put it. Units from various agencies – some in marked cars, some in unmarked vehicles, some in uniform, and some in plainclothes – were beginning to return from their assignments and pack their equipment.
Hours later, at 11 a.m., leaders of the various organizations gathered to talk to the press about the sting. "I believe we've made a dent in criminal street gang activity," said Sanchez in front of many of his bosses on the Santa Barbara City Council, adding, "This is only the beginning."
Authorities indicated there would be future events such as this, and that they'd continue to pursue criminal street gang members. Two defendants in the indictment are still on the loose.
"If actions speak louder than words, the message should be that the feds are here and we're here to stay," Torres said. Agencies included in Wednesday's takedown were the Drug Enforcement Administration, the California Bureau of Narcotic Enforcement, U.S. Marshals, and the County District Attorney's Office and Sheriff's Department, among others.
No juveniles were targeted in the sweep, but the group went after eradicating some of the leadership and shot-callers in the Eastside gang, thus the operation's code name of "Gator Roll." The "Gator Roll," as explained by Sgt. Lorenzo Duarte, a spokesperson for SBPD, is a martial arts move in which a person is brought to submission through an attack to the head.
"We sent a message to the City of Santa Barbara," Sanchez said, echoing a charge he made the day after the fatal stabbing on State Street in March 2007. "We will spare nothing to come and get you."