Au Courant:
Mad for Vintage: You know you're a retro-head when you'd rather spend your lunch hour soaking up the design-porn on a TiVo'd episode of Mad Men than enjoying three martinis yourself. And who could blame you? The clothes! The shoes! The ill-lit offices teeming with thoroughly lit coworkers! If the look has you spinning your own Bettie Page dreams, State Street has a new shop that'll knock your bobby socks off. Just opened last month, Retroville (521 State St.) has everything your yester-yearning heart might desire: from vintage clothes for men and women to new vintage-inspired lines, from kitchen appliances and luggage to the 1950s Philco Predicta television and Shuron specs. You might just need a cigarette when you're done.
Swing Low: If all this talk of midcentury aesthetics has you itching for a little swinging (dancing that is; we've not moved on to the '70s yet), get yourself down to Victorian Vogue (4289 State St.), where Sonia "Nomada" Hayward's new assistant manager Mayerling Weston has offered up her collection of dozens of authentic swing dresses. The collection spans the '40s through the '60s, in sizes 4-12, is priced to sell, and will have your gams looking glam as they take to the sky and over the shoulders of whomever's lucky enough to be tossing you about. And, yes, they're available for rent, too.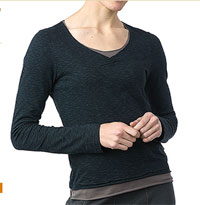 Peace, Love, T-Shirts: Local outdoor clothing company Horny Toad (hornytoad.com) is at it again, oozing cool like so much poison off an agitated toad's back (which, though it may irritate a predator's mucous membranes, will not, in fact, give said predator warts; thank you, Encyclopedia Britannica). Toadville is hopping over the release of its limited-edition Good for the Earth, Good for the Soul organic T-shirt collection for spring '09. The tees are available online, and are the result of the Toad's ongoing collaboration with indie singers/songwriters Chris Pierce and Brett Dennen who contributed lyrics, musings, and illustrations to the peace-themed designs; a percentage of the proceeds will be divvied among causes that are important to Horny Toad, Pierce, and Dennen. It's all so groovy! Horny wonks like to say the tees are "kind of like the toad's own T-shirt lovechild." Which is appropriate for a company that bills itself Horny Toad.
Spotlight On: Rhythm
For Liliana Hensel and her sons Adrian and Daniel, style is a family affair. Born of the boys' desire to wear their graphic design skills on their backs-which is to say, to figure out how to put some of their designs onto T-shirts-Liliana, an Argentine tango dancer, thought she could help, although, in such affairs, she admittedly had "no experience." They didn't let that stop them, though, and the trio's company, Rhythm, is a testament to that proverbial tortoise's philosophy: slow and steady they go, finding that the more they learn, the more they find there is to learn, especially in terms of responsible, sustainable production. What began with a few nature-inspired designs-like the company logo itself, a lotus shape built of three elongated dolphins whose images intertwine, inspired by the sight of dolphins playing in the surf below Douglas Family Preserve-has grown to encompass the kind of lifestyle pieces that Santa Barbarans live in: yoga pants, tees, and tanks that look as cool as they feel comfy. As is often the case with kids and their projects, at the moment, the endeavor seems to belong to Liliana, who's taken on the production, not to mention the dealings with boutiques, wholesalers, and trunk shows-and it suits her just fine. "I just have to show up and keep doing it," she said. "Nothing is easy in life; you just have to keep showing up. Whenever we get discouraged, it's a perfect teacher, and that's the time to keep growing and evolving." That's a rhythm worth finding. Get it at Yoga Soup, the Lotus Boutique, or online at rhythmDzn.com.
Shop This:
Christmas shopping for kids-it can feel like such a waste. They go through stuff like Elmo goes through batteries, leaving a trail of lightly used but totally forgotten crap in their wake, and mommy and daddy a little lighter in the wallet, a little bloated in the closet. Surely there's gotta be a better way. And, there is. After a hugely successful maiden voyage last year, LoaTree is hosting its 2nd annual Kids Stuff Exchange this Saturday from 11 a.m.-4 p.m. at the Rancho Embarcadero Community Center in Goleta. Parents are invited to gather and exchange their kids' stuff-clothes, toys, books, you name it-and whatever's leftover will be donated. It's a win-win-win. Your wallet and your closet will thank you-and your kiddos will be none the wiser. : On approximately the exact opposite end of the spectrum, for those of you whose sugarplum dreams wouldn't be complete without that little blue box (and for those of you who get off on flexing your willpower), Tiffany will be hosting a Holiday Open House on December 6. Stop by between noon and 3 p.m. for refreshments, to check out the traveling South Sea pearl collection, and to make a wish list. It certainly can't hurt.
Check Out: eMBe
Armani expat Mary Beth Larkin recently hung her shingle in Paseo Nuevo (6 W. De la Guerra St.), and though the grand opening passed just two weeks ago, if you haven't yet been inside, I'd venture to say you're already missing out. Here's why:
1) Larkin, who logged seven years as the head designer for Giorgio Armani's A/X Armani Exchange line, launched eMBe two-and-a-half years ago, and has been focusing those fashion chops on crafting beautiful, stylish, and practical women's pieces ever since.
2) Since its inception, eMBe has been carried in high-end boutiques including the likes of Barneys, Intermix, Ron Herman, Fred Segal, and Henri Bendel. So we're lucky to have her-but not for long. As of right now, eMBe has but a four-month lease, which Larkin, who spends some time nearly every day (except Wednesdays, when it's closed) in the store, is using to showcase her fall/winter '08 line.
3) The store is where Mel's once stood. So here's a fun game: find the spot where you took that kamikaze shot/witnessed that fight/watched your friend get arrested. Whatever fabulous item is hanging there now? Totally meant to be.