Agreat musician, one could argue, is part scholar, part showman, and part mystic. Talk to Christian Tetzlaff for half an hour, and you'll hear hints of each of those qualities.
The acclaimed German violinist, who will play a solo Bach program in the CAMA Masterseries on Tuesday night at the Lobero Theatre, casually conveys detailed knowledge of the great composers, the styles in which they worked, and the circumstances behind their masterpieces. But his conversation is also dotted with theatrical metaphors; he compares himself to an actor who strives to disappear into his roles and become unrecognizable.
And then there's his spiritual side-an inheritance from his father, a Lutheran minister. "What I'm doing is my very personal religion," he said in a telephone interview. "Making music is like alchemy. We work with [common material such as] wood and strings, and, in the best case, we end up touching people and uniting a whole audience."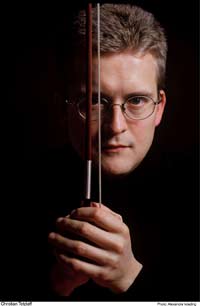 Tetzlaff, who has been uniting and exciting audiences around the world for the past two decades, was born in Hamburg, Germany, in 1966. He began violin lessons at age 6. "It wasn't questioned; it was just the thing to do," he said. "All of my brothers and sisters are professional musicians. There are four of us. I'm the third, so two were already playing when I began. By age 11, I knew I wanted to be a musician. I was already playing in youth orchestras. But I only started really practicing at age 15."
He quickly made up for lost time. By the time he was 22, he was making his American debut, playing a dauntingly difficult violin concerto by German composer Hans Werner Henze with the Cleveland Orchestra. He continues to be an in-demand interpreter of contemporary classical music; earlier this month, he gave the premiere of a new violin concerto by British composer Mark-Anthony Turnage.
But for all his success in a wide range of repertoire, he is most closely associated with the solo violin music of Bach. He has already recorded the repertoire twice, in 1993 and in 2005. At the Lobero, he will perform four of the six works Bach wrote for the instrument: the second and third sonatas and the second and third partitas. The sonatas are four-movement works; the partitas are suites of dances (minuets, gavottes, etc.).
Bach is often thought of as an intellectual composer, and appreciated best for the dazzling complexity of his music. But for Tetzlaff, Bach's works for solo violin-which were written in the year of his wife's death-are most amazing for their emotional expressiveness.
"This music is not an examination piece," he insisted. "It's a story that's being told, one that unfolds over six pieces, like a giant Bruckner symphony. It's a grand structure, and a very clear journey."
A key dramatic moment in the cycle, in Tetzlaff's view, comes at the intermission point of the program, as the intense, passionate, and deeply sad "Chaconne" concludes the second partita.
"He finished the 'Chaconne' [of the D Minor Partita] and started the C Major Sonata on the next line of the same page," the violinist noted. "It's the same pitch, same meter. It's like he's connecting those pieces. That is the crucial moment where the cycle is saved from going totally down [into despair]. After the deep emotions of the 'Chaconne,' he tops that with a fugue that is sheer, jubilant expression-wild, violent writing."
When Tetzlaff performed this same program at Walt Disney Concert Hall three years ago, a Los Angeles Times critic called his performance "successfully egoless." To the violinist, that comment-which suggested the focus was on Bach's music rather than his virtuosity or the uniqueness of his interpretation-indicated he was doing something right.
"So often, musicians are asked, how can you put your own stamp on a piece that has been played so often?" he said. "Why would I want to do that? My job is to convince the audience. That has nothing to do with what I am 'adding' to a piece.
"My job is to bring everything I have to the piece," he continued. "My goal is not to be talking about myself. That sounds a little abstract, but it happens naturally the moment you read the score in a way that you try to get all the intentions of the composer. You also want to know the expected framework of playing at the time of the composition. The moment you have that clear, you can speak freely, but you will be in the framework of the composition."
Asked if his performances of these pieces change from night to night, Tetzlaff gave a characteristically thoughtful answer. "Yes, but it's not that I decide, 'I'm not going to play this quicker today,' or slower or louder or softer," he said. "Real freedom is always something homeopathic: It has to be invented every night [in the moment]. It's like when we are talking now: The inflections we give to every sentence will be slightly different, even though we are saying basically the same thing. But none of it can be preconceived. If you plan it, it will not work."
4•1•1
Christian Tetzlaff will appear at the Lobero Theatre (33 E. Canon Perdido St.) on Tuesday, December 2, at 8 p.m. For tickets and information, call 963-0761 or visit camasb.org.