Arts & Entertainment
Entrance Band, at Muddy Waters Cafe, Friday, November 21.
Los Angeles Rock Revivalists Bring Headbanging Back to S.B.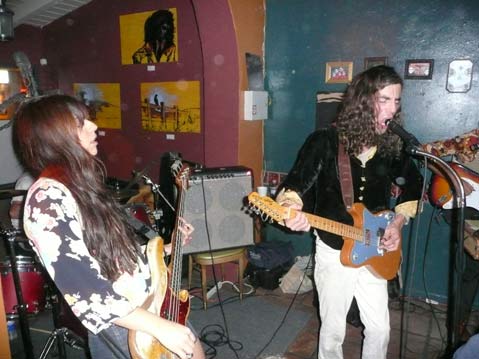 Muddy Waters Cafe, a small coffee shop on the lower Eastside of downtown S.B. (and one of the few all-ages venues in town), opened its doors to Club Mercy and the Entrance Band this past Friday night. And enter if you dare-the metal rock revivalists opened their set with a strangely reminiscent, though not quite Hendrix-ized version of "The Star-Spangled Banner" that laid the drums and blues rock on thick.
The turnout on Friday night was impressive, as was the stronghold of headbangers present. Headbanging, a sport many believe to have died way back in the mid '90s, appeared alive and well last weekend. And once the Entrance Band quit being precious (by way of a nearly 30-minute-long setup and sound check at the unassuming Muddy Waters) and finally entered the stage, they attracted fans to the middle of the floor for a fun, late night of music.
Their fanbase spanned from young to old-a testimony of the band's ability to capture the sound of the late 1960s. They spent their set channeling greats such as Jimi Hendrix, but with a modern-day twist. This twist, at times, could be something more consistent with metal, but for the most part, the band seemed to echo a psychedelic-meets-garage rock sort of sound, driven by a late '60s Doors-type bass riffs. The Entrance Band's intervals between numbers were a bit overextended-something they may want to work on for future shows-but the time allowed them to experiment with different styles of looping, a curious sort of exploration between where the band currently is, where the genre the band seems to echo has been, and where they might like to be one day.
The group's third track of the evening, "You're So Fine," was a healthy dose of this late '60s sort of jam band blues with an emphasis on rock and a tendency to move toward something altogether harder, faster, and more aggressive. Drum leads were solid, but lyrics seemed to lack; yet the crowd, most importantly, continued to headbang.
All in all, it was another great and different all-ages show for the little booking company that could, thanks in part to one of Santa Barbara's most overlooked live music venues.