Living
Holidays the Weird Way
Shopping Guide for This Season's Quirkiest Gifts
In Santa Barbara, despite our woeful lack of snow, sleighbells, or reindeer, we tend to get into the Christmas spirit with surprising enthusiasm. The tree in front of the Arlington Theatre is greeted with fanfare each year; the lights on every tree and sapling along State Street give downtown the appearance of fairyland. It's all quite tasteful, pleasant, and no doubt conducive to the spending of mass quantities of money on gifts.
But where's the weird?
To repair this lack of the strange in Santa Barbara's holiday preparations, I've scoured the Web for the oddest, tackiest, and most bizarre holiday appurtenances. For the convenience of lazy holiday shoppers, most items are available online – and can be shipped in time for the winter holiday of your choice. What follows is the top five most outre pieces of holiday cheer to be found; think of it as an advent calendar of the weird.
5) Candy Canes of Death
Any really hard-core dudes with a sweet tooth on your Christmas shopping list? A T-shirt featuring crossed candy canes with a superimposed floating skull of doom ought to fit the bill nicely. This design is also available on a stylish cotton thong and a baby bib – make that romantic evening with a loved one or baby's first Christmas as hideous and baffling as possible.
Available from Cafepress.com, starting from $6.99.
4) The 30-inch 70-Light Lighted Flamingo
Why put away the pink plastic lawn flamingos when the weather turns cold? Instead, try integrating them into your Christmas display, with this as your "piece de resistance." One Target shopper explained, "An added bonus is that it is animated. The head moves back and forth. I think this is going to be a great conversation piece." Note to Target shopper: traffic accidents are also conversation pieces.
Available at any Target store for only $44.99.
3) Customized Stamps for Goths
Sending holiday cards this year? Jazz up the envelopes with these custom postage stamps, each one bearing the image of a black feathery wreath with red flowers. Let every recipient of your Christmas missives know how much you resent having to send them a card. Available from Zazzle.com, $0.42 each.
2) The Menorah Christmas Tree
Likely to annoy or offend anyone who takes a religious interest in either Christmas or Hanukkah, and guaranteed to confuse just about everyone else, this Menorah shaped like a Christmas tree – or is it an extra-small Christmas tree shaped like a Menorah? – is the perfect backhanded gift for a relative of another faith. Show your spiritual ambivalence in style.
Available from PrankPlace.com for $24.89.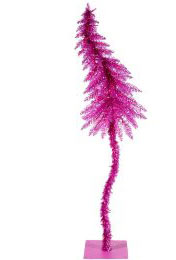 1) Fashion Trees
By far the most expensive item on this list, Target's fashion trees made the number one spot simply due to the variety available. From the seven-foot Purple Paradise Tinsel Tree ($199.99) or the Ashley Pink Pre-Lit Tree ($399.99) to the two-foot Turquoise Lighted Tinsel Tree (only $9.99), there's a strangely colored, oddly shaped almost-tree to suit any decor, budget, or living room size. The best of the bunch, however, for both price and oddity, is the five-foot Pre-Lit Fantasy Fuchsia Tree (a bargain at $43.99), which looks like it came straight out of a book by Dr. Seuss. Not that Dr. Seuss isn't wonderful in every way, but I'm not going to eat green eggs and ham for Christmas dinner, either.
Available for purchase online at Target.com, in a wide variety of price ranges.
Anyone who's embraced the weird in their holiday preparations – whichever holiday it may be – please send pictures or tips to weirdsb@gmail.com. Happy shopping!
Seen anything strange lately? Let us know about it, and you may see a solution to the mystery here. Contact Elena at weirdsb@gmail.com.