Sports
Firemen Show Gauchos Their Version of a Transition Game
Truck Speeds Away from Meeting with UCSB Players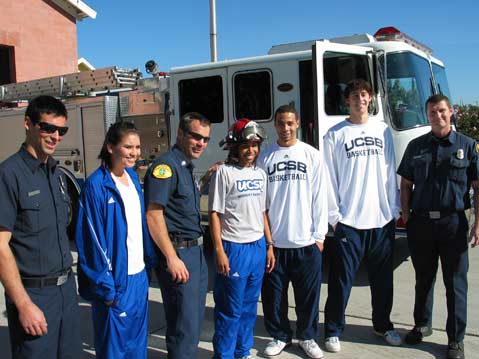 A delegation of UCSB basketball players dropped by County Fire Station 12 in Goleta to give away game tickets Thursday morning. They got something in return – a demonstration of the fast break, fireman style. After a three-man crew led by engineer Jason Toole gave the Gauchos a tour of the station, the firemen boarded a truck and sped away with lights flashing to respond to a medical emergency.
"We don't do anything but go out there and play five-on-five basketball while they're out there saving lives," observed senior UCSB guard James Powell. "What we do is nothing in comparison to what they do. Not at all."
On top of that, the firefighters' season is year-round, and made more critical during these arid times when brush is tinder dry in late November.
The Gauchos visited the fire station on Calle Real and Montecito Fire Station One on San Ysidro Road to promote UCSB's ticket giveaway to all emergency personnel – firefighters, EMTs, Red Cross workers, and others – who responded to the recent Gap and Tea fires. Each individual can claim two tickets for Saturday night's Loyola Marymount-UCSB men's game and next Wednesday's Harvard-UCSB women's game at the Thunderdome.
Powell, Sam Phippen, and assistant coach Jono Metzger-Jones represented the men's team. Lauren Pedersen, Whitney Warren, head coach Lindsay Gottlieb, and director of basketball operations Araceli Gil represented the Gaucho women.
UCSB's basketball program has a historical connection to firefighting. Erin (Alexander) Brown, the Gauchos' all-time leader in 3-point baskets, is the first female engineer in the Newport Beach Fire Department. Brown, a 1998 graduate, was inducted into the Gaucho Athletic Hall of Fame this year.
Both teams are sitting at .500 at this early stage of the season and hope to move up. The men, coming off a five-game stretch on the road, take a 4-4 record into the LMU game. The Gaucho women, 3-3, will play at Pepperdine on Sunday afternoon before taking on Harvard three days later.