Opinion
Jerry Roberts Beating Wendy McCaw
News-Press Owner's Attorneys Seek New Arbitrator After First One Rules in Former Editor's Favor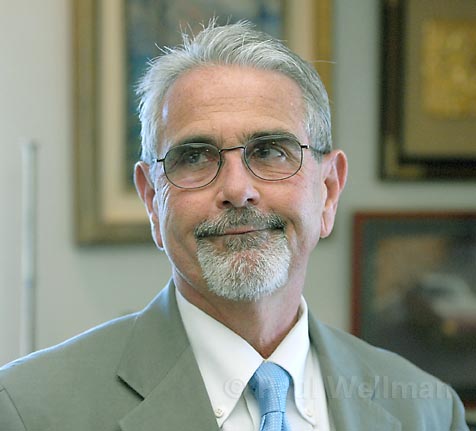 In a longstanding legal dispute that one party values at $25 million, an arbitrator has ruled in favor of former Santa Barbara News-Press editor Jerry Roberts and against the daily paper's owner Wendy McCaw. But now, as the American Arbitration Association's Deborah Rothman is determining how much Roberts should be awarded in damages, attorneys for McCaw's Ampersand Publishing – the News-Press's parent company – are trying to get a Santa Barbara Superior Court judge to toss Rothman from the case.
In a court filing on Monday, December 29, attorneys A. Barry Cappello and Dugan Kelley claimed that Rothman – whose decision in Roberts's favor earlier this year has been under a gag order until now – "flip-flopped" on an important ruling and took too long to issue her final decision, reasons they believe should warrant her removal. This move was made public in the December 30 issue of the News-Press, which features a somewhat confusing article on the matter that details the dates of certain decisions and includes a number of allegations against Rothman.
But according to Roberts's attorney Andrine Smith, the article is a "shoddy piece of propaganda disguised as a news story" and its claims are "misleading." In a press release issued on Tuesday, December 30, Smith said that these "actions are to be expected from a party that loses an arbitration. They seek to avoid the results of the arbitrator's considered judgment by now attacking the arbitrator." Explaining that the paper's attorneys never objected to deadline extensions until the arbitrator found against them, Smith also said, "While complaining about delays, Ampersand now ensures there will be more, in its vicious attempt to ruin Jerry Roberts and his family financially." (Roberts, it should be noted, currently covers politics for The Independent via his Capitol Letters column and blog.)
The case stems from July 2006, the month that the News-Press's ongoing meltdown officially began when then-editor Roberts walked out the door because owner McCaw was trying to influence the daily paper's newsgathering operations by inserting her personal views and protecting certain friends. Roberts's resignation immediately prompted an exodus of other longtime employees and, in the past two-plus years, has been followed by a unionization drive, firings of union leaders, and federal prosecution of the paper for breaking multiple labor laws. (Both the union drive and federal prosecution are stalled by ongoing negotiations and appeals, respectively.) Meanwhile, there has been a precipitous drop in the paper's editorial content, a noticeable decline in the number of both advertisers and advertisements, and a drop in readership more drastic than almost anywhere in the country.
Soon after he stepped down, McCaw sued Roberts for $500,000, citing breach of contract and triggering the arbitration process, which was dictated as a term of his employment contract. Roberts then countersued, and the Arbitration Association assessed his damages at $10 million. McCaw then hit back with a claim of $25 million in damages. Attorneys for both sides argued their cases until December 2007. Rothman issued a series of decisions in 2008 that named Roberts the "prevailing party," entitled him to recover his attorneys' fees, and characterized the legal tactics of McCaw's attorneys as "scorched earth," "take-no-prisoners," and "go-for-broke."
In September, Rothman asked for a final round of briefings to assess attorneys' fees and determine a final judgment award, which would have been issued to Roberts in mid December. Instead of filing those briefings, McCaw's attorneys approached the American Arbitration Association and asked that Rothman be removed. The association denied that request, and McCaw stopped paying the arbitration fees, as she is legally required to do. A new deadline was set for final briefings, but instead of filing them, McCaw's attorneys have now taken the matter to the Santa Barbara Superior Court.
Roberts's attorney, Andrine Smith, called Ampersand's latest move "an effort to shirk its responsibility to pay the price of its ill-founded and specious litigation" and promised to "aggressively contest" the filing. As to the December 30 article that she called a "shoddy piece of propaganda," Smith explained, "It is just the latest evidence of why Jerry Roberts and dozens of other professional journalists left the paper in protest of its unethical, vanity press standards."