News
Pappas Suit Contests 3rd District Election
Meanwhile, Opponent Farr Is Sworn into Office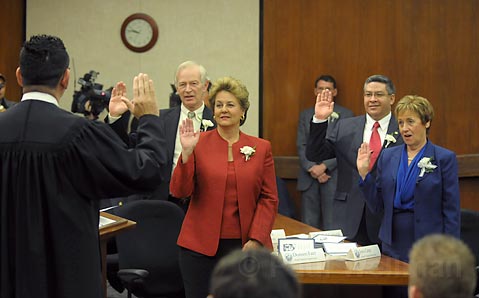 Steve Pappas isn't giving up just yet.
The two-time candidate for the county's 3rd District Supervisor seat has filed a lawsuit in Santa Barbara Superior Court contesting the November 3 election, an action he hinted he might take a few weeks ago while in the midst of a recount of several Isla Vista and UCSB precincts.
When all the votes were counted, Pappas lost to Doreen Farr by 2.27 percent, a difference of 806 votes out of 35,621. But according to a press release sent out on December 31, roughly 600 registration cards were reviewed and Pappas's team "found conclusive evidence that many voter registration cards are illegal." Missed deadlines and improper or invalid registering and filing techniques were among the allegations Pappas has made to suggest hundreds of voter registration forms are illegal.
Pappas also alleges the county erroneously accepted late registration forms, failed to verify voters' identification and eligibility, and allowed first-time federal voters to cast ballots without having provided necessary identification. Additionally, the county allegedly mailed absentee ballots to voters not registered for permanent absentee status.
Essentially, however, Pappas is objecting to the disparity between the popularity he says he perceived before the vote and what the final election numbers reflect. Pappas-whose New Year's Eve press release quoted himself and his lawyers about protecting the public electoral process-explained in the statement that he had received an endorsement by UCSB's campus paper, the Daily Nexus, and had enjoyed "tremendous support in the UCSB and Isla Vista areas." Despite such boons to his campaign, however, Pappas lost in these 18 precincts by 3,057 votes. The press release alleges that if the contested votes indeed are invalid, Pappas would have won the election by roughly 2,250 votes. The Nexus, meanwhile, published a staff editorial on Monday questioning Pappas's move. "We have to wonder if this is truly the best way for Pappas to earn office," the editorial read. "Cutting out I.V. and UCSB's vote isn't exactly going to get him started on the right foot."
Jeffrey Lake, an attorney with Southern California law firm Theodora Oringher Miller & Richman, said Doreen Farr is named on the lawsuit, and that she has yet to respond. No judge or hearing date has been assigned yet, explained Lake, who also said such proceedings usually are expedited given their time-sensitive nature. His office also has submitted a Public Records Act request to the County Elections Office.
"It's his prerogative [to challenge the election] and he's exercised it," Farr said of Pappas's announcement.
Pappas, who previously had failed to snag the same supervisorial seat in 2004, hasn't returned several calls to his cell phone since Election Day and hasn't conceded the race to Farr either. While the two sparred in several debates and forums in the months leading up to the election, the contest was cordial. "It's his prerogative [to challenge the election] and he's exercised it," Farr said of Pappas's announcement.
County registrar Joe Holland has maintained throughout the entire process that everything worked exactly as it was supposed to.
While campaign contribution statements aren't yet available for the latest period, Pappas is working with rancher Nancy Crawford-Hall, who owns the Santa Ynez Valley Journal and contributed more than $100,000 toward Pappas's campaign. She also wrote the letter to the county making the initial request for a recount.
Meanwhile, Farr was sworn in at the January 6 Board of Supervisors meeting. "I'm looking forward to serving the 3rd District," she said. She had to get right to work, as a traditionally festive day turned into business with a discussion of Greka's recent oil spills.
While Farr has spent the recent weeks preparing to take office-naming staff and nominating Marell Brooks for 3rd District planning commissioner-Pappas and others spent long hours last month poring over registration cards. He paid for a recount of votes in the 18 precincts, which changed only three votes, turning into a one-vote gain for Pappas. The process, however, must have stirred up something else that caught Pappas's eye, given the lawsuit.