Bottles & Barrels
Beachside Sipping
Seth Kunin and Magan Eng Open the Next Stop on Santa Barbara's Urban Wine Trail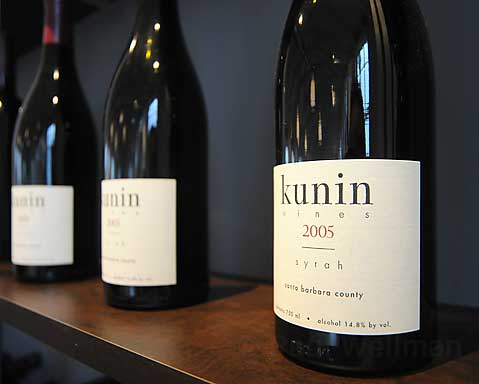 The long- and eagerly awaited addition to Santa Barbara's Urban Wine Trail wasted no time in the new year before opening its doors on Anacapa Street. In early January, Seth Kunin and Magan Eng began pouring their wines in the Funk Zone, a couple of blocks from the beach, adjacent to the train tracks, and within a mile radius of the rest of downtown's tasting rooms. Seth is the winemaker for Westerly Vineyards as well as his own Kunin label, and both lineups will be represented, tasted, and sold in the new facility.
Seth Kunin's winemaking venture started in the stone-cool cellars of Santa Ynez's Gainey Vineyard, where he worked grueling harvest days for two years in the late '90s. With the knowledge to craft his own wines and a dedicated philosophy to quality and purity of fruit, he started the Kunin label in 1998, focusing mainly on Rh'ne varietals such as syrah and viognier. The following year, he hooked up with Westerly Vineyards through vineyard manager Jeff Newton. "He is one of the best grape growers not just in Santa Barbara, but in all of California," claimed Kunin, whose ongoing relationship with Newton during the past 10 years has built the Westerly Vineyard brand as one of the most sought-after names to stamp on a bottle in Santa Barbara County.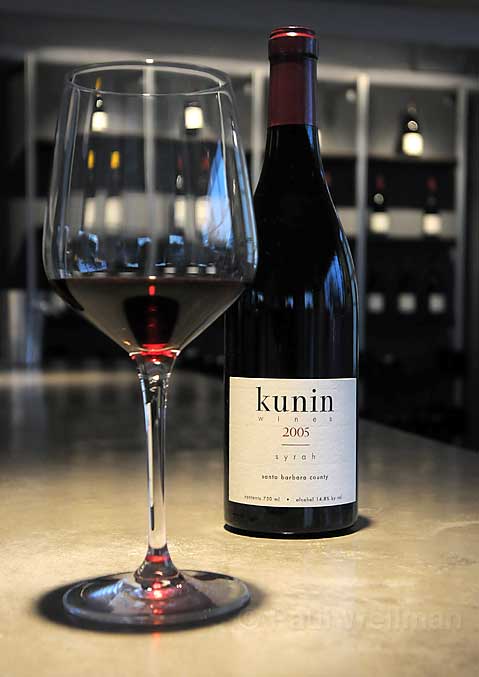 Maintaining the quality of top-notch vineyard fruit from vine to bottle has played a significant part in the site-focused wines of Westerly, which farms 85 acres of low-yielding grapevines in Happy Canyon. About a quarter of the vineyard's production goes into estate wines, which are comprised of Bordeaux and Rh'ne varietals. Meanwhile, the Happy Canyon region currently is seeking its own American Viticultural Area (AVA) status, as the growers there believe their 492 acres of commercial viticulture are distinct from other areas of the Santa Ynez Valley due to a series of topographical and weather factors, such as varying elevations and warmer afternoons.
Kunin's wines are crushed, barreled, bottled, and cellared through Santa Maria's cooperative Central Coast Wine Services. The production process centers around what he refers to as a "source and sort" policy: sourcing for the Kunin label from some of the best vineyards through the Central Coast and sorting through harvested fruit to find the best of the lot.
Opening a tasting room in downtown Santa Barbara was the logical next step. "It's really the only way to grow the business aside from making more wine," said Magan Eng, who doesn't believe an increase in production is possible due to Seth Kunin's hands-on approach. "Seth only has two hands." And the direct sales business model makes sense in an impacted market that's experiencing a boom in competition. "We want to be able to meet our customers, tell them our story, and talk to them about the wines," explained Kunin, who also plans to start a quarterly wine club.
From a geographical perspective, the downtown location provides the ability to reach a much bigger demographic of people than setting up shop in the Santa Ynez Valley. Most people either are staying in Santa Barbara or passing through, which has brought an overflow of traffic to the burgeoning Urban Wine Trail. The proximity to the beach also allows Kunin to hit the surf before work or check on his boat that he keeps anchored in the harbor.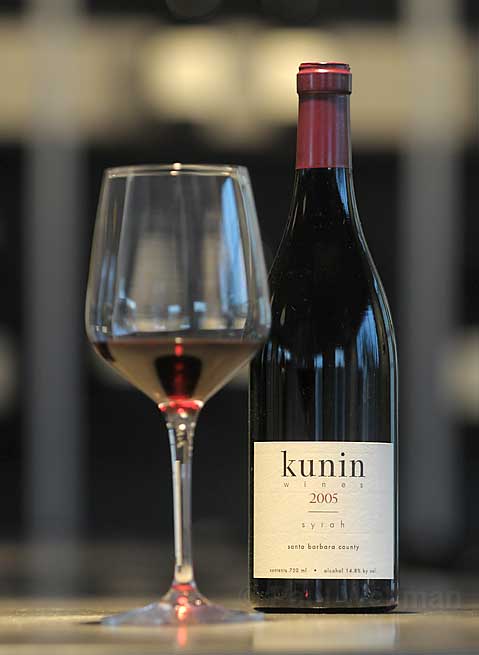 Customers can take advantage of the location as well. "We had a mom and daughter in here the other day while the dad and son were at the beach," said Seth, staring toward the distant Channel Islands through the tasting room's massive windows. "Halfway through the tasting, the parents switched places, and both got to taste while still keeping their son entertained."
There are two different tasting menus of either Kunin or Westerly wines, and the classic tasting can be supplemented by a reserve or library tasting. So what to try? Kunin's library selection includes a 2004 Alisos Vineyard Syrah ($36), which Seth sees as most representative of his winemaking style from the current releases. "It is rustic yet elegant; complex and oozing with character," he said. "It is structured, has a balance of bright acidity, tannin, and fruit, all while possessing the ability to age. Most importantly, it is representative of a place, and tastes like syrah should taste."
Other highlights include the Kunin "Pape Star" (Rh'ne blend) 2007 ($22), a blend of 65 percent grenache, 20 percent mourvdre, and 15 percent syrah, sourced from vineyards throughout the Central Coast. In the tradition of Ch•teauneuf-du-Pape, no new oak was used, and the playfully bright acidity works with the fruit to make this a delicious food wine. And for whites, try the Westerly Sauvignon Blanc 2007 ($22), a dry, crisp style, lightly oaked for texture with the remainder fermented in stainless steel tanks. Refreshing guava and grapefruit flavors round out the wine's inherent acidity.
4•1•1
Visit the new Kunin & Westerly Tasting Room (28 Anacapa St.) from 11 a.m.-6 p.m. daily. Call 963-9696 and see kuninwines.com and westerlyvineyards.com.