FROM THE FEST: Last Saturday in Portland (Oregon), a celebratory triple whammy was under way. On the intimate, Hallmark Card-fueled front, it was Valentine's Day, and the official Sesquicentennial birthday of this fine, soggy, beautiful state. Then there was a case of cultural resurrection. The Portland Jazz Festival, a strapping young fest attaining great heights of appreciation in its six years, faced premature extinction last fall when a major donor pulled out-and this, even before the economic meltdown made everyone cautious and nervous. The news was grim, until Alaska/Horizon Airlines (which has a SBA footprint) offered a heap of support, literally saving the festival, for at least two years.
With last weekend's program, a hearty and heady tribute to Blue Note Records at age 70, the festival, steered by founding director Bill Royston, amply demonstrated why it is a precious cultural resource worth celebrating. Its rousing program tilled from the Blue Note roster, past and present.
Santa Barbara got a good taste of the past-meeting-present Blue Note spirit when the Blue Note 7 played Campbell Hall in January. For any jazz fan, this is a milestone birthday worth genuflecting towards.
On Saturday night in Schnitzer Hall, Dianne Reeves did up Valentine's Day orchestrally, with the in-house Oregon Symphony. Her smart and sweet set included a misty version of "Misty" sung to Blue Note head Bruce Lundvall-heading this phase of the label for 25 years now-in the third row. Earlier in the day, crafty fine pianist Jacky Terrasson deconstructed "My Funny Valentine," among other standards, with his vibrant trio. Joe Lovano presented his new group, US 5, with two drummers, bass and piano, and one of Lovano's most intriguing and left-leaning bands yet (Blue Note album coming soon:). Lovano sat in later with his old friend and boss, guitarist John Scofield, delivering slink, rugged beauty and artful noise with his trio, featuring bassist Matt Penman and the always amazing Bill Stewart on drums.
Opening night kick-off duties belonged to Gonzalo Rubalcaba's fiery quintet, partly rooted in the tradition of an old Blue Note Records staple, Art Blakey and the Jazz Messengers, but with New Cuban fire attached. Next, an orchestra supplied plushness and heft when Terrence Blanchard performed his New Orleans-minded suite "Tale of God's Will, a Requiem for Katrina," with shades of his soundtrack aesthetics.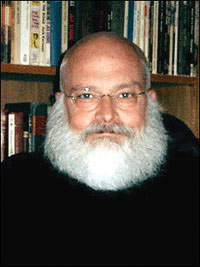 Lovano-the star of the current Blue Note roster-showed up twice on Sunday, completing the math in McCoy Tyner's Quartet, and then with his wife, vocalist (vs. singer, as Royston pointed out) Judi Sylvano. Lionel Lueke, jazz' newest guitar "voice," nicely capped off the festival's first weekend. Late night doings found the Dirty Dozen Brass Band shaking up Roseland and "acid jazzers" Greyboy All-Stars at the uber-vibe-y Crystal Ballroom, opened by Bill Kreutzman's band (his old group, the Grateful Dead, did many "secret" shows in this amazing vintage, riverfront venue).
Impulse buyers and jazz fans with a small sack of disposable cash should consider hopping up to PDX for the festival's final weekend of events, through Sunday (pdxjazz.com).
CODES AND WIRES: It may not register as such for those disinterested in the history of electronic-cum-computer music, but a major event will settle down at UCSB this weekend, Friday through Sunday at Karl Geiringer Hall (for free!). Important and influential electronic music pioneers John Chowning, Max Mathews, and Jean-Claude Rissert will lecture-ize by day, at 2 p.m., and concert-ize by night, at 7 p.m.
In the early 1960s, Mathews was making history at Bell Labs, championing the use of the computer-via punch cards-in musical language. He intrigued and, by extension, inducted into the cause Frenchman Rissert, later head of IRCAM in Paris, and Chowning, a sound-intrigued composer who carried on investigations at Stanford, starting its Computer Research in Music and Acoustics (CCRMA) and discovering FM synthesis. Their ideas and innovations have fed the digital evolution that has got us where we are today, when a dude with a laptop harnesses more power than a refrigerator-sized-or kitchen-sized-mainframe.