News
Burning Hot Scoles vs. "Scam" Sanchez
Citizen Who Confronted Police Chief Did Not Commit Crime, Jury Says
During his interview at the police station shortly after being arrested last June 27, Wayne Scoles told a detective that a trip to court as a result of what happened earlier that day would be "stupid" and "a waste of everyone's money."
But charges against him – two misdemeanors for disturbing the peace stemming from a Shoreline Park encounter with Cam Sanchez, the City of Santa Barbara chief of police, who accused Scoles of using racial slurs and threatening to "kick his ass" – made it all the way to trial, at which a Santa Barbara jury listened to testimony from various witnesses, including Scoles and Sanchez, over a three-week span.
And in what he called a "victory for the people of Santa Barbara," Scoles, a union plumber, was found not guilty of either charge by the jury on Wednesday, February 25. Jurors deliberated for only three hours before coming to their conclusion.
The charges were relatively minor, and Scoles said he could've just pled guilty up front, paid a fine, and faced probation for six months or so, but he instead decided to fight. "I'm not going to let them get away with this crap," he recalled telling himself after watching television reports of his case. "They're going after my character." It was a decision later lauded by jurors who heard his case.
Prosecutor Tony Davis attempting to portray Scoles as an "angry individual" whose emotions got the best of him that afternoon, while word among several Santa Barbara Police Department officers was that Scoles can easily blow up and become confrontational. But supporters – several of whom passed through Judge Jean Dandona's courtroom throughout the trial and many of whom come from the Shoreline Park community – said that it's Scoles's passion, not his temper, that gets him so animated.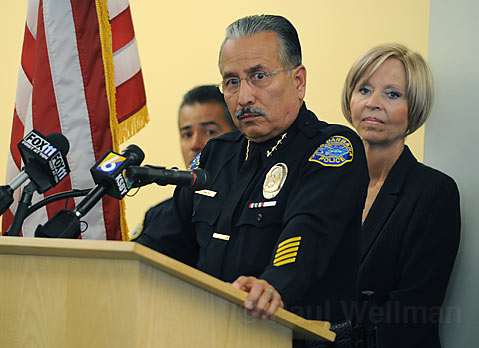 The charges stem from an incident at Shoreline Park on June 27, 2008, pitting the 6-foot, 215-pound Scoles against the much smaller Sanchez, who has been chief of police for nearly nine years. That day, Sanchez was at the park for his nephew's wedding, while Scoles goes to the park most every day to walk his dog and visit with neighbors. When Scoles saw the police chief walking back to his car, he called to him, asking about getting more enforcement in the area for "all the crimes going on by all the drunken bums, illegal aliens, and Mexican gangbangers."
But, as Scoles recalls the incident, the police chief was unresponsive to his question. Scoles likened this reaction to his previous interactions with Sanchez – specifically a series of alleged phone calls Scoles made to Sanchez's office that Sanchez never returned. (Sanchez, for the record, said he never received these calls.)
As for the exchange in the park, Scoles admits he raised his voice, but only after several attempts to address the chief, who was acting like he didn't understand what Scoles was saying. Sanchez, Scoles said, just kept repeating the same line "like a recording": "I don't know who you are. Who are you? You have never called me." Eventually, other officers arrived and arrested him. It turns out, during a lull, Sanchez had gone to his car and called for backup.
Sanchez, who appeared uncomfortable testifying at the trial, had a different version of the incident. He recalled Scoles's confrontation as a profanity-laced "tirade." He said that Scoles called him a "Mexican motherfucker" more than once and was "all out screaming at the top of his lungs" at one point. And while Sanchez agreed that he asked the man – whom he claims he didn't recognize at the time – who he was a few times, Scoles's response was memorable, to say the least: "I'm Wayne Scoles. You know who I am. I own this beach." (Scoles denies that he said this.) The confrontation eventually escalated, the chief testified, and culminated with Scoles threatening to "kick his ass."
Scoles denied he ever threatened the chief or used racial slurs. In fact, he said, he didn't do anything the chief wasn't doing throughout the course of their argument. In addition, no witnesses – including a woman who had been sitting in her car near the encounter who saw and heard at least a portion the argument – testified to hearing Scoles use racial slurs or threaten the chief. That witness did, however, say that Scoles was "trying to provoke the cop with the gestures he made" and she "really thought he would get to the point there would be a physical altercation" to the point that she called 911. Both men admitted to pointing fingers at one another.
Jurors, in discussing their decision Wednesday, seemed to sympathize with Scoles. They said they questioned Sanchez's credibility in certain ways, especially because no witnesses corroborated the critical pieces of his testimony. They also said there were problems with consistencies in the chief's statements. He testified that when he called for backup, he called in a Code 3 – police talk meaning officers in the area should respond with lights and sirens. But the two officers who responded that day testified they responded to a Code 2. That, jurors said, created some doubt as to whether the chief was revising the incident or attempting to amplify the danger of the situation.
The members of the jury – which included eight men and four women – explained that they didn't necessarily agree with Scoles's confrontational approach in conversing with the chief, but they also didn't think the situation rose to the level of crime. "The bottom line was, as poor as he was at communicating, that's what he was trying to do," said one juror.
While Sanchez had no comment on the verdict, Scoles had plenty. "It shows if you're right and you pursue it, justice will be served," he said. Scoles, who was represented in the matter by attorney Robert Landheer, will now be looking into the possibility of getting his attorney's fees reimbursed by the city, as well as working to direct the City Council's attention to what he deems inappropriate behavior by Sanchez. Scoles – who in a videotaped interview with police referred to the police chief as "Scam" Sanchez – stressed multiple times that he is not anti-police. But he also said he intends to file complaints against the chief with the Police Commission and City Council, which he will address at this Tuesday's meeting.
While people who know him admitted his temper can flare at times, many also vouched for his character and for the good work he was doing for their neighborhood. On and off the stand, Scoles portrayed himself as a crusader for the Mesa, explaining that he had worked for more than 100 hours on various public safety improvements in the area, including speed radar signs and painted crosswalks along Shoreline Drive. During one visit in front of the City Council last year, Scoles claimed city transportation staff had lied to him about getting even more improvements on the Mesa. He also said police have been slow in responding to concerns of Mesa residents.
Feeling vindicated by the jury's verdict, Scoles plans to continue to work for his neighborhood. "People are frustrated," Scoles said. "But hopefully this is a turning point for people who are trying to get change."