Food & Drink
Lazy Acres Market
A Review of This Fine Food Deli in a Mesa Neighborhood Grocery Store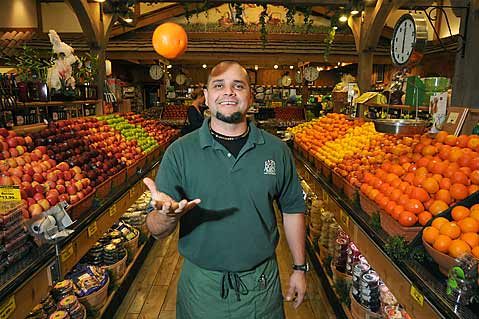 Where: 302 Meigs Rd., 564-4410, lazyacres.com.
What: An all-natural grocery store on the Mesa that houses meat, fish, cheese, vitamin, and wine departments as well as a full service deli and fresh soup/salad bar.
How Much: Ten percent student and faculty discount daily with ID; 10 percent discount on purchase of six bottles or more from the wine shop.
The Dish: Santa Barbara's premiere natural foods store is packed with specialty departments, organic grocery items, and vegan, vegetarian, and meat-free substitutes for any diet. Opened on the Mesa in 1991 and expanded to double its size in 1997, Lazy Acres boasts the largest selection of organic produce in Santa Barbara. Sweet treats such as pumpkin mini breads are baked fresh at 4 a.m. to cater to morning crowds stopping in for a pastry, cappuccino, and grocery shopping. Bulk bins hold beans, grains, nutty snacks, dried fruits, and candies for scratch cooking and tasty nibbling. More than 200 varieties of cheese from all over the world are sold alongside caviars, European butters, quince paste, and foie gras in the acclaimed cheese section adjacent to the wine shop and full-service deli. Make your own salad at the bar, take home a Cajun-crusted sole for your family dinner, or collect ingredients for home-grilled steaks from the meat market.
4•1•1
This week at independent.com, K/L are also for: Los Olivos Cafe. And for all of our restaurants, see independent.com/restaurants. Next week, see what M is for :