News
Vaqueros Under Investigation
Football Recruitment Allegations Follow Championship Season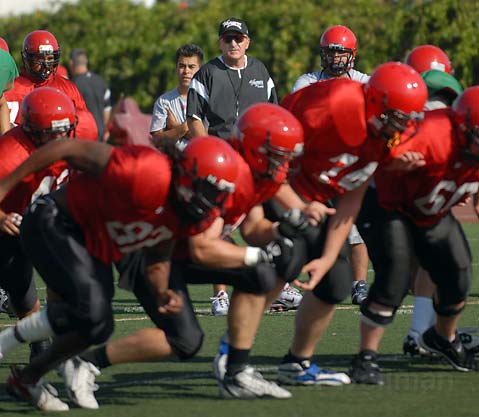 An investigation is underway into the recruitment practices preceding one of the best years ever for Santa Barbara City College's men's football team, which captured the co-championship of the new American Pacific Conference with a six-game winning streak at the end of the 2008 football season.
On October 30, 2008, a month and a half before the Vaqueros' final victorious game, the college notified its athletic faculty and staff that it had reported alleged violations of recruitment rules to the California Community College Athletic Association's Commission on Athletics (COA). The letter to staff, signed by SBCC President Andreea Serban, did not specify what the allegations were. It did direct staff not to respond to inquiries, noting that "speculation and gossip can interfere with the ability of the college to fully and fairly deal with these allegations and would be disruptive to our programs." Serban herself declined to comment for this story, referring questions to the public information office, which made a brief statement saying that SBCC "takes this kind of thing very seriously."
An anonymous source said the allegations involve the efforts of new head football coach Craig Moropoulos, his staff, and school supporters to grease the skids for high school football standouts recruited from the greater Los Angeles area, by finding them apartments and delivering the rental applications they faxed to the school. This could violate COA rules that bar schools from offering inducements to student athletes, including "the obtaining, securing, or soliciting of housing for a prospect/student athlete that is not available to all students at the community college."
Among other firsts, this was the first year that SBCC, under Moropoulos's leadership, aggressively recruited in the Los Angeles area. As a result, the college started its summer practice sessions with 150 men – an unprecedented number of potential players. SBCC is allowed to recruit in Los Angeles because its pool of candidates is otherwise small compared to other schools, which can only recruit in contiguous districts.
One of the biggest obstacles to recruiting athletes from distant areas, however, is their difficulty in finding housing in Santa Barbara, coupled with the COA's ban. SBCC's football coaches tried to secure it for them, according to the anonymous source, but the huge turnout of hopeful players resulted in scores of disappointed athletes-who never got onto the field or even onto the 99-man roster due to the heavy competition-as well as overcrowding and bounced rent checks. Athletes were reportedly put up by the dozen in coaches' apartments. Estimates of how many ultimately returned to Los Angeles range from 20 percent to more than half. (This does not necessarily bode ill for the Vaqueros' 2009 season, however: A player who leaves before completing a full year at a school is ineligible to play at another community college the following year, according to COA.)
In one alleged instance, in order to provide housing for some of the football team's hand-picked recruits, a property manager with ties to the school evicted the existing tenants from a complex consisting of a recently refurbished house with three new apartments in the back, at 130 S. Alisos St. SBCC Boosters President Vic Batastini denied that the college or boosters did anything improper, though he said that the property manager for the complex did approach him with an interest in providing housing for student athletes. Batastini said he referred him to the college's housing office, which provides lists of apartments renting to students. Rob Kooyman, owner of Meridian Group, which manages the property on behalf of Saint George and Associates, did not return calls for comment. "He just wanted to help the athletes out," said Batastini. "He had a lot of trouble [at the complex] and he wanted to do something else with it." Batastini said it is not uncommon for people to come tell him they want to rent a room to a student athlete; he said he simply turns their information over to the housing office.
This reporter stopped by at the Alisos Street address in February and encountered several football players in residence who declined to comment, except for one who said that Coach Moropoulos had merely advised him to "contact Meridian." The two apartments not filled by football players were occupied by families who had moved in around the first of the year.
(The original tenants could not be found. Sources said they resisted the evictions. The Housing Mediation Task Force, which plays a role in resolving many landlord-tenant disputes, has confidentiality rules forbidding identification of people coming for mediation or consultation.)
Trayone Harris, star running back for the Vaqueros in 2008, recruited out of University High School in Los Angeles, said he returned home after the season was over because of the housing situation in Santa Barbara. He complained that his rent at the Cliff House Apartments was suddenly raised by $200 in October. Del Monte Property Management, which manages those apartments, declined to comment.
Most coaches reached for comment at other colleges in the American Pacific Conference seemed to have no gripe against Moropoulos's recruitment of players from, as one put it, their own back yard. "Coach Moropoulos did a great job with those players," said Jimmy Sims, who retired last year as head football coach at Los Angeles Valley Community College. "They beat us 55-52. If there's an investigation going on that's one thing, but I'd prefer not to be part of maligning a coach, especially if it's [coming from] players. They know Santa Barbara's expensive, I tell them that myself. As far as I'm concerned this is a recruiting war and may the best man win when we play each other."
Moropoulos could not be reached for comment. SBCC Athletic Director Mike Warren expressed confidence that the investigation being conducted by Walter Johnson – who also conducted the investigation that recently resulted in Ventura Community College coaches being charged with misrepresenting out-of-state athletes as California residents – would exonerate SBCC of wrongdoing.