Sports
Taylor Rochestie Would Be Madder
Santa Barbara High Grad Could Have Improved NCAA Tournament Season
The 2009 edition of March Madness is shaping up as a rather thin volume. There just aren't enough fairy tales. If you don't have all the No. 1 and No. 2 seeds still playing in your NCAA men's basketball bracket, good luck winning the office pool. The women's championship has been all but conceded to Connecticut.
Taylor Rochestie would have made for a great story in the tournament-a lightly recruited 6ʹ1Ê° guard out of Santa Barbara High, he decided to attend Tulane; upon his arrival in New Orleans, the school and basketball team were dislocated by Hurricane Katrina; after earning Conference U.S.A. all-freshman honors, he injured his knee and needed a stable place to rehab; he found a lifeline in an offer from Washington State; he led the Cougars into the Sweet Sixteen as a junior last year, and he offered to donate his $25,000 scholarship this year to make room for a freshman recruit; he scored a career-high 33 points in Wazoo's 82-81 upset of UCLA (only the second time in 53 tries WSU beat the Bruins on the road); in his last game on the home court in Pullman, his deep three-point basket in the final seconds of overtime lifted the Cougars to a 51-49 victory over Arizona State; he received the Men's Basketball Scholar-Athlete of the Year award from the Pac-10 Conference.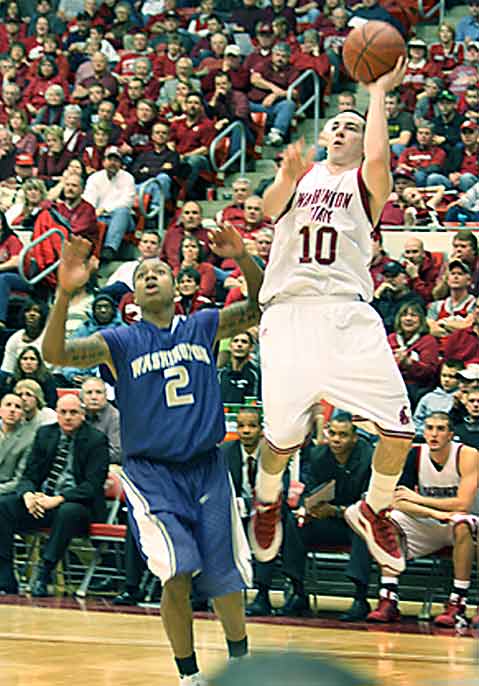 At the conference tournament, Rochestie again ran into UCLA, which exacted revenge and kept WSU from achieving NCAA consideration. The Cougars did get into the National Invitation Tournament, but another tough matchup-on the road against a St. Mary's team with something to prove to the NCAA-ended Rochestie's collegiate career.
I wouldn't be surprised if the Rochesties made a family holiday out of February 21, the day Taylor shocked the Bruins at Pauley Pavilion with 50 of his relatives and friends in attendance. TV cameras spotlighted Alex Rochestie, who wore his little brother's Santa Barbara High jersey. For 10 years, Alex said, he had seen Taylor giving up spring breaks and summer vacations to work on his basketball skills. They are polished to such a degree that Rochestie, a floor-leader type who enhances the players around him, may get a shot at the pros.
There was no fairy-tale ending in the NCAA women's tournament for the five seniors on UCSB's team. The Gauchos faced a daunting task last Saturday night at San Diego's Cox Arena: a No. 2-ranked Stanford team with a towering lineup that reflected the school's mascot: a tree-and they were not up to it. The Cardinal pummeled the Gauchos, 74-39.
There were some shining moments for UCSB's Whitney Warren, who played great defense for four years and scored a team-high 10 points in her last game; for Sha'Rae Gibbons, a fiery 5ʹ7Ê° guard who never backed down against the Stanford six-footers; and for Jenna Green, the wounded warrior-she missed two seasons with knee surgery and a painful back condition-who gave a glimpse of what she might have been with some nifty hook shots early in the game. But with healthy horses like Jayne Appel-who's listed at 6ʹ4Ê° but appeared at least an inch taller than Green-running the floor for Stanford, the Gauchos could not keep up.
The best story on the first weekend of the NCAA tournament did have a UCSB connection. Carter Shaw, who had been a Gaucho women's assistant for six years, moved to Muncie, Indiana, in the off-season to take a position on the Ball State coaching staff. The Cardinals received their first NCAA bid and were matched up against defending champion Tennessee in the first round. Although seeded only No. 5 with a young team, Pat Summit's Lady Vols had an impeccable 51-0 record in the first two rounds of the tournament. But Ball State took them out, 71-55.
"You could tell they felt the weight of their history on their shoulders," Shaw said. "They started to tighten up in the second half. Not many people get to shake Pat Summit's hand after beating Tennessee in the tournament. It was fun to have them be respectful of us."
GAMES OF THE WEEK: Don't forget hats and sunscreen if you head out to La Playa Stadium on Saturday, March 28, for the day-long high school track and field competition at the 71st annual Easter Relays. : Two of Mexico's premier soccer clubs, Club America and Atletico Morelia, will square off in an exhibition match on Sunday, at 2 p.m., at UCSB's Harder Stadium.