News
Miramar Full Steam Ahead
Neighbors Withdraw Lawsuit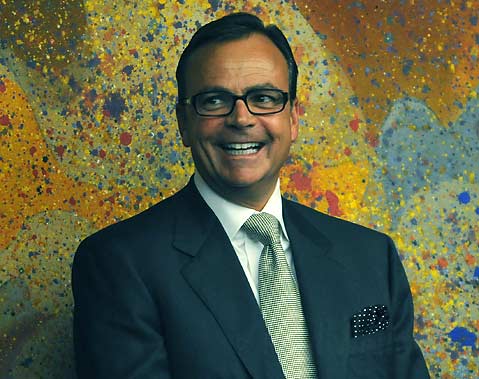 Opponents to the Miramar Hotel have withdrawn their lawsuit and their appeals to the California Coastal Commission, paving the way for renovation of the Montecito beach resort which for the past decade has sat abandoned and overgrown with weeds.
Miramar owner Rick Caruso's camp made the announcement on Tuesday afternoon, April 7. Matt Middlebrook, project manager for Los Angeles-based Caruso Affiliated, said his boss hopes to begin construction this year or early next.
Middlebrook said that because of an agreement with neighbors he couldn't get into specifics of the settlement, though Caruso's press release did indicate that the two sides will work together to solve drainage problems at Oak Creek. Roughly 85 percent of the neighbors' concerns centered on drainage, according to Ron Pulice, a self-described member of the "loyal opposition" to the project.
During several county hearings, neighbors claimed the environmental review of the project was inadequate because it failed to recognize that the Miramar's grading of its own flood plain would lead to flooding on its neighbors' properties. According to Pulice, Caruso indicated he was willing to pay for improvements to the drainage infrastructure.
Because of the settlement agreement, Pulice had little comment beyond that, but the press release said both sides lauded him for facilitating the discussions between the two sides. It took months for them to agree, Pulice said, thanks in part to animosities that had developed during various stages of county approval, but neither side relished a years-long legal battle.
"This agreement accomplishes that goal. It is a win-win for the entire community, particularly for our Oak Creek neighbors."
Stan and Jean Harfenist, who didn't return a phone call prior to deadline, withdrew a CEQA lawsuit they had filed on behalf of themselves and other Miramar neighbors. They also withdrew an appeal they had filed with the California Coastal Commission. According to the statement from Caruso, the Harfenists were pleased with the resolution: "Throughout this process we have been supportive of a new hotel at this site, but we had concerns that we felt needed to be addressed," they were quoted as saying. "This agreement accomplishes that goal. It is a win-win for the entire community, particularly for our Oak Creek neighbors."
The Citizens Planning Association also withdrew its appeal, though executive director Naomi Kovacs said she wouldn't comment on the matter until she spoke with her board of directors.
"I am pleased that we have put this chapter behind us, and we can proceed with real planning for the hotel," Caruso said. "From day one we have worked with the community to ensure that this is a good project for everyone, and our agreement today helps achieve that."
Today's announcement means there is just one major requirement that must still be met before construction begins: money. Caruso, a billionaire who seriously considered running for mayor of L.A., has said all along he had the funding support to build his project, estimated to cost $300 million or so. Middlebrook was emphatic Tuesday that was still the case.
Caruso is the third owner of the storied Miramar to take a shot at rebuilding it. Ian Schrager got plans approved-plans Caruso is using with modifications-but then ran out of money. Following Schrager, Ty Warner bought then sold the property out of fear he wouldn't be able to garner support for his project. But Caruso's grand plans for a five-star resort on the 17-acre-site, with 192 rooms, three restaurants, and two public pathways to the beach, passed inspection, getting the approval of the Montecito Planning Commission and ultimately the Board of Supervisors in December of last year. Middlebrook said a design team is being assembled and will come before the Montecito Board of Architectural Review "as soon as we can."
"I want the Montecito community to know that, more than ever, I am totally committed to the development of a first-class family-friendly resort hotel at the Miramar site so we can finally bring back the tradition of the Miramar," Caruso said.