Film & TV
Notes from the County Courthouse Set
Untitled Nancy Meyers Project Looks to Wrap Up Shooting on Thursday
It's definitely a day to write home about when you get to watch Oscar winner Meryl Streep in action.
On Thursday morning, the as-yet-untitled Nancy Meyers (The Holiday, As Good as It Gets) film that's been shooting around town since Monday set up shop on Anapamu Street, overlooking the County Courthouse's Sunken Gardens. And Streep was on set and running lines for a select few to see. (The film's other star Steve Martin was also spotted later in the day, but not by me. No word on whether third star Alec Baldwin was in town.) Surrounded by extras, grips, production assistants, and a flurry of security guards, I found myself somehow holding the proverbial golden ticket, positioned in front of a monitor, headphones in hand, as Streep did her thing for the camera.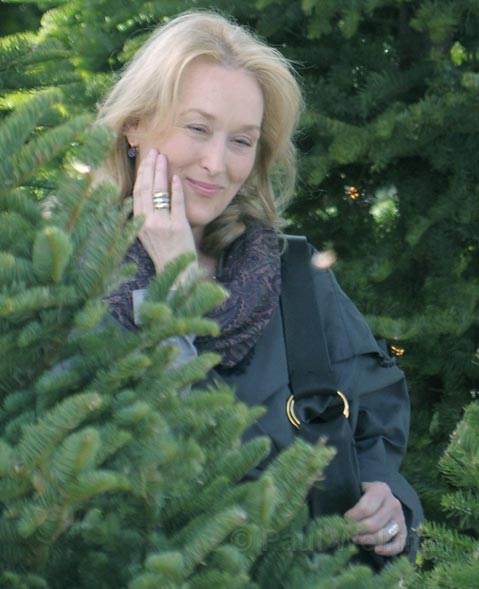 Not surprisingly, the detail and care that went into less than two minutes of dialogue was almost incomprehensible. Then again, anyone familiar with Meyers' filmography knows that her attention to settings and specifics is unrivaled. The closed street was turned into a bright and vibrant farmers market not that unlike our own, the produce hand-selected and meticulously arranged to make it look, well, like a movie. And when the scene wrapped, the bevy of fruits and veggies were sent straight to a nearby shelter, courtesy of Rock It and Wrap It Up, a national charity dedicated to making use out of excess food from concerts, sporting events, and film and TV shoots.
Following the wrap at the Anapamu location (and prior to the shoot's move to De la Guerra Plaza), Meyers gushed about her appreciation to city officials. "I truly wish we could have filmed the whole thing here," she emphasized, a thought echoed earlier by one of the film's producers.
The film, slated for release during Christmas 2009, has been in production since February, shooting everywhere from New York to Westwood. And while Meyers' script was written with Santa Barbara specifically in mind, costs and statewide financial policy made hopes of filming solely in S.B. an impossibility. Currently, New York and some 30-plus other states in the U.S. offer percentage rebates to production crews that film within their borders. Following a shoot, a state like New York will cut a check for 30 percent of the film's costs spent while there, thus allowing for a huge chunk of "additional" funding to be thrown back into the film. Up until recently, California had no such program, though Governor Arnold Schwarzenegger recently okayed a 20 to 25 percent tax credit to film and television crews shooting in-state, a piece of legislature the onetime actor has been trying to pass for years. Still, California's annual cap for such funding is a comparatively low $100 million annually and excludes films with budgets larger than $75 million.
Financial issues aside, Meyers' current project is undoubtedly generating plenty of cash for the city, and given the short four-day shooting schedule – the project had initially planned to be in S.B. for 21 days, it's causing little more than minor inconveniences for residents. A Saturday night fireworks display set off near Butterfly Beach that was alleged to be part of the film's shoot turned out to be unrelated – it's been confirmed that those were for telecom mogul Chris Edgecomb's birthday party at the Coral Casino – and traffic congestion issues have been relatively minimal.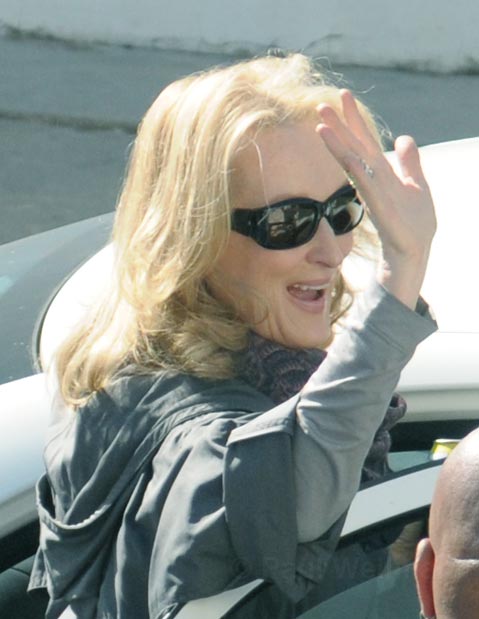 That is, unless you talk to anyone who was trying to get their taxes into the downtown Post Office's mailboxes yesterday, Wednesday, April 15. During the day, the filming sporadically shut down parts of the 800 block of Anacapa Street, a vital one-way route to the mailboxes on what is perhaps America's busiest mail day. Maybe not the smartest scheduling idea, but no huge bother. In my mind, it's one small price to pay – or block to circumnavigate – to have our city play backdrop to an actress as accomplished as Streep.