Living
Don't Let Them Have All the Fun
Hints for Enjoying Santa Barbara, Like a Tourist
It's about that time of year again when longer, warmer days begin to attract the hordes of tourists to Santa Barbara, a preferred escape from Los Angeles and the Bay Area, not to mention the East Coast, Europe, and beyond (though some may argue, perhaps correctly, that the tourist flood never stops these days). You see them walking the waterfront, strolling Stearns Wharf, climbing the Courthouse, and shopping their wallets out on State Street.
But rather than hiding at home and letting the tourists have all the fun, we urge you to reclaim your town's treasures and remember why you love living here in the first place. Here are some hints on how: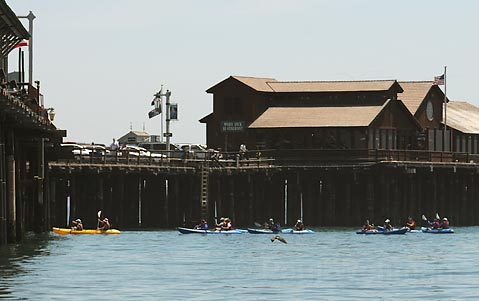 Morning Kayak, Afternoon Bike
Can't decide whether to spend the summer day near the oceanfront or actually atop the waves? Do both, now available as a full-day tour option from Santa Barbara Adventure Company. The morning starts with kayaking instruction down on East Beach, followed by a padding tour of the waterfront, where guides discuss marine ecology, show off Stearns Wharf's starfish, and take kayakers all the way out to the mile buoy, happy home to playful sea lions. Then there's lunch on the beach, followed by a bicycle tour up over the Mesa and down Las Positas Road, where riders hook up with the coastal bike path and follow it all the way to Goleta Beach. Depending on time and energy levels, you can either take a van shuttle back downtown, or bike the return route. It's just one of countless tour packages offered by the 11-year-old S.B. Adventure Company, owned by Michael Cohen and serving more than 5,000 people-locals and tourists alike-per year. But Cohen's especially pumped about this new offering. "You get the best of all of Santa Barbara. You get incredible kayaking, beautiful marine life, and just tremendous scenery, followed by a really fun coastal bike ride," said Cohen, who also leads Channel Islands sea caves trips, downhill bike rides, corporate ropes courses, surfing lessons, climbing excursions, wine trips, and more. "It's a multi-sport trip-most people don't get to experience that much in a lifetime, and you can quote me on that!" The full-day costs $165, or you can also just rent kayaks from their East Beach kiosk for $25 every two hours. See sbadventureco.com or call 898-0671. -Matt Kettmann
Lil' Toot's a Hoot
Boat rides are fun-especially practically pointless jaunts on the sea. Such is the sneaky sublime nature of the Santa Barbara Water Taxi. Bright yellow and serving only those seeking safe passage betwixt the Santa Barbara Harbor and a not-so-far-away Stearns Wharf, the Lil' Toot is an awesome way to bounce between bars, kill time waiting for a dinner reservation, check the surf at Sandspit, or enjoy one of Santa Barbara's best-yet most underrated-views looking from the water back at the lumpy, gap toothed smile of America's Riviera. Besides daily service every half hour connecting such spirited salty haunts as Brophy Brothers and the Santa Barbara Shellfish Company, the bio-diesel-powered water cab also offers private dinner cruises, sunset tours, breakfast outings, and shore-to-ship connections for people living offshore. For more information, check out sbwatertaxi.com or call 896-6900. -Ethan Stewart
Secret Corners of the Courthouse
One of the most magnificent, and most photographed, structures in the United States, this is a must-see in Santa Barbara. The courthouse was completed about 1929, at the height of enthusiasm for the Spanish Colonial Revival-style architecture. It continues to function today as the county courthouse.
Take the tour, which is led by docents Monday through Saturday, 2 p.m., and also at 10:30 p.m. on Tuesdays and Fridays. It's one flight of stairs up to the tower. The Monday evening before Fiesta weekend is the folk dancing dress rehearsal-before the tourists arrive! Bring your beach chairs or blanket and enjoy a picnic dinner on the spacious lawns. Also, there's a free 4th of July open-air Symphony Concert.
Surrounded by lawns and tropical gardens, the courthouse features hand-painted ceilings, wrought iron chandeliers, and imported tiles. Note, for visual and historic interest, the old jail building, the law library, and former supervisors' meeting room. Huge murals depict the history of the area.
Weddings take place in the large garden on a no-reservation basis; sometimes there are more than one at a time. Go to the top of the 85-foot tower for the best 360-degree view of Santa Barbara. The tower is open weekdays 8:30 a.m.-4:30 p.m.; Saturday, Sunday, and holidays 10 a.m.-4:30 p.m.
Read the plaques on the walls for true history. Visit at night and check out the definition of good exterior lighting. See www.santabarbaracourthouse.org or call 962-6464. -Dana Fisher
Excerpted from Fisher's book Santa Barbara Fun, for Ages 1 to 100. See santabarbarafun.net.
Your Favorite "Tourist" Spot
For the past two weeks, readers of independent.com have been voting on their favorite "tourist" spot. More than 250 votes have been tallied, and here are the top results:
• S.B. Zoo: 23%
• The beach: 16%
• Waterfront/harbor: 13%
• Wine country: 7%
• Mission S.B.: 6%
• Stearns Wharf, Courthouse, Museum of Natural History: tied at 5%
• State Street shopping, Botanic Garden: tied at 4%
For more polls like this, see independent.com/polls.